Twenty-One Thoughts About Twenty-One Comics, Chew, Suicide Squad, Batgirl, Archer & Armstrong, Ghostbusters, Forever Evil, Judge Dredd, Red Sonja, Lord Of Mars, Memory Collectors, Triple Helix, Superboy, Wolverine, X-Men, Green Lantern Corps, Coffin Hill, Eternal Warriot, Captain America, Superior Spider-Man Team Up, Transformers And Think Tank
So what's on the menu for this week's comics? Well there's a lot of food around. So, it seems sensible to check in with Chew… Erotic? Really? Okay then Ken Keebler, what would you make of this from Suicide Squad? Could even you make that a bit of a turn on? Well, Batgirl, wasted milk and cookies would make me worry too. That's more like it, Archer of Archer & Armstrong at least has an idea what food is for. Erotic stimulation, I ask you… mind you, I like the sound of those… funnel cakes… mmm….
In Ghostbusters, the food itself is haunted. Which means it's definitely going to repeat on you. Forever Evil: Spinoff sets characters across Gotham, as the bad guys work out just how bad they are. And I have to say Pyg is looking a little peckish here. Suddenly reminds me of that scene from Snatch about feeding dead bodies to ravenous pigs. And how they just bite through the bone.
While in Judge Dredd, they don't bother with the pigs. And these guys will be doing cold turkey. Which, of course is a crime in itself in Chew.
And with that little circular journey, we'll leave food in comics alone. Because Red Sonja prefers something a little more liquid. I also think Red Sonja would be rather at home on Mars. More than Jane, it seems. I guess Dynamite are already planning this Lord Of Mars crossover. And I bet it has an Alex Ross cover. Another fashion disaster in Memory Collectors #1, the new series by Menton Matthews III. I don't know all these fashion nazis. Wait, someone doesn't like that use of the word… John Byrne's Triple Helix there. Okay, we've had food, drink and clothes, what else is out there? Justin Jordan's issue of Superboy definitely tries for the Everything. You. Knew. Was. Wrong. angle. Who does he think he is, Alan Moore? His beard is nowhere near luxurious enough yet. Marvel seems to rediscover continuity. Not only is Wolverine in the blue and yellow, and missing his healing factor in the Wolverine Killable arc… But he's even having the same problems in the new X-Men issue of Battle Of The Atom. Looks like this is actually going to be a thing now… Oh look, in Green Lantern Corps, John Stewart seems to seriously suggest the death of all things. Maybe Joshua Hale Fialkov shouldn't have been quite so hasty. Coffin Hill is a wonderful tale about a bunch of ungrateful brats who seriously, should respect their elders, and maybe should think about being seen and not heard.
Sigh, you know what, I'm writing this on the plane to NYCC and I miss my girls already. They can act however they like as long as I get a hug. Yes, Eternal Warrior, I'm with you on that. I always forget that Captain America has a side gig as a comic book artist. Therapy through bristol board… So… is this Spider-Man in Superior Spider-Man Team Up? Or is it Mr Fantastic? Maybe having Doc Ock in there is giving him tentacles… still it is a cool-ass entrance. Sorry Transformers, Superior Spider-Man beat you to it. He is, after all, Superior.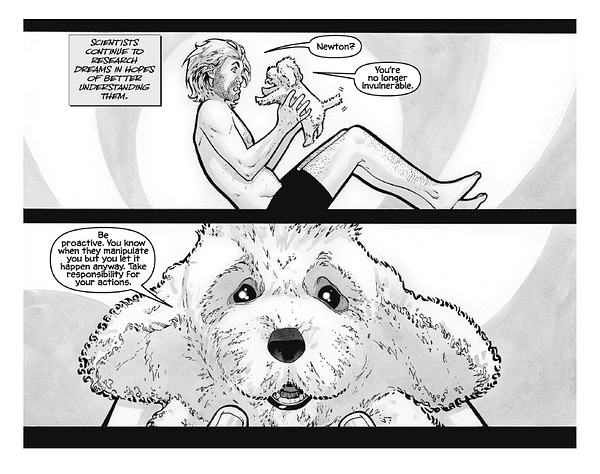 In Think Tank, for every hallucination, there is an equal and opposite hallucination. I'm currently imagining I'm 30,000 feet up on the air and flying.
I'm coming for you, New York, I'm coming for you…
Comics courtesy of Orbital Comics, London. Currently exhibiting the work of Esad Ribic.