You'll Never Believe What Happened Between These Two Thor #4 Panels
Marvel Comics has given retailers a challenge for their customers, regarding Thor #4, the issue that saw the god of Thunder get to work as the Herald of Galactus and ahead of meeting The Black Winter.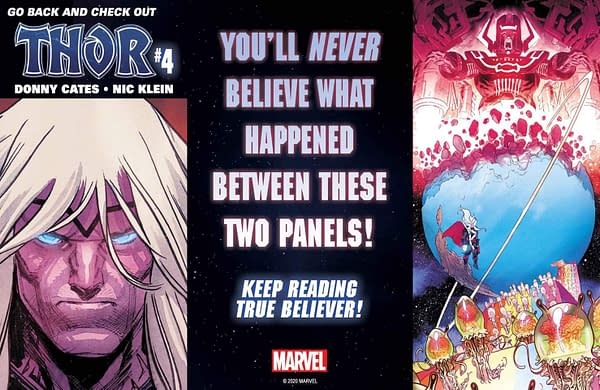 The first scene saw Thor take Galactus' power to become the Herald of Galactus in his full cosmic totality.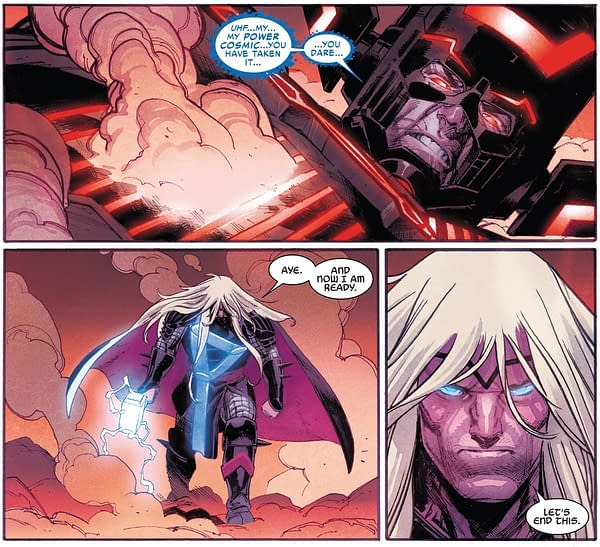 Before going on to absorb the four worlds that Galactus needed to face the Black Winter. The first three were lifeless or could be evacuated. The final world was not and as a result, Galactus ate them all.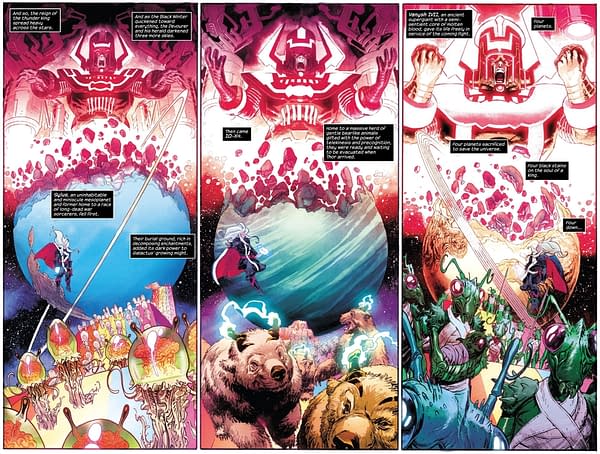 Did something happen between those panels to somehow save Thor from being an accessory to mass genocide? Or is there something coming in Thor which might damn him ever further? Thor #6 is out on August 19th. Here's how the upcoming solicitations are looking.
THOR #6
MARVEL COMICS
MAR201009
(W) Donny Cates (A) Nic Klein (CA) Olivier Coipel
THE DEATH OF KING THOR!
The Black Winter has the power to reveal the means of any person's demise – and if the vision is true, Asgard is going to need a new Odinson to take the throne! But Thor is no mere herald or king – and even the death of all existence should fear his coming wrath.
Rated T+In Shops: Aug 19, 2020
SRP: $3.99
THOR #7
MARVEL COMICS
APR201008
(W) Donny Cates (A) Aaron Kuder (CA) Olivier Coipel
SOMETHING IS WRONG WITH MJOLNIR… And this is a poor time for the All-Father of Asgard to lose his primary weapon. The Golden City is in chaos after Galactus' ill-timed visit, and there are new threats on the horizon. Thor needs his hammer now more than ever…and yet the Uru grows heavier with every passing day. What will it take for the God of Thunder to hang on to one of the most powerful weapons in the Multiverse?
Rated T+In Shops: Sep 16, 2020
SRP: $3.99