It seems like Vampirella is busy teaming up with everyone these days. Teaming up with Red Sonja. Teaming up with Red Sonja and Betty and Veronica. We even hear rumors she could be announced as Bernie Sanders' running mate when he wins the Democratic nomination. All of that teaming up must be tiring, which is why in this early uncolored, unlettered preview of Michael Sta. Maria's art for Vengeance of Vampirella #7 (in stores in April), we find the titular heroine finally catching up on some sleep! Well, she might also be a little tired from pulling a Man of Steel on Hemorrhage back in Vengeance of Vampirella #5.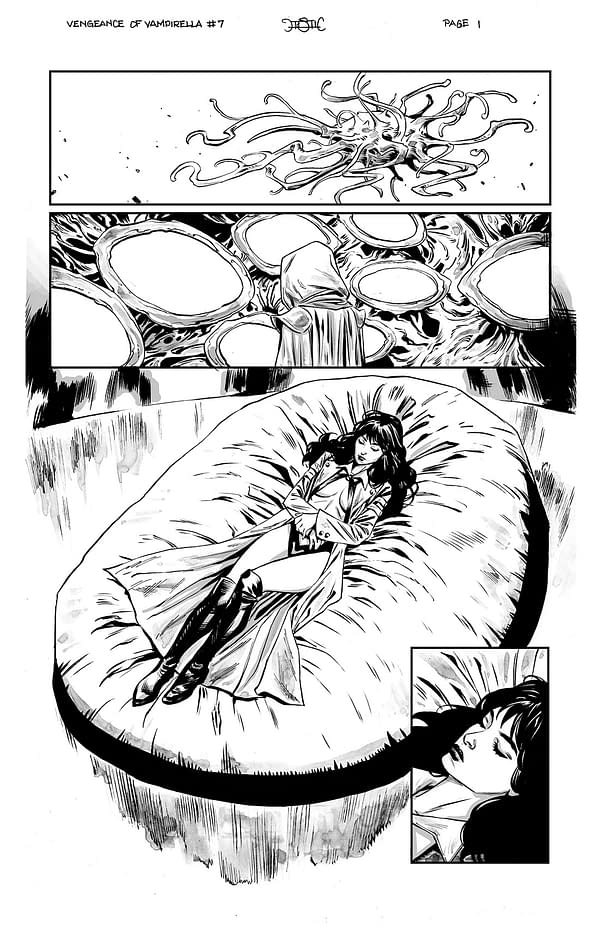 In any case, it's not a restful sleep, as Vampirella soon finds her self locked in heated, near-nude combat with… herself?!
Sure, we have no idea what's going on in the jungle. Vengeance of Vampirella #6 hasn't even hit stores yet. And this kind of plot confusion puts Vampirella in a really foul mood.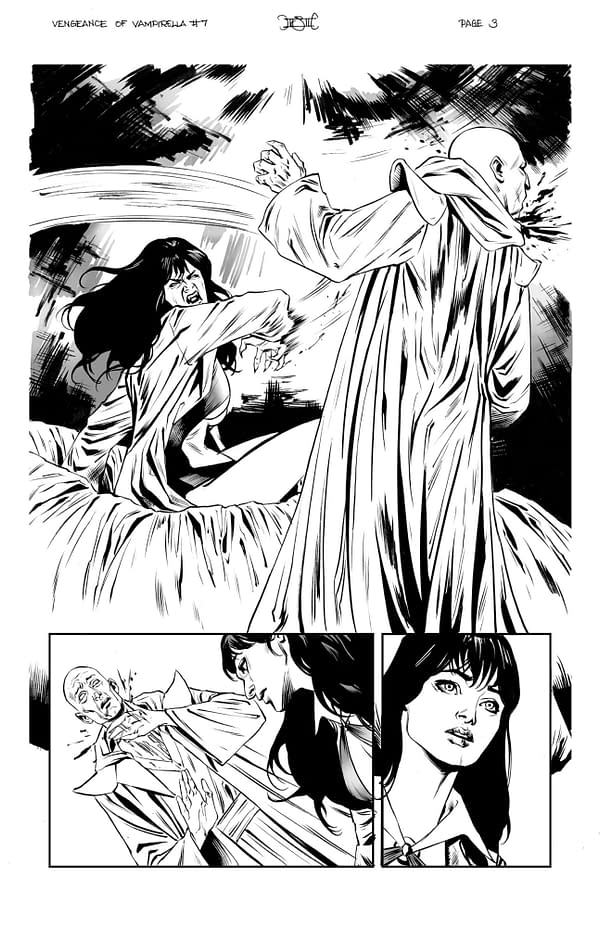 Whoops! You ought to be more careful with those things, Vampirella!
Meanwhile, Mistress Nyx appears to be calling Vampirella out at a pro wrestling arena. Maybe it's for the next episode of AEW Dynamite? Get it? Dynamite?
The nineties revival sensation continues when Vengeance of Vampirella #7 hits stores in April… but you can preorder now.
VENGEANCE OF VAMPIRELLA #7
Writer: Tom Sniegoski
Artist: Michael Sta. Maria
Colorist: Omi Remalante Jr.
Letterer: Troy Peteri
Covers: Lucio Parrillo, Ben Oliver, Stephen Segovia, Allyson Ochs Cosplay
Release: April 1
Still recovering from her final battle with Hemorrhage, Vampirella realizes that there will be no rest for the wicked and begins the process of assembling a plan that will hopefully result in the liberation of the Earth from the clutches of Mistress Nyx, and the Chaos Lords.
Step One-the creation of a new Danse Macabre!
Enjoyed this article? Share it!