Venom #2 Review: Staring into the Inky Black Face of God
[rwp-review-recap id="0"]
Venom has barely survived his first experience with this new symbiote monster — and only because the symbiote was able to graft his wounds. He returns to Rex, and the old war dog explains how he came to be grafted to his own symbiote in years past. As they're talking, the "Symbiote Dragon" attacks New York.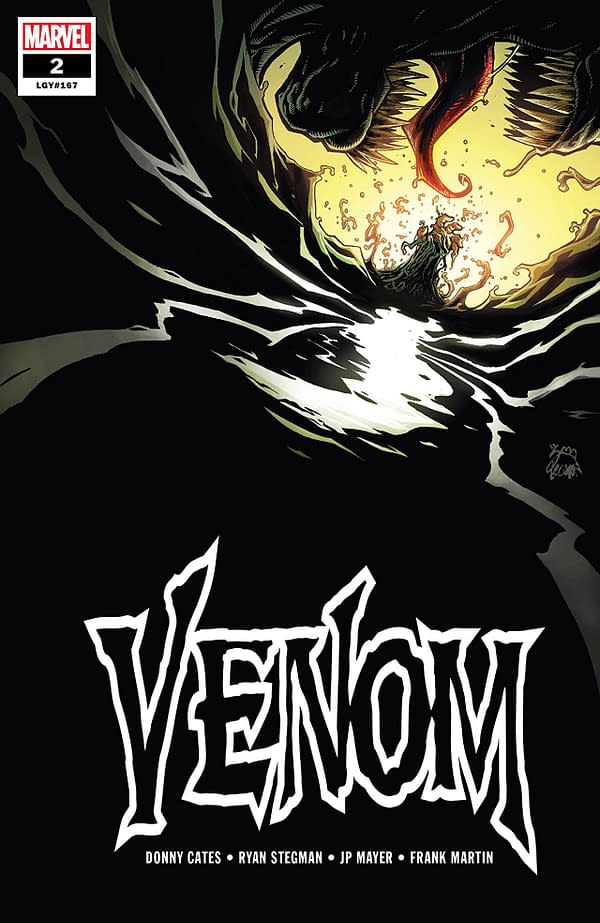 Donny Cates may just have been the perfect choice for Venom. This second issue is lighter on action and fast motion than the first installment, but it is more than made up in character development and expansion.
We receive a refresher on Eddie Brock's life, and even I learned some new things about Eddie in this segment. We also learn who Rex was, and effort is made to not make him "just" a veteran with a history in black ops. This guy is distinct and a little insane.
The continues build-up to the Symbiote Dragon/God is brilliant and more than a little Lovecraftian. This thing is scary, and the fear of the characters is made clear to the audience. This is a new kind of monster for Venom to fight, and it's a different kind of beast than many of Marvel's staple creatures like Fin Fang Foom, the Wendigo, or the Mindless Ones. It's an all-consuming beast, and we don't even know how intelligent it is yet.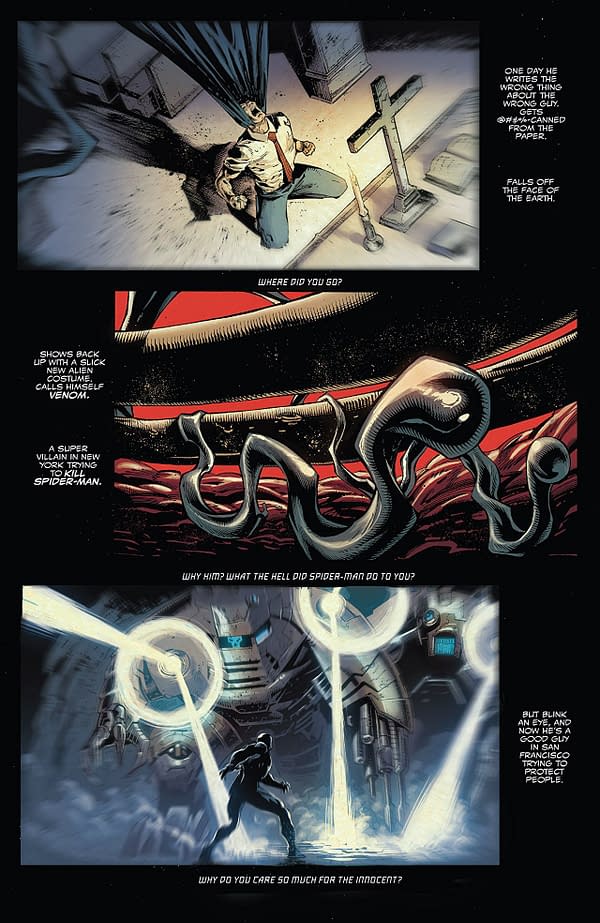 Ryan Stegman puts in the work on the artistic front. There is a lovingly detailed and all-around grotesque scene of the symbiote healing the gaping whole in Eddie's chest front-loaded into the comic. We get a strangely oft-overlooked depiction of how a healing factor can work. It looks awesome and is not for the weak of stomach. Frank Martin supports the line art with a dark and foreboding color palette to make the coming events all the more ominous.
Venom #2 continues to have me excited for what's to come in this comic series. Cates has a good grasp on Eddie Brock, and he has ideas for the book previous writers have overlooked. Stegman, JP Mayer, and Martin make the comic darkly beautiful. This one gets a recommendation. Give it a read.
[rwp-review-ratings id="0"]
[rwp-review-form id="0"]