Voting Is Your Superpower Fights For Truth, Justice, and Voting Rights
Comics, despite what some believe, have always been political. The nature of art is to look at how humans behave and comment on that behavior, and what could be stranger behavior than that of those in the political system. From mainstream comics like X-Men since its inception, all the way to more niche material like Devil Due's Alexandria Ocasio-Cortez and the Freshman Force, comics creators and publishers alike have been using the medium to let their voice be heard. Now, with November 2020 looming, publisher Clover Press has a new graphic novel created to inspire readers to vote. Voting is Your Superpower reprints vintage political comic strips and stories, debuts a brand new character, and feature a celebrity introduction.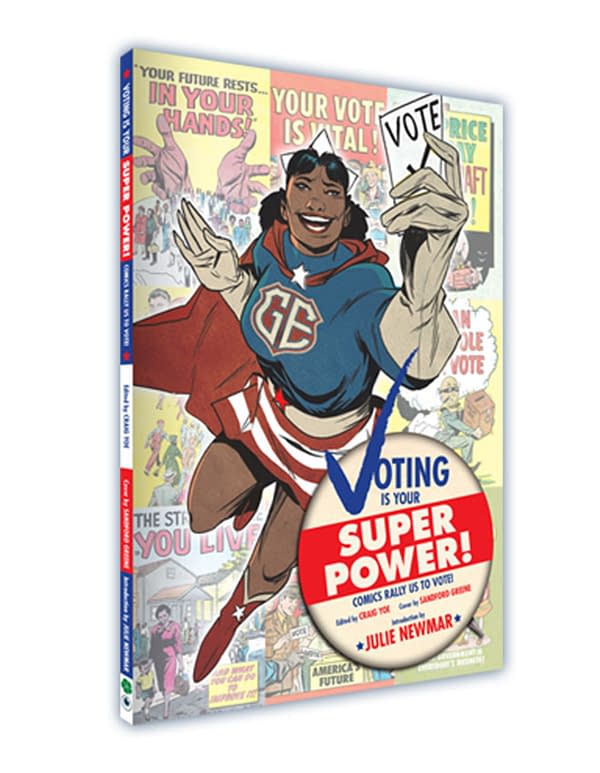 Clover Press describes the book on their campaign page, writing:
In this 104 page book are rare, cool, vintage, comics collection, you will find a timeless and compelling message of inspiration, motivation, and duty to exercise your right to cast your vote for progressive action so badly needed today. And when you finish and put down this book you will not only have been entertained and enlightened, but you will have realized voting IS your superpower, more formidable than a bat-a-rang, x-ray vision, spider-sense, and a magic-lasso assembled together!
In addition to the reprinted material, Voting is Your Superpower will introduce a new character, whose name is a Kieron Gillen-level pun. Clover writes:
And this exciting buzz-worthy book is hosted by a new super hero for our times… General Election! In her first appearance General Election is ablaze with voting power on our special cover by Eisner nominee Sanford Greene the fan-favorite artist of Bitter Root.
Eisner-award winner Craig Yoe edits the book and pens the foreword of Voting is Your Superpower, and Bleeding Cool has also obtained an early copy of the anthology. It is a gorgeous collection of classic political comics and more that deserves a place in comics reader's library of cherished vintage material. It begins with an impassioned plea, Why I Vote, penned by Julie Newmar, the iconic Catwoman actress from the Adam West Batman TV series. Her letter kicks off the book with hope for the future, which is what this whole thing is really about. Us, now, building a better tomorrow.
Voting is Your Super Power is funding on Indiegogo right now.