Legendary creator Walt Simonson is returning to Thor this December at Marvel Comics… but not as the new writer. Simonson joins Tom DeFalco, Kathryn Immonen, Ron Frenz, Sal Buscema, Mike Hawthorne, and more in one of Marvel's 80th-anniversary one-shots. The comic was revealed in Marvel's full December solicitations, which you can view here.
Of course, like all of these one-shots, it does beg the question of why Marvel doesn't make use of veteran creators more often. Walt Simonson comes to mind, as does Louise Simonson, and of course Chris Claremont. We're glad to get occasional work from them at Marvel over none at all, but more would be nice too. Hopefully the end of Marvel's 80th-anniversary doesn't also spell the end of Marvel giving work to classic creators.
Check out the solicit for Thor: The Worthy #1 below.
THOR: THE WORTHY #1
WALTER SIMONSON, TOM DEFALCO AND KATHRYN IMMONEN (W)
RON FRENZ, SAL BUSCEMA, MIKE HAWTHORNE & MORE (A)
Cover by KIM JACINTO
Variant cover by WALTER SIMONSON
LEGENDARY THOR CREATORS REUNITE FOR A THUNDEROUS CELEBRATION!
Walter Simonson's Thor run is widely considered to be not only some of the best Thor comics of all time,
but simply some of the best comics, period. Now the legend returns for a special tale about Thor and Beta
Ray Bill — with art from Mike Hawthorne and beloved veteran Sal Buscema! And the trio is joined by yet
another unforgettable Thor team: Tom DeFalco and Ron Frenz, who will be telling an all-new
Thunderstrike story! Finally, no Thor story would be complete without his most trusted companion: the
berserker, the warrior extraordinaire, the Lady Sif! Kathyrn Immonen wrote one of the landmark Sif tales
in her run on Journey Into Mystery — and now she returns for a brand-new journey!
40 PGS./ONE SHOT/Rated T+ …$4.99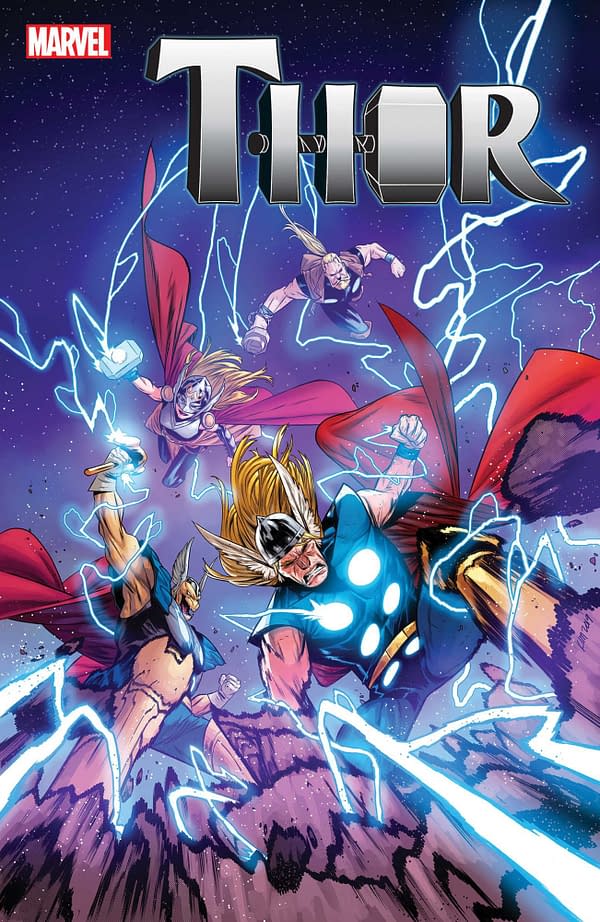 Enjoyed this article? Share it!