Wednesday Runaround – When The FBI Tried To Get Joe Simon's Artwork Back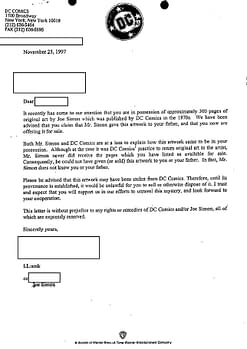 FedWatch: When the FBI went after stolen Joe Simon artwork.
Towards the end even Joe Simon clearly had enough cause to believe that his own daughter might have been the culprit as he admitted as much to the F.B.I, but this might have been an admission of a man who wasn't up to facing yet another legal battle, as he was about to launch another copyright/ownership claim for Captain America.

Despite the legalities of the case it remains a fact that at the beginning of the investigation Joe Simon was extremely adamant that the art in question had never been returned to him by DC Comics. There is also the changing stories of how the art ended up on the open market, first the story that the art was gifted by Joe to a person he claimed he never met, then the art was sold by Joe's daughter to a former boss, who may, or may not have harassed her in the workplace. Also, who sold the art and where is that art today?
DarthWatch: British comedian Peter Serafinowicz will announce a new comic book at Kapow this weekend, with an established Batman artist. You may know Serafinowicz from his comedy shows, impersonations of Paul McCartney and… the voice of Darth Maul. But I'll always remember him from this photo I took of him at the Iron Man premiere, with his brother helping him out on the Zaphod Beeblebrox impression.
So… what are the odds that it will appear in CLiNT?
ScoopWatch: Roger Langridge gives me a new nickname. I embrace it.
Just back from the lovely Bristol Comics Expo to find a heavily-groaning inbox. Phew! Thanks to everyone for the words of support! To clarify, the "quitting" story is just a teensy bit out of proportion – it's about a decision I made last summer, and I didn't "quit" anything because I wasn't doing anything for either Marvel or DC at the time. There's no story there, really. But trust good ol' Bleeding Cool to make one out of fairy dust and gossamer, like lightning, ten months later. Bless their cotton socks. (Rich, I'm just teasing. Although I shall be calling you "Scoop" Johnston from now on.)
WowWatch: To add to yesterday's Big Wow Inking Panel, Liam Sharp inking Jim Lee's Batman.
BarsoomWatch: Looks like it's time for yet another A Princess of Mars comic book.
HuffWatch: On why we need gay comics.
I began writing the memoir comic Jesus Loves Lesbians, Too because I wanted to share my story with others, and I wanted a sweet and funny way to do it. I distinctly remembered what it was like being a Christian, falling in love with a woman, and not feeling like anyone could possibly relate to what I was going through. The Christian friends didn't get the "gay part," and the gay friends couldn't fathom the "Christian part." My mom purchased a few books recommended by her church friends, but unfortunately (and this may or may not be surprising to you), they were not very affirming or encouraging. Part of the inspiration for my comic stemmed from the experience of just wanting to know that someone, somewhere, knew what I was feeling.