With the recent redesigns of Vampirella, Red Sonja and Dejah Thoris along with new first issue, folks may have gotten the idea that the books were beeing rebooted… Frank Barbiere makes it clear that it's not the case with Dejah Thoris #1. Covers by Nen and Jay Anacleto.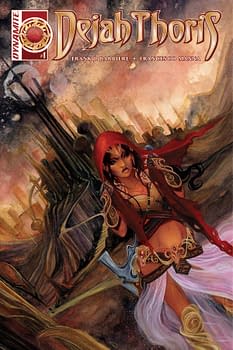 BYRON BREWER: Frank, Dejah Thoris has done it all as a Dynamite character. Tell us about this new iteration and how it came about.
FRANK BARBIERE: The idea for the new take came from Gail Simone, who has been the architect behind the relaunch of not only Dejah Thoris, but Red Sonja and Vampirella. Gail came up with a fun new concept, and Nicola Scott drew a new costume as a result. After I was given a look at the materials, I came up with the story and it's been a fun ride from there! Gail really wanted to find a cool, functional way to work in the redesign and it's been very inspiring and organic. I emphasize this, but we're not "rebooting" the character, just providing an awesome new chapter into the established canon with fun new elements.
BB: Have you been a fan of Dejah? Is that strictly from the comics, or do you go back to the Borroughs novels?
FB: Ironically, I first discover the world of John Carter and Dejah Thoris from Alan Moore. The first chapter of Volume 2 of League of Extraordinary Gentlemen features Barsoom and a lot of the mythology, and the visuals immediately struck me and I did some digging and discovered the Borroughs source material. A few years later, the movie got announced and I really got into it all; so while I'm not a legacy fan, I've definitely had an appreciation for the world and aesthetic for a while now!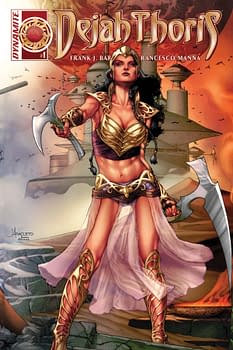 BB: What can you tell us about the initial storyline of this book?
FB: The book deals with Dejah going on an adventure where she will learn key facts about her history and identity. It's a refocusing of self, and for readers will define the character in exciting new ways and show what she's capable of outside her comfort zone of Helium and without John Carter.
BB: How does this change Dejah, if at all, and her situation on Mars?
FB: What I'll say is that Dejah's new outfit has a very specific function: it's a military uniform. We'll see Dejah taking new risks, working with new allies, and really coming to understand who she is and what she's capable of—not just being the same "Princess of Mars" that we're used to.
BB: Any new characters to look forward to?
FB: There will be some exciting new faces, as well as plenty of old ones! Having the world of Barsoom and the mythology to play with has been a joy, and new and old fans should be delighted on our exciting new chapter in the life of Dejah.
For more on the new Dejah Thoris series, click here.
Enjoyed this article? Share it!