After I was able to work out why Morbius The Living Vampire Omnibus saw its rating jump from to T to Parental Advisory, I was asked to continue my investigations into why two other books made a similar jump. Conan Chronicles Epic Collection TPB: The Battle of Shamla Pass, now having a rating of Mature, and not the previously solicited rating of Parental Advisory. And Amazing Spider-Man By Nick Spencer TPB Vol 6 Absolute Carnage having a rating of Parental Advisory, and not the previously solicited Rating T.
Well, these are the current Marvel Comics ratings.
ALL AGES – Appropriate for all ages.
T – Appropriate for most readers, but parents are advised that they might want to read before or with younger children.
T+ TEENS AND UP – Appropriate for teens 13 and above.
PARENTAL ADVISORY – Appropriate for 15 and up. Similar to T+, but featuring more mature themes and/or more graphic imagery. Recommended for teen and adult readers.
EXPLICIT CONTENT – 18+ years old.
'Mature' is not one of the Marvel's ratings at all, so I don't know what Marvel was telling retailers. It is possible they meant Explicit Content, a rare listing from Marvel, currently reserved for Garth Ennis Punisher books, and may be indicative of this content having been created for Dark Horse's Conan line, which was a little more graphic than Marvel's current version. And they only just got round to reading it.
But Amazing Spider-Man is an easier answer. Rather than just a collection of the T+ Amazing Spider-Man issues, it also has the bit gorier Red Goblin: Red Death one shot inside it, pushing up the rating…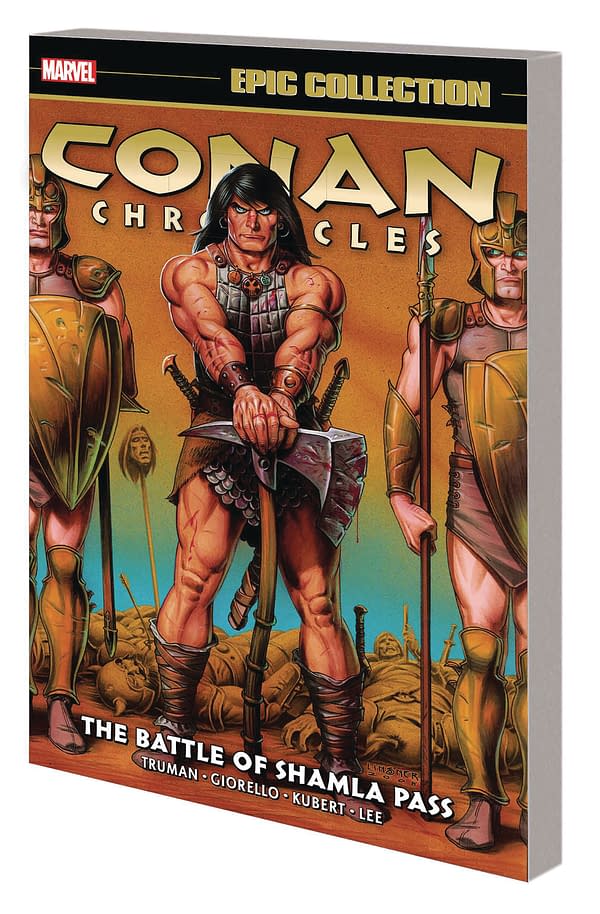 CONAN CHRONICLES EPIC COLLECTION TP BATTLE SHAMLA PASS
(W) Timothy Truman, More (A) Tomas Giorello (A/CA) More
Conan leaves his trials behind for a new life – as a mercenary! Presenting all-action adaptations of classic Robert E. Howard tales, plus original adventures of everyone's favorite barbarian! Howard's "Black Colossus" sees Conan face his bloodiest battle yet, when the mercenaries of Amalric clash with the demonic hordes of Natohk! Then, Conan becomes the leader of Princess Yasmela's Khorajan army! But another princess wants Conan for herself – the immortal and vampiric Akivasha! The Cimmerian spends a tumultuous time fighting and looting with the Kozaki, a wild group of fellow mercenaries also known as the Free Companions! Plus, Conan faces pirate politics and a centuries-old mystery in an adaptation of Howard's "Iron Shadows in the Moon"! Collecting CONAN THE CIMMERIAN #8-25. In Shops: Jan 01, 2020 SRP: $44.99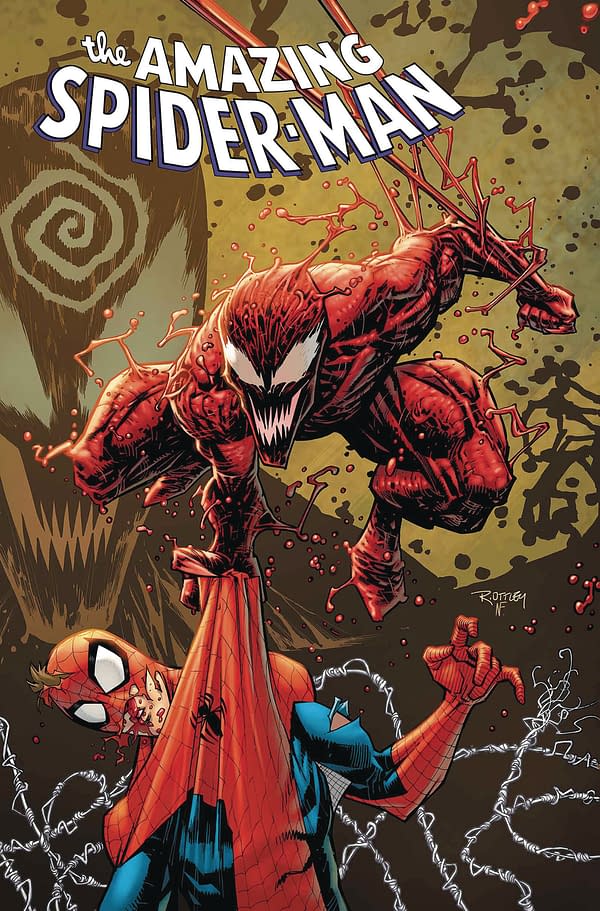 AMAZING SPIDER-MAN BY NICK SPENCER TP VOL 06 ABSOLUTE CARNAG
(W) Nick Spencer (A) Ryan Ottley, Patrick Gleason
Spider-Man's life has been thrown into upheaval! As Peter deals with the aftershocks from Mary Jane's recent decision, a super villain rearing their head is not helpful. And nor is…ABSOLUTE CARNAGE! Only Spider-Man stands between Carnage at his scariest and young Dylan Brock. To make matters worse, everyone who has ever worn the Carnage symbiote now has a codex – including Norman Osborn from his time as the Red Goblin! Can Spider-Man save Norman from Carnage? Does he even want to? Plus: The untold stories of the Red Goblin's rein of madness and mayhem! So grab your greatest goblin gear and rend your raiments red, for the Red Goblin rides again!
Collecting AMAZING SPIDER-MAN (2018) #29-31 and RED GOBLIN: RED DEATH #1. In Shops: Jan 08, 2020 SRP: $17.99
Enjoyed this article? Share it!