What Went Down At ComicsPRO – A Call To Take Up Arms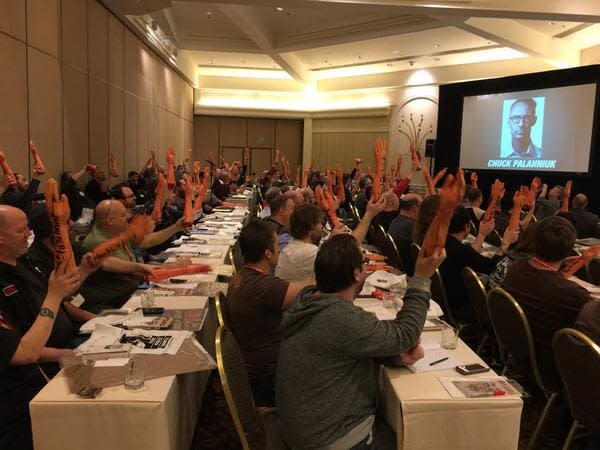 This weekend held the ComicsPRO annual meetup of comic store retailers, to discuss opportunities and challenges. With plenty of publishers and creators on hand.
And thanks to some friendly retailers giving us live reports, Bleeding Cool was able to cover the event more thoroughly than any other site (though we are sure we missed stuff). Here are the results… firstly there were the preambles…
Papercutz To Announce Breadwinners, Sanjay And Craig Comics
Oni To Announce Invader Zim At ComicsPRO? And Their Solicits For May 2015
Matt Wagner To Write Will Eisner's The Spirit For Dynamite
Gail Simone And Matt Wagner Head To ComicsPro With New Project News From Dynamite
The ComicsPRO Prometheus Variant Revealed – Plus Kelly Sue DeConnick In Q&A
Heavy Metal Debuts Kirby ComicsPRO Cover And New Series The 49th Key
DC ComicsPRO Gossip – The End Of Sales Calls?
Dark Horse Comics Comes To ComicsPRO With Fight Club, Rebels And Beer
The announcements
Racism Vs. Superman? Mark Waid And JG Jones' Strange Fruit Announced By Boom
Bringing Back The Secret Wars Lenticular Shields
Boom Announces The Spire From Six-Gun Gorilla Team Si Spurrier And Jeff Stokely
Valiant Taps Butch Guice And Lewis LaRosa For Bloodshot Reborn And Show Art A Year Away From Publication
Dead Poets Vs. Fight Club – Chuck Palahniuk
Mike Mignola's Hellboy In Hell: Hounds Of Pluto
Paul Cornell To Write 'Three Doctors' Doctor Who Event
Kate Leth And Mat Cumming's Power Up From Boom In July
Image Comics Announces More Favourable Terms For Retailers
The Blacklist Becomes A Comic Book, Announced By Titan
Boom! To Announce New Comic From Si Spurrier And Jeff Stokely #ComicsForward
The wider presentations and discussion points
"The Best Stories Become Canon" – Dan DiDio And Jim Lee At ComicsPRO
Bob Wayne, Through The Decades
Sandman, Statues And Sales – More From DC Comics
Goons, Rebels And Dark Horse Originals
The look of the show…
The Look of ComicsPRO In Portland
And Finally… Valiant At ComicsPRO
Last Night At ComicsPRO – The Drinking, The Auctions And The Karaoke… (UPDATE)
And the swag!
ComicsPRO Variants Of Silk Sell For $180, Bloodshot Reborn For $165, Birthright And Darth Vader For $125
Silk, Darth Vader, Nameless, Bitch Planet, Fight Club 2 ComicsPRO Variants And More, For Retailers In Portland
The show also saw the election and appointment of new officers. Thomas Gaul of Corner Store Comics and Beach Ball Comics stepped down as Pete Dolan of Main Street Comics was elected President, after previously holding an open position on the board.
The resignation of Gary Dills Jr of Laughing Ogre after allegations of embezzlement, saw Ralph Mathieu of Alternate Reality Comics replace him as treasurer. Carr D'Angelo of Earth 2 Comics remained Vice President, and recording secretary Calum Johnston of Strange Adventures stepped down and was replaced by Chris Brady of Four Color Fantasies.
Jamye Foster of Southern Fried Comics and Chris Brady of Four Color Fantasies were also elected to the board. Aside from those mentioned, the board also includes which also includes Joe Field of Flying Colors, and Eric Kirsammer of Chicago Comics.
Bill Schanes, one of the early pioneers of the comic book direct market, founder of Pacific Comics, ex- VP at Diamond Comic Distributors and now an executive at IDW, was given the ComicsPRO Industry Appreciation Award.
The late Joe Kubert, legendary comics artist and founder of The Kubert School, was honoured with the ComcisPRO Memorial Award.
We hope the coverage helped extend the excitement and valuable information to those unable to attend. And we hope to do similar next year.