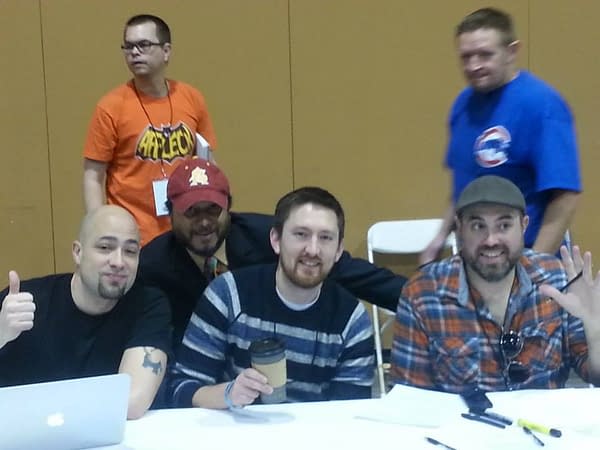 Shawn Demumbrum writes,
It's 9:15 am. It's January 25 in Phoenix, Arizona at the Amazing Arizona Comic Con. The convention floor opens to VIPs in 15 minutes and 45 minutes for the general public. Jesse James left to find the stopwatches. We were supposed to already start our World Record attempt to set records for the fastest time to produce a comic held by the Kapow! Convention with 11 hours 19 minutes and 38 seconds and the most contributors to a comic book by a marketing firm in Argentina with 81 contributors. The tables are surrounded by artists who arrived earlier for their scheduled times to start drawing hoping to finish their contributions before the convention doors open. Kyle Higgins walks up and seems confused.
"How much time do I have?" he asked.
"We have artists waiting. As soon as you have pages, we give them to the artists so they can start drawing." I said.
"But how long do I have?" he responded.
"You have 45 minutes to write 3 pages." I replied.
"I thought I'd have 45 minutes to plot. I was just told about this last night" he said.
There are times in every comic book where the hero faces impossible odds to save the day. Real people rarely face those circumstances. With 10 artists standing around, records to beat and a clock ticking, Kyle Higgins sat down, unpacked his Apple Macbook Air and began to write. By 10:00 am, artists were starting to get their panel descriptions and began drawing.
In those first few chaotic moments (and there would be many chaotic moments that day), it became evident that our attempt would have something more in common with another original American art form, Jazz. The entire day was an improvisation. Writers moved the story in different directions. Schedules were moved and adjusted. Paul Jenkins showed up at the booth to write "a page or two". Word processing programs changed the name of the character from Rick Shaw to Riccochet leaving the artists asking, "Do you have reference for this character?" When the writer slots filled up, writers like John Layman picked up pencils, Sharpies and Copic markers and started to draw. We didn't know who the cover artist would be until the last twenty minutes of the convention. I only had scanned and lettered 5 of the 25 pages with 2 hours left to break the record. Embrace the chaos became the motto. At the end of the day, we beat the speed record by a few minutes and contributor record by 34 people. Guinness still needs to review our evidence to certify the records, but for 11 hours I witnessed one of the most amazing displays of teamwork that I ever hope to see…until next time.
You can see the finished comic here. And Rob Liefeld sketching the cover below:
[youtube]http://www.youtube.com/watch?v=SBE5sn1VB8U[/youtube]
Enjoyed this article? Share it!