When Marvel Legally Failed to Publish Hamilton Comics
We looked at an earlier planned Hamilton stage play adapted comic book by Brent Schoovener. It's not the first time Hamilton has made it into comics, Marvel's Deadpool V Gambit by Ben Acker, Ben Blacker and Danilo Beyruth featured an unofficial appearance, although again there were issues with licensing rights, and Lin Manuel Miranda's face was replaced with that of the actual Hamilton portrait from US currency.
There were even references to the Spider-Man Broadway flop Spider-Man: Turn Off The Dark. Though Deadpool got as many Hamilton lyrics in there as he could. That's Right Hand Man from Hamilton. Marvel didn't stop there, another attempt was made in Silver Surfer by Dan Slott and Mike Allred.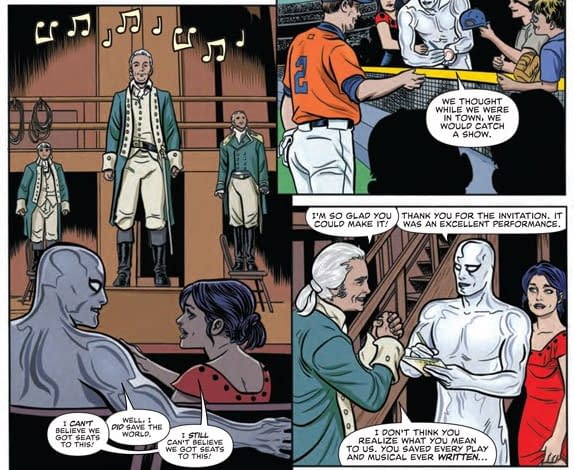 Which, was also subject to editorial and legal changes, and a last-minute art amend after likeness rights permission was withdrawn. This is what the panels looked like before the change…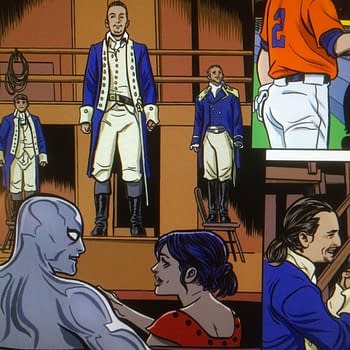 Quite the jump. But there was one easier transition from the Hamilton stage play to Marvel Comics. James Monroe Iglehart won a Tony Award for his performance as the Genie in the original Broadway production of Aladdin. He also took on the role of Marquis de Lafayette/Thomas Jefferson in the Broadway company of Hamilton in April 2017. You may have also seen him pop up in The Unbreakable Kimmy Schmidt as Coriolanus Burt.
Well, he also ended up writing Spider-Man for Marvel Comics and his first story featuring appeared in Marvel Comics Presents #3, drawn by Moon Girl & Devil Dinosaur artist Ray-Anthony Height. He was very taken with our message that we might "expect to watch Spider-Man engagin' em, escapin' em, and enragin' em."
Inspired by the 2004 biography Alexander Hamilton by Ron Chernow, Hamilton: An American Musical's music draws heavily from hip hop, as well as R&B, pop, soul, and traditional-style show tunes. The show also casts POC actors as the Founding Fathers and other historical figures, described as being about "America then, as told by America now." After massive commercial and critical success, it has travelled the world – I saw the London performance a few years ago – and a 2016 filming of the Broadway show was released on Disney Plus today. Hence why this has all come up again…