Peter G writes from C2E2,
I look forward to a convention that I can approach casually and not be drinking syrup-only slushies for the month leading up to it.
Longtime readers recall that I am a video game nut. So much so that, last year, C2E2 announced they were bringing in two voice actresses from Sailor Moon to sign autographs. This prompted me to make a Sailor Moon fangame for the Atari 2600, get it put on a cart, and get it signed by both of them in less than five weeks. Here's a refresher….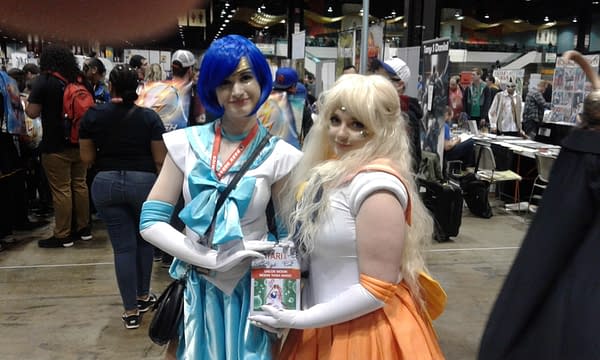 Now, that was a fun experience. But that was that. There was nothing I could think of that would prompt me to barrel through coding a game and pulling such a number on a short time frame again.
And then, last month.
I was keeping an eye on the guest list for C2E2, trying to figure out who I would run down for sigs, who I would try to interview, and so on, when I saw an unexpected name — Barbara Dunkelman. Dunkelman (sometimes known as "Pun"kelman) is a part of the wonderful crew at Rooster Teeth, home of Red Vs. Blue, Achievement Hunter, and RWBY. A quick search showed that C2E2 was putting together a RWBY panel for Friday night, and four of the production staff would be signing autographs Friday afternoon before the panel. They were Dunkelman (voice and motion capture for Yang), Jordan Cwierz (animation director), Gray G. Haddock (producer), and Kerry Shawcross (writer).
I had met the Rooster Teeth crew at Wizard World Chicago back in the early days of Red Vs. Blue, but I had missed them since. And now, here they were, on the way.
In four weeks.
I struggled. I could just a DVD signed. I had five weeks for Sailor Moon, this was less time than that. But ultimately, that wasn't enough. I would take the DVD as an emergency fallback. But I wanted a game signed by them. And that was what I did.
Ultimately, I decided to do what I had done for Sailor Moon — just a simple fandom wank game since I wouldn't have time to design, implement, and test anything complicated. I lost a few days trying to figure out something I could do for RWBY, but nothing was really working. Then, I settled on a cheat. Dunkelman, Cwierz, and Haddock had been involved in the propagation of a running gag in the Rooster Teeth community. Long time ago, on an RT podcast, Burnie Burns (and eventually Joel Heyman) made a comment about Japanese anime and movies somehow involving someone's uncle, giving rise to the phrase, "That's my uncle!" It even got worked in as a line of dialog in RWBY. Well, that wasn't enough, and for episode 203 of Rooster Teeth Animated Adventures, they made an entire anime parody called That's My Uncle! That became my target. I quickly made a simple game where you were trying to charge up Burnie-san's attack. That would take care of three of them, Dunkelman, Cwierz, and Haddock. I wasn't sure if I would get Kerry to sign it, so just to hedge my bets, I also made a quick game with him, repurposing some old code I had been experimenting with, and creating Kerry's Deadline Doom. C2E2's pages said that the RT crew would only sign one item, and please no pictures. So once I had the carts in my possession, I didn't bother making boxes. I just made inserts for Universal Game Cases, stuck each game in the appropriate one, and prayed.
There was one other factor — just like the Sailor Moon actresses last year, C2E2 stated unequivocally that the RT crew would not sign bootleg merch. I found plenty of stories of people getting fan art signed, but nothing concrete. I tried contacting RT to see if fan items were allowed, but I never heard back from them. I took my RWBY Volume 1 DVD, the two games, and stepped up to roll the dice.
The four of them were at one table, and Dunkelman was first. She waved me up. I asked, What is your policy on signing fanmade items?
She smiled, "We sign anything."
JACKPOT!
I pulled out the games. I had just started explaining to Dunkelman I had made the games when Cwierz and Haddock noticed them. And they. Went. Nuts. "These are real?!?" They were taking pictures to post online of the cases, the carts, everything, saying, "This is the most awesome thing I've ever seen!" Each of them signed not only the cart but also the insert. Kerry not only signed the TMU! game and insert, but also signed the game I made especially for him. And they all posed for a picture with them. And so, I now have two more additions to the Crown Jewels collection in the video game wing of the Vault Of Pimps. It really made my night, and I am so glad I am a fan of theirs.
Do you like cartoons? Who doesn't? Peter G is still doing strange things in the name of art, and his new animations, like his cult series One True Pairing, can be viewed on YouTube at Sine Timore Animation Studios.
Enjoyed this article? Share it!