How Wonder Woman #750 Kicks Off The New DC Timeline With President Roosevelt and Bombshells Spoilers
Today sees the publication of Wonder Woman #750, and it kicks off the new DC Timeline. The byword for the new timeline, four generations worth with a fifth to come, it that everything happened. Everything matters. Everything is in canon, in one way or another. We heard that it would be the strip from Scott Snyder and Bryan Hitch – and it is that – but there is more to come.
Because if everything matters, and everything happened – then does that mean that DC Bombshells are alos part of the new DC Tineline as well? They do show up in Wonder Woman #750, looking back at 1939 and 1940 with the Bombshells…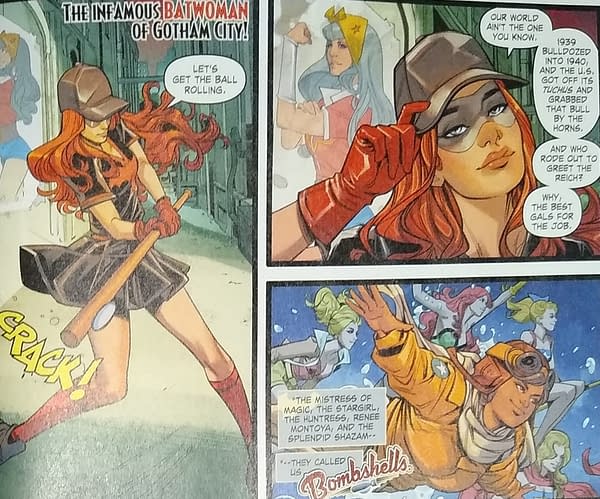 …with Wonder Woman being their big inspiration.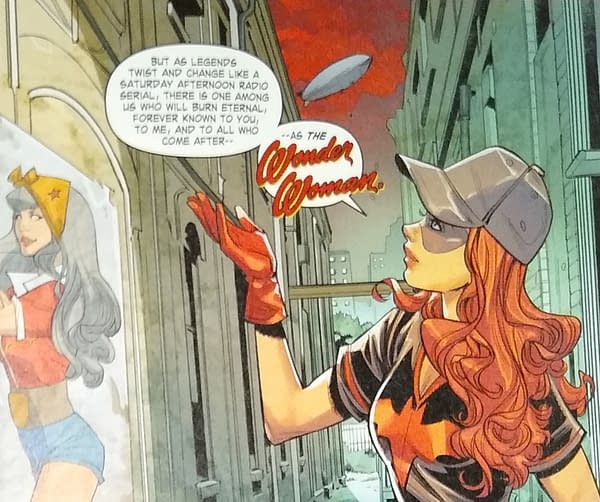 With some criticism of the USA's conduct during World War II as well, specifically blaming the President, for acts of internment.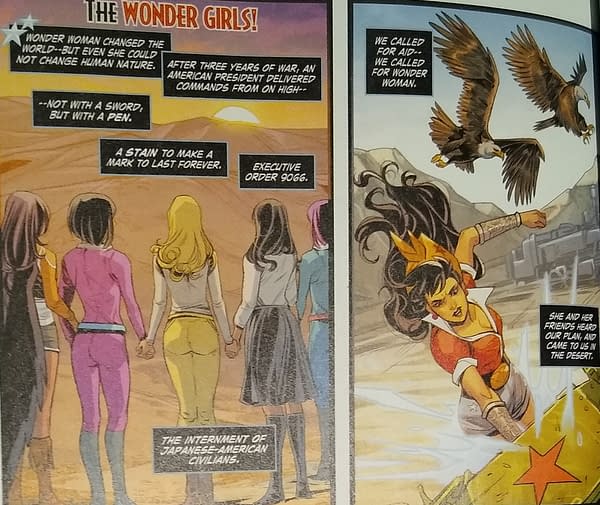 But it's not the only place that the President turns up. In a subsequent story, Roosevelt is also in Queens in 1939 at the World Fair, before the USA gets round to joining the Second World War.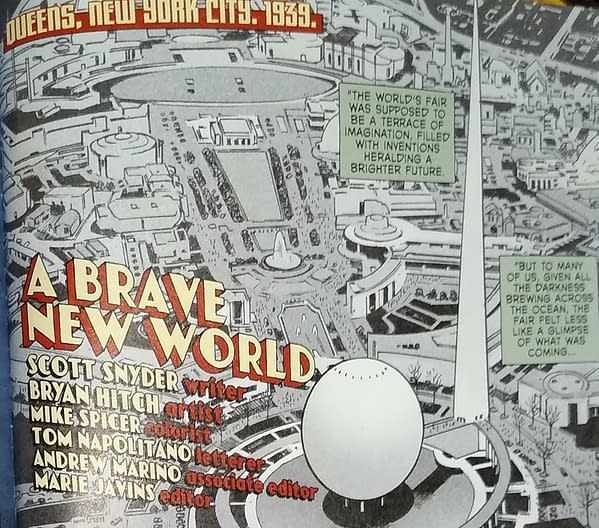 But war is all he has on his mind. And on a day that splits from our own history, we see an attack on the President of the United States.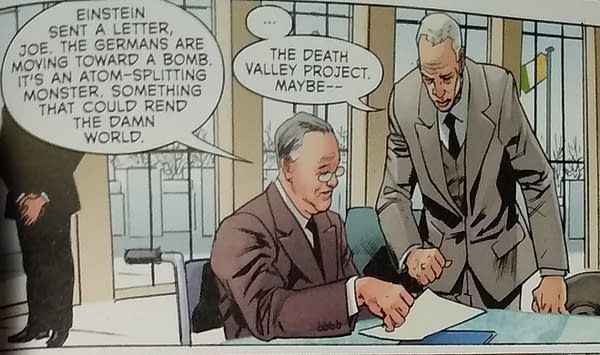 But also the emergence of Wonder Woman, in her original mini-skirt-and-bustier costume.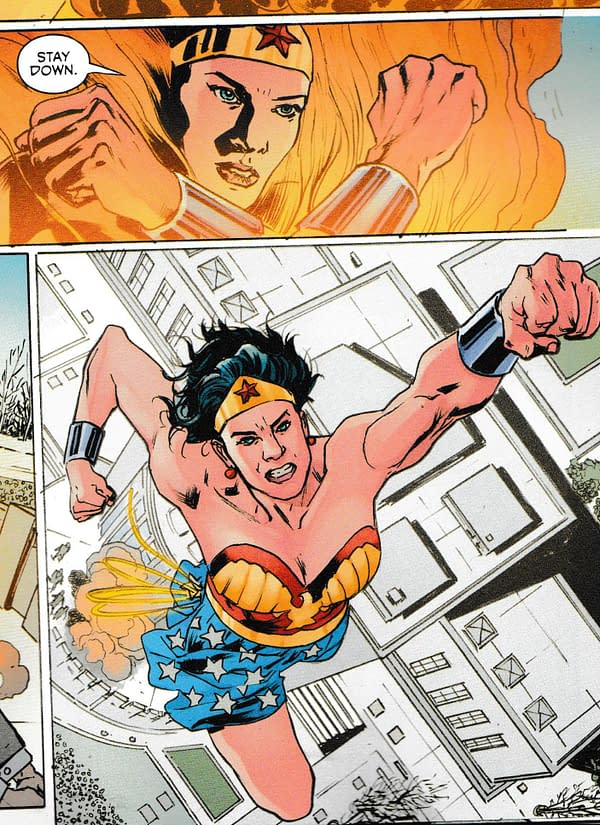 Now established in canon as travelling to the land of men – to its highest echelons – in 1939. And as a result, inspiring the Justice Society Of America to exist in the first place – while Superman and Batman are only being born….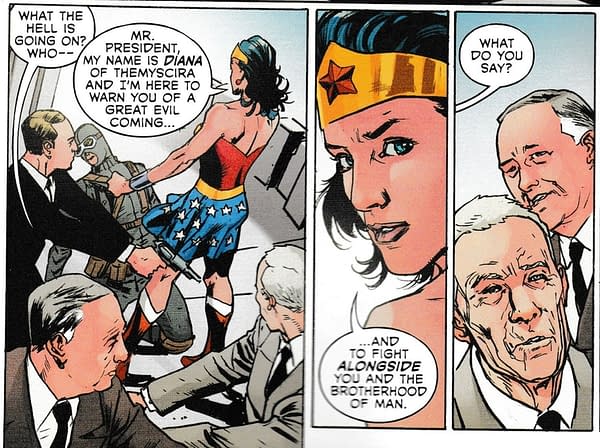 The new DC Timeline as decided by DC Editorial over the past year, is now in play. The New 52 version of Diana emerging in the 21st century is gone (so I suppose not everything happened). How it plays out across the rest of the DC Universe, we are yet to see. Maybe the other anniversary volumes for Flash, Robin, Catwoman and Joker will follow suit?
WONDER WOMAN #750
(W) Vita Ayala, Marguerite Bennett, Kami Garcia, Dean Hale, Jeff Loveness, Steve Orlando, Greg Rucka, Gail Simone, Mariko Tamaki, Various Others (A) Elena Casagrande, Colleen Doran, Jesus Merino, Gabriel Picolo, Others (CA) Joelle Jones
Prestige Format. An all-star 96-page celebration of the Amazon Princess by longtime favorites and acclaimed new voices! In the lead story, Wonder Woman's epic "Year of the Villain" battle comes to a close, leading the way to new challenges ahead. Additionally, this oversized gem tells tales from Diana's past, present and future by some of the greatest storytellers in the business- including Colleen Doran, Mariko Tamaki, the Teen Titans: Raven team of writer Kami Garcia and artist Gabriel Picolo, and legendary Wonder Woman creators returning to the character, including Gail Simone and Greg Rucka!In Shops: Jan 22, 2020 SRP: $9.99
Wonder Woman #750 is out today from DC Comics… I bought mine from Piranha Comics in Kingston-Upon-Thames. Piranha Comics is a small south London comic store chain with a small south-east store in Kingston-Upon Thames's market centre, which runs Magic The Gathering nights on Fridays, and a larger south-west store in Bromley, which also runs Magic nights and has an extensive back issue collection and online store. If you are in the neighbourhood, check them out.