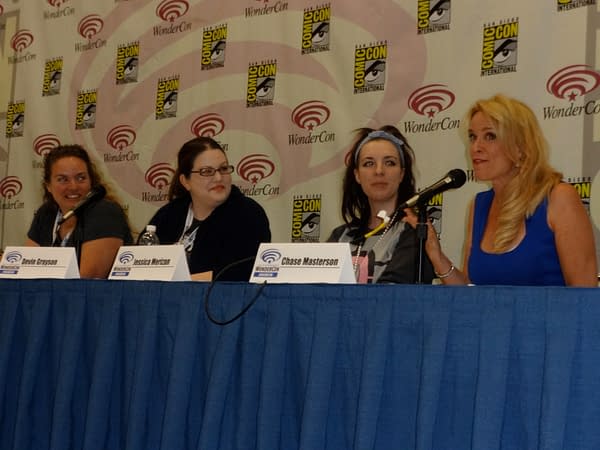 By Jason Strangis
What makes a good "bad girl?" How are female villains different than male antagonists? And why aren't there more femme fatales in fantasy roles and superhero films?
Those questions and more were explored during a panel called The Most Dangerous Women at WonderCon: The Good, the Bad, and the Deadly. Fittingly, the all-female panel featured Devin Grayson (Catwoman, Black Widow), Chase Masterson (Star Trek: Deep Space Nine), Patricia Tallman (Babylon 5), Dr. Janina Scarlet (Superhero Therapy), and others who spoke out for the female cause.
Panel members were initially asked to name their favorite villainesses, and some responses included Harley Quinn, Emma Frost, Ursula the Sea Witch, and Maleficent.
"I am very partial to Catwoman," said Grayson, who previously wrote the adventures of the feline felon for DC Comics.
Grayson added that she's disappointed that DC has turned Catwoman into an anti-hero rather than a pure villain.
Next, panelists were asked what specific qualities they admire in a villainess.
"She has to have a sense of purpose," Dr. Scarlet noted. "She has to have a plan and needs to know what she wants and what she stands for."
Other responses included "intelligence" and fighting skills.
"Someone that is just unapologetically evil," added Grayson.
There are certainly many gray areas when it comes to both female and male villains these days, and that idea was reinforced at the panel.
"No one who is a villain thinks they are a villain," Masterson said. "It just depends on your perspective."
Another question that was posed was "why does there seem to be so few female villains?"
"There are so few female roles in general," Tallman responded. "It's gotten better but it's still like that (in Hollywood). The (good) roles go to the same actresses because they sell the tickets."
Tallman continued by saying that writers play a big role in getting parts for women.
"If you want to see some amazing females than write them," she said.
While there may be an overall lack of strong female characters in movies and television, most of the memorable Disney villains are women and are very powerful: Maleficent, the Evil Queen, Cruella de Vil, Ursula, the list goes on and on.
But aside from those fairy tale villainesses, there does seem to be a lack of good "bad girls" these days.
Part of the problem, according to Masterson, is that "the world still has a screwed up view of women in power."
Added Dr. Scarlet: "I think it's about time we started reducing stereotypes of women in the media. It's about time we started showing women with a purpose."
Panel members also want to see more gender equity in movies. One point that was brought up suggested that female villains are often "softened" and are not as "ruthless" as male antagonists.
But one thing villainesses can, and often do, use to an advantage is their feminine wiles. A perfect example is Sharon Stone's sexy femme fatale in Basic Instinct.
Enjoyed this article? Share it!