Writer's Commentary – David Avallone Talks Doc Savage: The Ring of Fire #2
Dynamite has sent over a new Writer's Commentary by David Avallone for Doc Savage: The Ring of Fire #2. David included a couple classic images of Doc Savage as part of his write-up. The interior comic art is by Dave Acosta and the comic cover by Brent Schoonover.
We dive into issue #2 as our heroes and villains converge in the South Pacific… spoilers follow. Go read the book and come back and enjoy the footnotes!
The covers: Anthony Marques' cover, like all his covers for this series, bursts with power and energy. Brent Schoonover's interconnecting covers show the path of Amelia Earhart's ill-fated round-the-world flight… a lovely touch which I didn't notice until I read something Brent wrote about it. I also didn't notice (until putting them side-by-side) that beyond the obvious use of the Bantam books font, even the formatting (the rectangle with our names and the number) mimics the great paperbacks from the 1960s/70s.
Pages 1 and 2:
The boys arrive on site. Dave Acosta's work is, as always, magnificent. I promised him the next book we did together wouldn't have any battleships in it. I think I can keep that promise. Also, from the very top of the issue you can see how beautifully Morgan Hickman's color creates a cinematic sense of the time and the place. The issue title is inspired by a great Bogart movie from the period.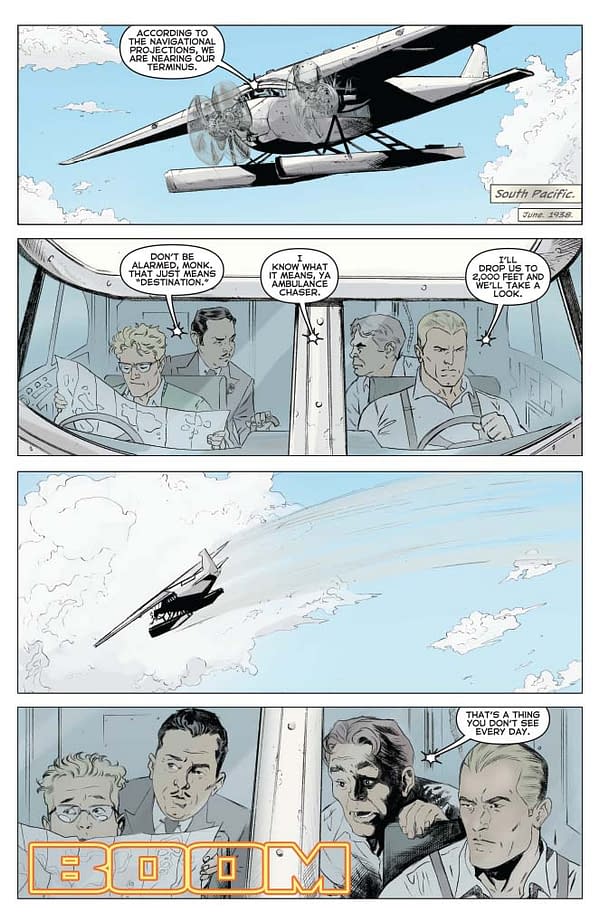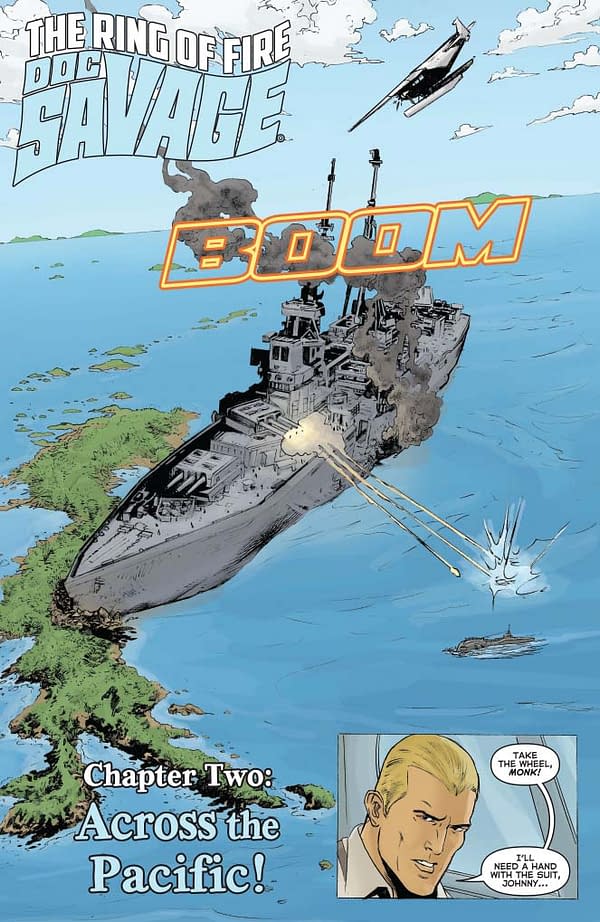 Page 3:
The return of Captain Calimano, my junior high school history teacher, and Dave draws a wetsuit for Doc inspired by the original work of Walter Baumhofer. I was hoping there was a cover from the period of Doc in undersea gear, and after a little digging I found it. Of course, Doc is also wearing a parachute and a spare. At the bottom of the page, I couldn't help myself: I had to very gently tweak the Doc Savage's influence on a famous superhero who came after him.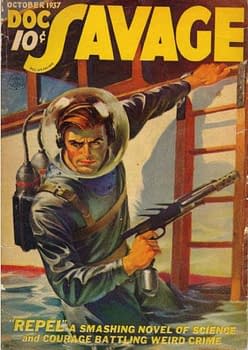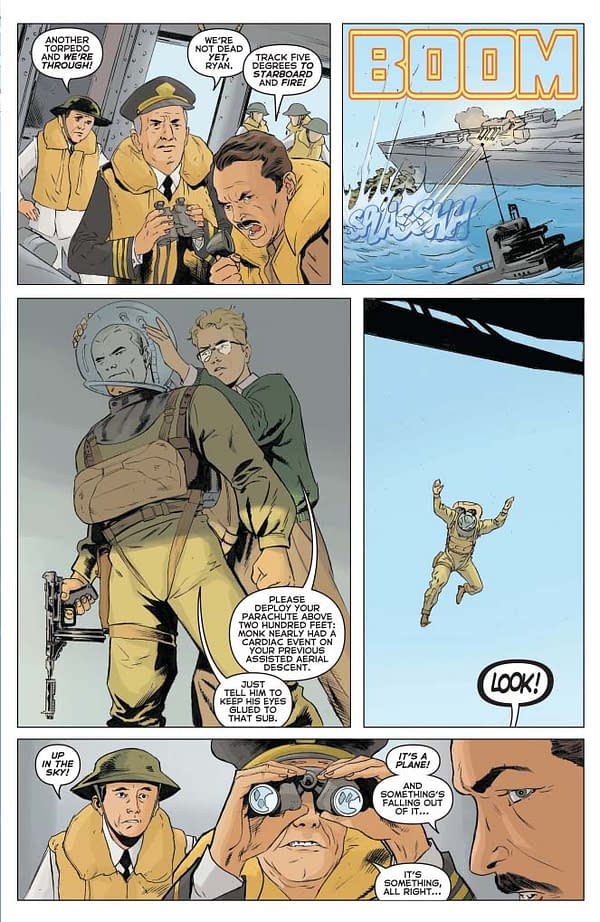 Pages 4 & 5:
Doc Savage in action. I let the art team do the talking here, and the talented Taylor Esposito provides the "sound". I say a lot: "letterer" seems like an inaccurate word to describe what a great letterer does. Dave is fantastic at laying out action but Taylor really makes this sequence sing.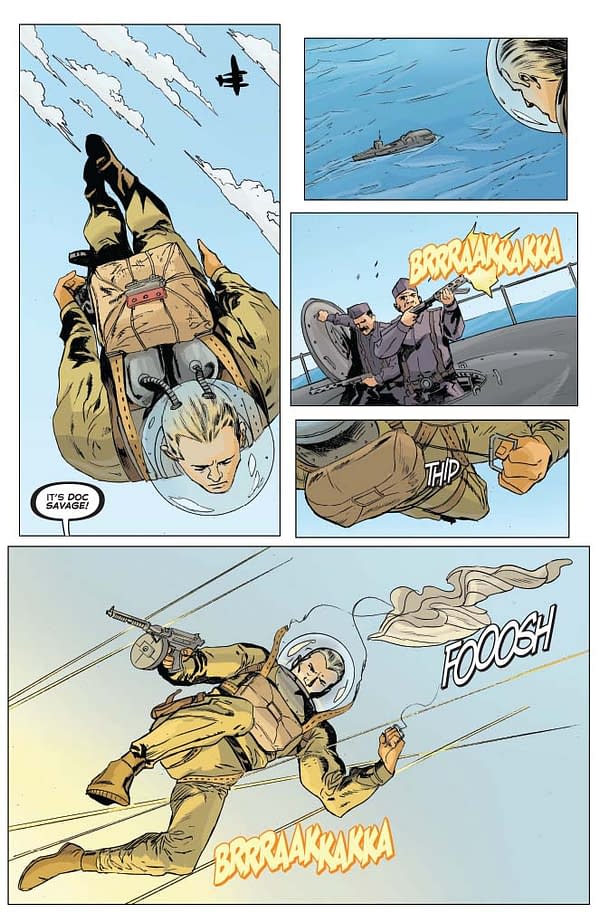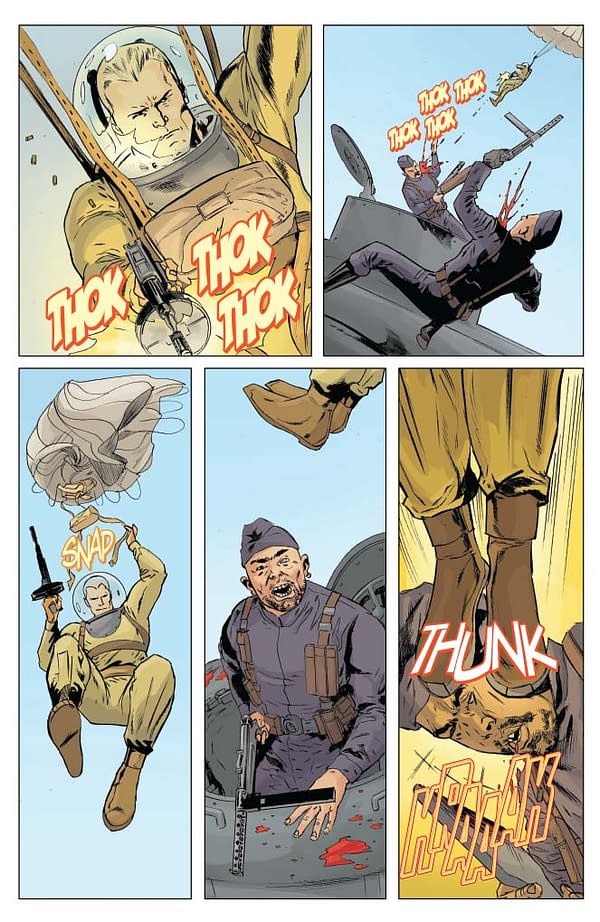 Pages 6 and 7:
Dave Acosta enjoys drawing submarine interiors almost as much as he enjoys battleships, but he does it so very well I don't feel bad for making him do it. Eagle-eyed nerds might recognize the design of Doc Savage's gas grenades. In 1933, Doc supplied them to a filmmaker named Carl Denham, who was concerned that he might need to knock something enormous unconscious. They served Carl pretty well. These guys don't even have time to pass out before Doc makes short work of them. Pull a Luger on Doc and you're going to get one of your shipmates thrown at you
Page 9:
Doc is critical of henchmen clichés. He has my sympathy, but what are you going to do? If these guys were smarter, they wouldn't be henchmen.
Page 10:
Renny and Long Tom and more submarine interiors. Sorry, Dave. I wanted to have Renny call Long Tom "Young Tom Edison" to mock his scientific double-talk… but I looked it up and that movie hadn't come out yet in 1938. So "Marconi" it is.
Page 11:
I love the slanted deck of the wounded cruiser, and the curious sailors in the hall. Eyepatch pirate henchman is hard case, and Doc isn't a torturer.
Page 12:
I just noticed we're halfway through the second issue and Doc's shirt isn't ripped yet. Am I fired? Will the fans insist on torn garments next time? But seriously… Ham gets a little moment here, remembering the Great War. Writing this series I've thought a lot about the Five, and even though a lot of it doesn't show up on the page, I'm trying to take every opportunity to let them breathe and be human beings.
Page 13L
Doc and Johnny go diving for "pearls" of intelligence. Yet more submarine interiors. Morgan gives the whole sequence an eerie cast.
Pages 14 and 15:
Speaking of Morgan… stunning color in this sequence, another dream that turns nightmare. A happy memory becomes a prophesy, and the slim silhouette of doom is back again, and this time it knows your name.
Pages 16 and 17:
Pro-Tip: don't fall asleep flying solo over oceans. Pat, being an amazing pilot, has arrived on target anyway… but she's taken down by Taylor Esposito's mysterious THOOMS.
Pages 18 and 19:
The phrase "my deadliest foe" has stuck with me since a hilarious panel in an Andy Helfer "Shadow" comic in the 1980s, and I've always wanted to use it. This was the place. Doc finds what he was expecting to find… but he still won't say the name out loud. I remember this a lot in the original pulps: Doc doesn't speak until he's sure, and even then, he lays things out in detail. Next issue he has quite a story to tell. But Pat has skipped right to the end already…
Page 20:
Pat's not afraid to say the name. I know that some fans are like "c'mon, man, John Sunlight? Again?" Well, in prepping this series I went back and read the Sunlight pulps and fell in love with the character. (I'm guessing this is why writers find him irresistible.) I also felt like Kenneth Robeson/Lester Dent still left something there unfinished. Dave and I both picked the same "photo model" independently, and I love the way the character design came out.
Next time: Rising Sunlight!