Writer Michael Uslan gives us a very in-depth commentary on the collected series Justice, Inc. that he wrote for Dynamite Entertainment. Cover art by Alex Ross, interiors by Giovanni Timpano. First, the backstory:
I was thrilled and honored when Nick Barucci of Dynamite Comics approached me to gauge my interest in writing an historic first team up of the Shadow and the Green Hornet. Nick was familiar with my writing back in the mid-1970s at DC Comics with Denny O'Neil on the legendary Shadow 12 issue series. I was fortunate to have been selected by Denny to write two of those, one of which was the first ever cross-over between the Shadow and the Avenger. He asked me if I would be interested in returning to the Shadow after an absence of almost 40 years. I couldn't resist! And so was born the graphic novel, "The Shadow/Green Hornet: Dark Nights."
We had a lot of fun creating that and the fan response was awesome! Nick asked me what else I would like to write for Dynamite and I apologized, explaining that I was so pre-– occupied with all my work producing motion pictures and animation that I really didn't have the time to continue writing comic books and/or graphic novels. But… that said… I did tell him that if he ever obtained the rights to three or four specific team-ups that would be my fanboy dream – come – true, I would somehow find the time to write them. Very quickly, he came through with the rights to publish the first ever team – up of the Shadow, Doc Savage, and the Avenger… the original trinity of super-heroes owned and published by Street and Smith in the pulps and later in comic books.
Some years prior to this, I was working diligently to obtain the financing necessary to produce a feature film storing these three super-heroes. I wanted to take the opposite road that Marvel had taken in movies, as these three characters were not nearly as well known today as the Marvel super-heroes were. I felt that if we introduce them to the world at large as one group, we would have better success at then spring-boarding each one individually into his own motion picture. I wrote a very long and very detailed treatment for this film, in three acts, scene by scene. I sent this treatment to Nick and he loved the story and tone and gave me the go ahead to convert it into a three act graphic novel which would be split into a six issue comic book miniseries. Meanwhile in Hollywood, my original approach did not stick with the studios and the result was a separate Shadow project I was involved in for some years with the great director Sam Raimi, and a separate Doc Savage project still chugging along at Sony with Neil Moritz and Ori Marmur.
Then came a creative curveball… Dynamite requested that the characters of the Shadow and the Avenger in my proposed "Justice, Inc." graphic novel be period, but that Doc Savage be the contemporary – looking Doc… The Doc with the pointy, slick haircut as opposed to the Clark Gable longer hairstyle. At that moment, I realized I would have to rewrite this story and turn it into a time travel based tail. It was the only way I could accomplish this objective. And since Doc is such a brilliant scientist and has such an amazing team, I figured there's no reason on the science side of things that he couldn't have invented some fantastic device to make time travel a reality. In the end, I spent over 100 hours perfecting my treatment/outline for this story before I ever began writing a single word of the actual script. When I learned that the great Alex Ross would be doing the covers, I was absolutely thrilled! I had heard that Alex was a huge fan of the old pulps and these characters, in particular. I was tipped off that he actually preferred the paperback book versions that came out in the 1960s that made him such a fan. I then realized I had a "golden" opportunity here to be the first writer ever to explain what happened to doc whereby his hairstyle changed so radically. What fun!
The next great moment for me occurred when I learned that my creative partner on this would be the phenomenal artist, Giovanni Timpano. Keep an eye on this man and his work. His career in comics and graphic novels is going to be meteoric. He is one of the best graphic story – tellers I've had the privilege to work with… and I have worked with some of the all-time greats. We had a full partnership in which we constantly communicated via email (Giovanni lives in Italy) and while I wrote full scripts including lots of specific direction regarding page and panel break down, shots and perspectives, Giovanni brought his own cinematic sense of layout and design to the process and often would suggest different ways of looking at a page or two pages at a time or a sequence. More on that as we break-down each issue below.
With that background, let's take a look at how this three act graphic novel emerged in the form of six individual comic books:
Book One: If I was going to do a time travel story, I needed to ground it in some sort of scientific believability. At the time I was preparing to write this, the Hadron Collider was first about to be activated. There had been a lot of fear and discussion by noted scientists that it could inadvertently create a black hole, destroying the earth, if not the entire universe. By having Doc Savage build a second fortress with a vast collider beneath it, it would be something that would challenge his own financial resources, allowing him to turn to a super wealthy industrialist for co-financing… someone like Richard Henry Benson. Aha! This then would become my link from Doc Savage to the Avenger.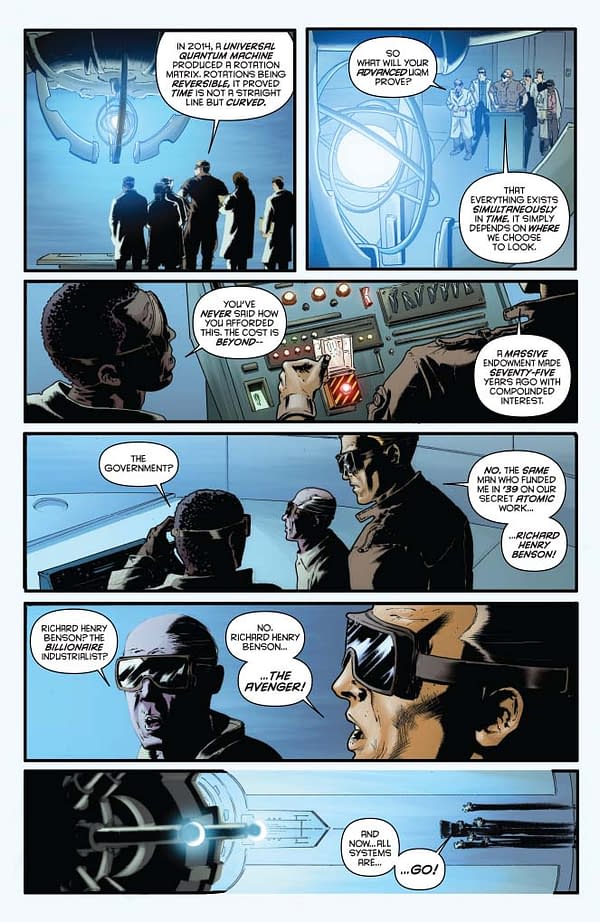 On page 3, panel two, Doc Savage must provide a direct and simple explanation as to how time travel works. I was stymied, but my older brother, Paul, an optometrist in Ann Arbor, Michigan, came to my rescue. Paul was the fanatic in our family who bought every paperback Doc Savage novel that came out in the 1960s and read them, devoured them, and then passed them along to me, generously. The words in that panel on page 3 may be voiced by Doc Savage, but they are actually my brother Paul's words.
As key supporting characters in this story, I first chose HG Wells. My research showed that he was still around in 1939 and, as the author of "The Time Machine," he could be a great influence on Doc Savage's theories of time travel. Then, I needed someone in 1939 connected to the aviation industry who could provide a link between the Shadow and Doc Savage. The answer was Howard Hughes, whom I had previously used in my Dynamite graphic novel, "The Shadow/Green Hornet: Dark Nights." Hughes would link that graphic novel to this graphic novel and provide continuity in regard to the Shadow and his agents. I also needed a real-life scientist to help anchor the time travel concept to some aspect of believability and looked to Albert Einstein to come aboard.
Enter Richard Henry Benson… My intention was not to directly conflict with the original 1939 origin story of the Avenger, but rather simply expand the story in an attempt to make the character feel a bit more contemporary although still period. The Avenger had never achieved the level of success of Doc Savage or the Shadow in pulps, or in any other media including comic books. I also felt that his gray leather uniform was quite drab for today's younger audiences I was hoping to access. So Giovanni and I planned to jazz up his outfit a bit without making something different out of it. But more on that down the road.
I love planting "Easter eggs" in my stories in a way that, hopefully, are not distracting to newer or younger readers who are not as plugged in to the characters and their history.but I want them in there to bring smiles and winks to long-time fans like me. So, yes, The names of the evil men in Richard Benson's company are tributes to Paul Ernst, the creator/writer of the Avenger, Kenneth Robeson, the "house" name for the creator of both Doc Savage and the Avenger, and Walter Gibson, my friend who created The Shadow as we pulp fans know him. And now a brief note about my writing style… After page 1, I plot out my stories in chunks of every two page spread. Each time the reader needs to turn the page, it is on an odd number page. So I want to try to make the end of every odd number page a bit of a "page turner." I will also refrain from changing scenes on an odd number page. I would rather begin a new scene once you turn the page. I am also a fan of "establishing shots" to begin a new scene, wherever possible. This was something I was taught by Denny O'Neill when I wrote my first ever professional comic book script for DC Comics' "The Shadow" number nine back in the mid-1970s. To other people reinforce this to me, the great editor, Julius Schwartz, who was my editor when I began writing Batman comics, and a bit later bye Alex Toth, the greatest graphic story-teller I ever worked with. Those three gentlemen taught me so so much!
Knowing I had an origin story to deal with on an airplane, I was heavily influenced by three of my favorite "Twilight Zone" episodes… one being the episode that gave me nightmares as a kid, "Room for one more, honey!" That involved the blowing up of an airplane.The second was the episode with William Shatner when he sees a demon on the wing of his airplane while he is in the midst of suffering a nervous breakdown. The third was the episode in which an airplane is caught in a super jet stream that crashes the time barrier, taking them back first to the era of the dinosaurs and then to the 1939 New York World's Fair. The fact of my story was occurring in 1939 primarily made me immediately think of this "Twilight Zone" episode. Also, as I had previously established in my graphic novel, "The Shadow/Green Hornet: Dark Nights," Howard Hughes had his aircraft company and hangar based at what would one day become LaGuardia Airport and at the time was close to the New York World's Fair grounds in 1939. Truth can be stranger than fiction! By the way, on page 10, the saying quoted by Doc Savage was the favorite saying of my father, Joseph Uslan. That may be Doc Savage's picture you see speaking, but it is my father's voice. That quotation was so associated with my dad that we placed it on his gravestone.
That P-39 Airacobra was a real, state-if-the-art aircraft in 1939, painstakingly rendered by Giovanni to be accurate.
There was chaos at the 1939 airport when Doc attempts to land a 2015 airliner. It was the perfect opportunity for me to make use of Howard Hughes. Because of his prior connection to the Shadow in my last graphic novel, it was the most sensible way to introduce the shadow and Margo Lane and Lamont Cranston into this story. When the first issue of this comic book miniseries came out, the initial response of some reviewers and readers was that this appeared to be a Doc Savage story with a little bit of the Shadow and the Avenger in it. In fact, that was not at all the case. Remember, I wrote this as a full three act graphic novel, thereby making comic book issues one and two combined the equivalent of act one of a graphic novel (or, for that matter, a screenplay). I was not about to upset the balance of the three act structure simply to impose the Shadow or the Avenger in earlier than they should appear organically. As a matter of fact, if you were to take all six issues of the miniseries and count the number of panel/pages involving each character, you will find that they are almost divided one third, one third, and one third.
Some readers were taken aback by the seemingly threatening attitude of the Shadow toward Cranston when Cranston questioned the Shadow's orders. I have absolutely no qualms about this. If you go back to the pulps, you will see just how the Shadow ordered Cranston out of the country because the Shadow unilaterally decided he was going to take over Cranston's identity and life. The Shadow could be a real S. O. B. and would expect and demand to be obeyed without question. On a somewhat similar note, way back in "The Shadow" number nine in the mid-1970s, I inserted a sequence in which Shrevvy screws up and The Shadow, in a not-so-subtle way, indicates that Shrevvy would be "going away" for a while for some ambiguous type of re-training. The Shadow is not simply the likable boss of his agents. He considers himself their master. By the way, I wonder if the real Howard Hughes actually took Doc Savage's advice here and build his vast fortune by taking action in 1939 and hoarding away as many copies as possible of Action Comics number one, Detective Comics number 27, and Marvel Comics number one.
Closing out my commentary on Book One, I had long wanted to use the Voodoo Master as a villain in comics, and had the original DC Comics "Shadow" series of the mid-1970s continued, I certainly would've done so. Utilizing him here now for what may have been his first time in comic books, I decided to let him be the purple-prosy, pulp villain as he was created, in terms of both his dialogue and looks. I knew this was a bit contrary to the way I was treating my heroes, trying to make them feel more realistic, grounded, and believable. But this was 1939 and the pulp era and I just wanted to let the Voodoo Master be the Voodoo Master. I would try to somewhat contemporize the tone and dialogue and look of another villain in this story, but I couldn't resist allowing the Voodoo Master to remain the master of his domain.
For more information on the Justice, Inc. Volume 1 trade paperback, click here.
Enjoyed this article? Share it!