Writer's Commentary – Troy Brownfield On Blood Queen #2
Troy Brownfield is the writer on the new Dynamite series, The Blood Queen. The series is a fantasy re-do on the historical character of Elizabeth Bathory. Here Troy goes through the second issue giving us his writer's commentary.
Greetings and welcome back! Nice to see you all again; I'm sure you look fit and well-dressed. My name is Troy Brownfield, and I'm the writer of The Blood Queen from Dynamite. The rest of the team is artist Fritz Casas, colorist Kirsty Swan, letterer Marshall Dillon and editor Molly Mahan. The two main covers are once again by Jay Anacleto and Ale Garza. If we may . . .?
Page 1 – Opening pages can be a tricky thing; I don't always go with the same thing. In the first issue (commentary #1 link here if you please, Mr. Johnston), we opened with smaller panels because we were building up the suspense of the scene. Here, I favored the splash because I wanted to give the readers a firm establishing shot, particularly if they were new. This page says, "Hey, if you missed the cover, this is a medieval-style book, that's Castle Varrano, a carriage is arriving at speed, etc." It's a table-setter. Issue 3 opens with small panels on the first page into a full-page that follows up on the reveal that ends this issue. I mention in the captions here that the new arrival is the king and queen's niece for one reason: expediency. We can spend more time in the dialogue that follows establishing Elizabeth and Helena's friendship rather than taking too much time to explain Helena. Pages 2 and 3 – You saw in the first issue that the various royal and royal-related women of the kingdoms (the Daughters of the Line) are trained in limited magic. Helena and Elizabeth are near one another in age, so they became friends over the years as Helena spent two weeks a season with Elizabeth and Elder Winnifred learning magic. Helena is the daughter of Tannen; he is King Trevian's younger brother and the king of nearby Heathermoore. More about the various close kingdoms and royal families is slowly revealed in subsequent issues and the annual. That's your early bonus pick-up.
Pages 4-7 – A few things going on here. Differences between Elizabeth and Helena become more apparent. Among those is the fact that Elizabeth really enjoys watching Ferenc fight. We also see that Ferenc has absolutely no problem with violence. He has a code that he lives by, but he doesn't suffer fools in his service. Nice action choreography from Fritz, too.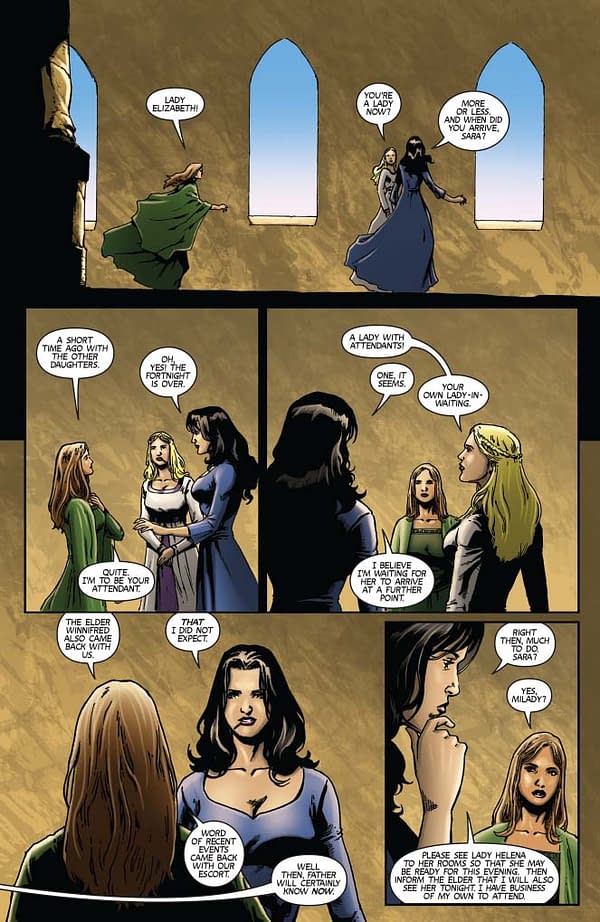 Page 8 – Welcome back, Sara! As I mentioned in the commentary for #1, Sara is the young girl that helps Elizabeth prepare for her first meeting with Ferenc. Returned to the castle from her fortnight with the Elder, Sara has been assigned to be Elizabeth's attendant. We'll see more of her from time to time; she plays a larger role in issue #5, and you'll learn about which kingdom she's from. Sara carries word that the Elder Winnifred has come to the castle as well, which Elizabeth did not expect.
Page 9-13 – Some readers of #1 noted Elizabeth's banter with Ferenc on the horse, wondering about the direction of their relationship, etc. I had to smile because a) this issue was obviously already in the can, and b) I wanted to crush that will-they-won't-they thing right away. That can be a fine engine in some comedies ("Cheers" managed to make it work TWICE for Sam during its run) and it can lead to great complications and arcs in drama (Buffy-Angel, Buffy-Spike, Chrichton-Aeryn, Mal-Inara, etc.). It's event present to an extent in one work of mine (See: Sparkshooter.com). HOWEVER. That was never my intention with Elizabeth and Ferenc. I wanted to establish right away that Elizabeth is in control of her sexuality. Her own beliefs in nature and so forth supersede courtly convention, while Ferenc is actually a little frightened of anything that might run afoul of his knightly vows. Those that are still suspicious about Elizabeth are probably already wondering if sex is one of her weapons or if this is part of a larger design. To those I will say . . . keep reading to see if you're right or wrong. Incidentally, Kirsty Swan deserves a big hand for the colors in this scene, particularly the shadows and background reds.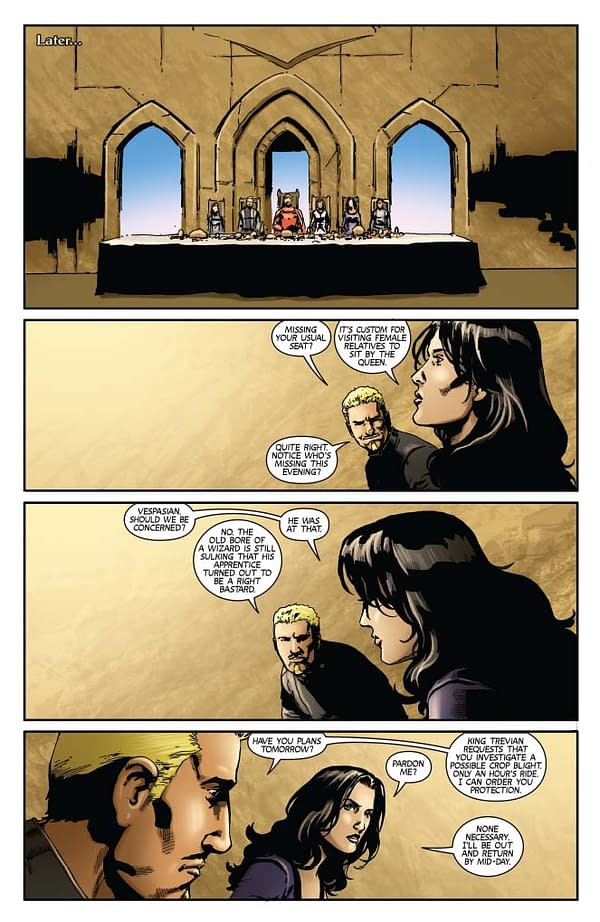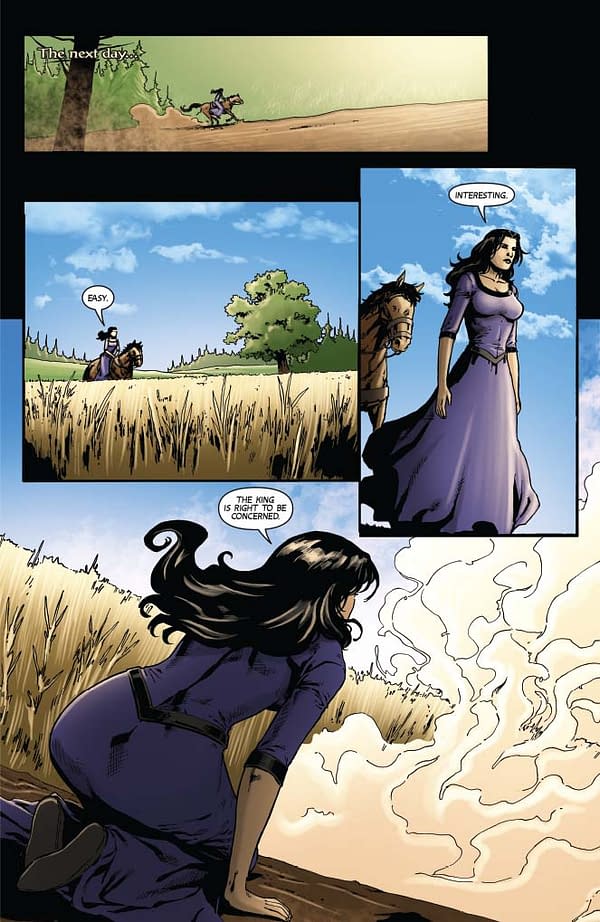 Pages 14-15 – You'll see more of Jon Hunter interacting with Elizabeth later, so we'll save that for now. The issue of the blight will be a recurring problem.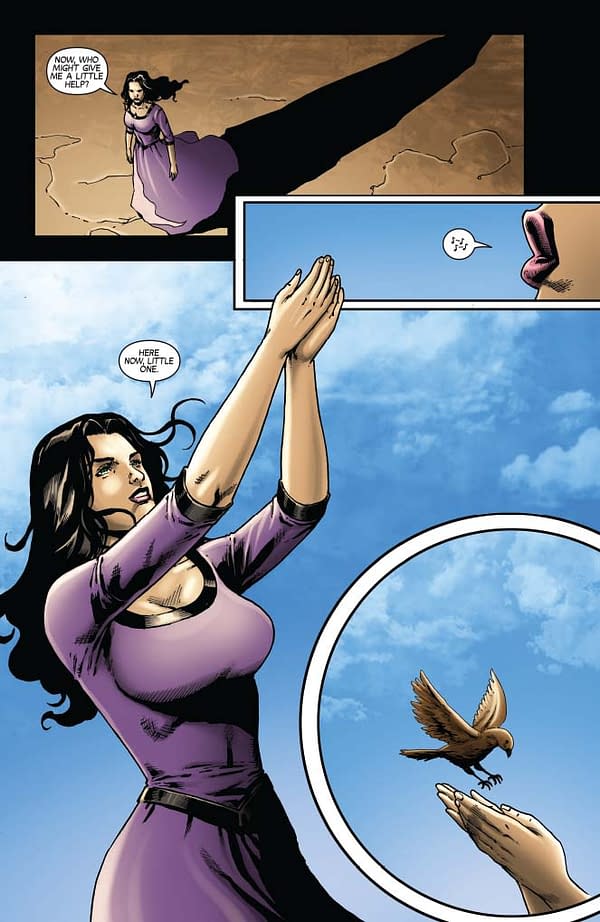 Page 16-18 – I intended this as an inversion of the classic Snow White scene/stereotype. Some people will read this scene as "See? She's evil!". Others will say that she just isn't precious about certain things when it comes to a larger purpose. Still others will call it an Ozzy tribute. Whatever the interpretation, I think that it's an important scene, and one that will certainly resonate down the line.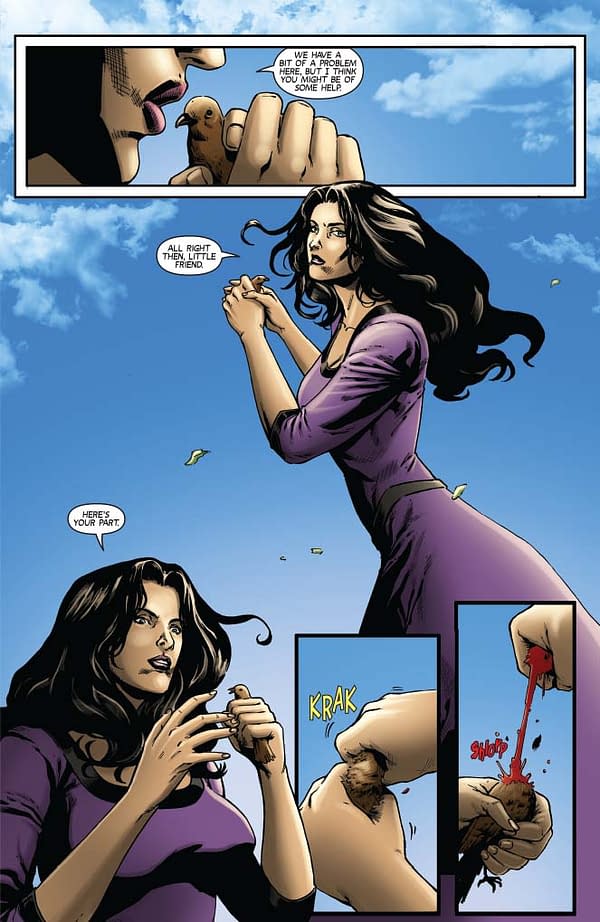 Page 19 – A bit of verbal jousting between Jon Hunter and Elizabeth. He's clearly intrigued by her, but Elizabeth seems content to keep him at a bit of a distance for the moment.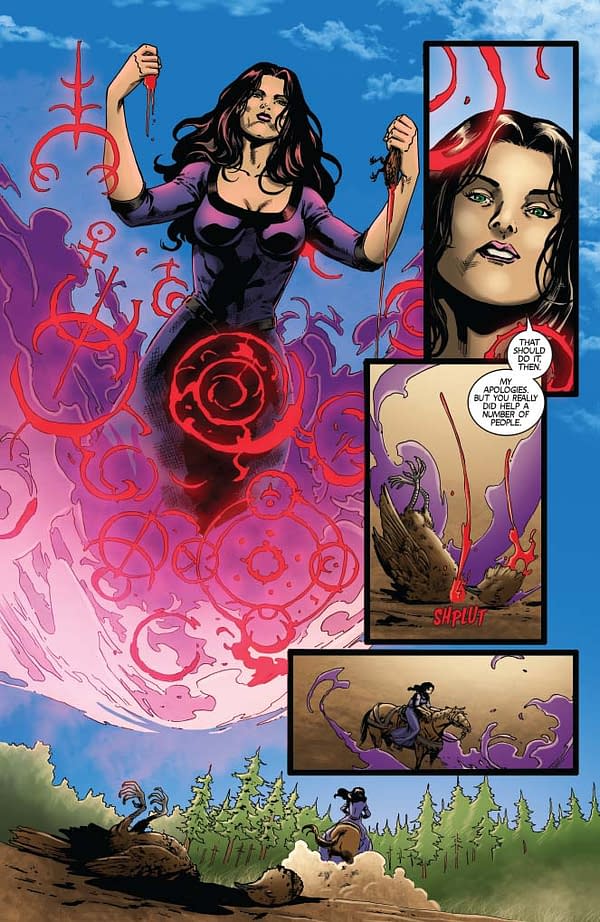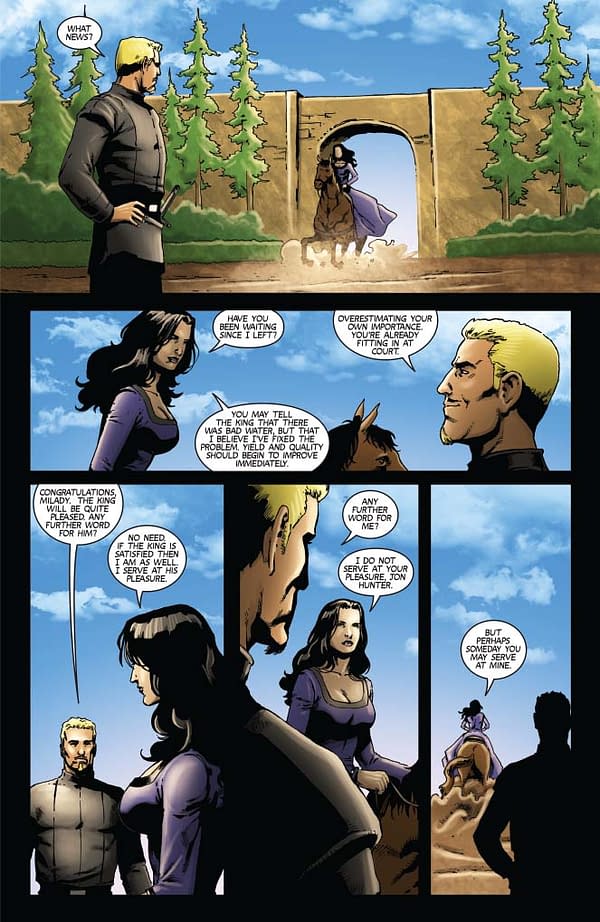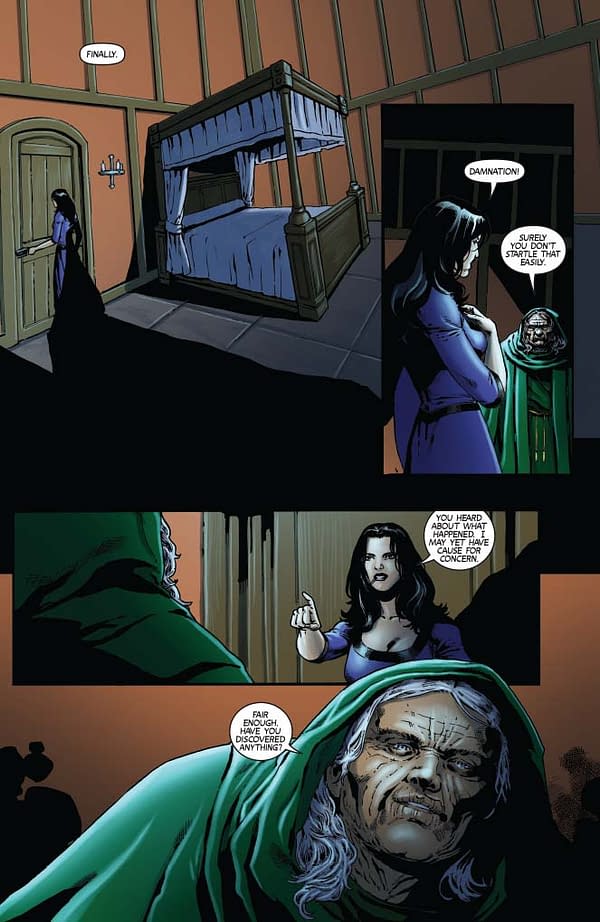 Page 20-22 – And the big reveal in this issue falls on the last page. Elder Winnifred isn't entirely what she appears to be. I've had a few people tell me that they were genuinely surprised by this, so I was pretty thrilled. At the outset, when we first starting doing interviews for the series, one of the things that I alluded to was the idea of "what makes a wicked queen"? Thusly, I wanted to include some nods here and there to Snow White, home of the archetypal Wicked Queen. The bird inversion is certainly one; the beautiful witch disguised as an old lady is definitely another. The why of that is something that we get into immediately in issue #3. Which, of course, you should order at your LCS if you haven't already.
I hope you enjoyed the second issue and the commentary. Feel free to post questions, topics for further discussion, etc. I'll be happy to talk to you about Blood Queen, the forthcoming Blood Queen annual, and my novel from Dynamite, Prince Dracula (now in paperback as well as Kindle)! Hit me here, or reach out on Twitter @TroyBrownfield or @DynamiteComics #BloodQueen.
For more on The Blood Queen, click here.