X-Men Debut Reprinted & Signed By Stan Lee At Heritage Auctions
A Marvel Milestone reprint copy of X-Men #1 is taking bids at Heritage Auctions, and it is signed by Stan Lee himself.
---
X-Men collectors can rarely afford the series's first issue, featuring the mutants' debut and one of the hottest books in comics. So over the years, Marvel Comics have reprinted this and many other major issues to get them into collector's hands. These days, they are facsimile editions, which are straight reprints of the entire issue, including ads, but some of us remember and love to collect the Marvel Milestone issues. These reprints featured a really nice silver border, and even these had multiple printings and special editions. This one, taking bids at Heritage Auctions today, is special not only because it is a first print but it is signed by Stan Lee himself. Right now, it is at a low price of $52. Check it out below.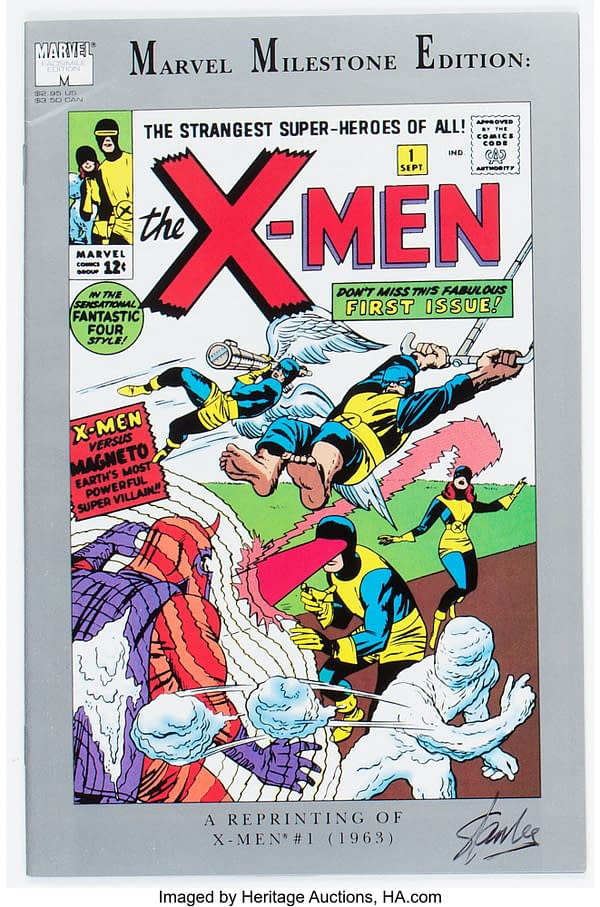 X-Men That You Can Read
"Marvel Milestone Edition: X-Men #1 Signed by Stan Lee (Marvel, 1991) Condition: NM-. Reprints the first appearance of the X-Men. Signed by Stan Lee on the front cover. Overstreet 2022 NM- 9.2 value = $14. Cover pencils by Jack Kirby, inks by Sol Brodsky. X-Men, script by Stan Lee, pencils by Jack Kirby, inks by Paul Reinman; After a day of training and meeting Jean Grey, a new student at Professor X's school, the X-Men go one their first assignment–stopping a mutant named Magneto from talking over an Air Force base. Full page house ads for Amazing Spider-Man #4 and Sgt. Fury and His Howling Commandos #3. This is it, the first issue of the Uncanny X-Men, and even in the beginning, there was Magneto, the Earth's most powerful super villain. Conceived by Stan Lee and Jack Kirby, this first issue will always remain one of the core books within the Marvel Comics mythos. This is Stan and Jack making history and legend, although no one knew it at the time. First appearances of Professor X, Cyclops, Iceman, the Angel, the Beast, Marvel Girl, and Magneto."
Again, this is the way to get the debut of the mutants and a fun little subline to collect as far as the Marvel Milestone editions are concerned. Getting one signed by Stan is not too shabby, either. Go here to get more info and to place a bid. While you are there, go ahead and click around and check out all of the other books taking bids today.

Affiliates of Bleeding Cool buy from and/or consign to Heritage Auctions.