X-Men: Bland Design – Deadpool vs. Old Man Logan #4
Welcome to Week 2 of our new ongoing column answering the question "What if Ed Piskor had no art skills, a juvenile sense of humor, and less classic material to work with?" That's right, it's, X-Men: Bland Design! This week there are five X-Books on the stands, which will cost you a total of $20 to read, but deliver about the same story content as a single issue did for 25 cents forty years ago.
Here's the plan: Just as Ed Piskor is condensing decades of X-Men history into a few issues in X-Men: Grand Design, we're condensing a week's worth of X-Men comics into several clickbait articles, in which we'll likely make the same repetitive complaints about how comics have changed for the worse while getting more expensive. This week, we've got X-Men: Gold #20, Weapon X #13, All-New Wolverine #29, Generation X #86, and Deadpool vs. Old Man Logan #4. You can see read every X-Men: Bland Design column going back to the very beginning (which was last week) at this link.
Time to close out the week with Deadpool vs. Old Man Logan #4…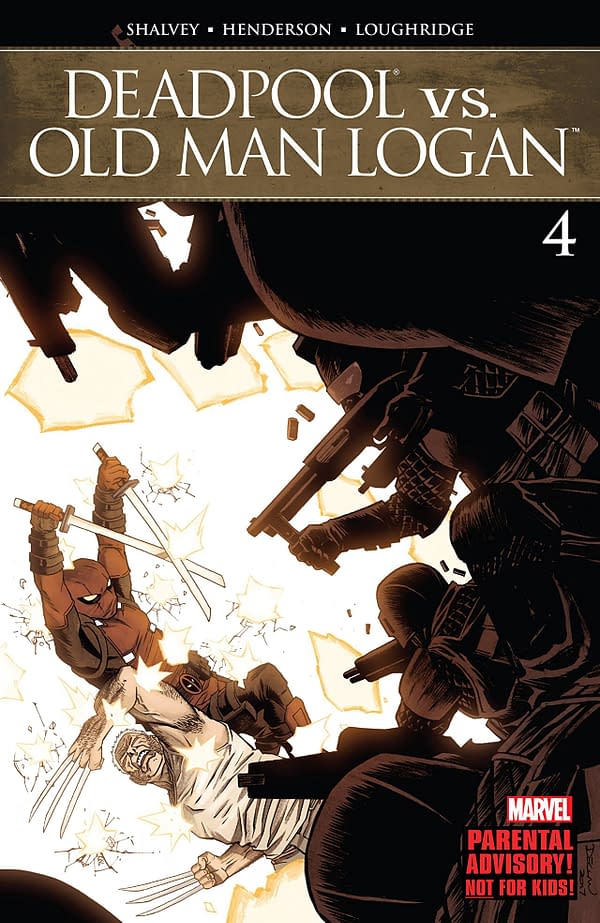 Deadpool vs. Old Man Logan #4 (of 5)
Writer: Declan Shalvey
Artist: Mike Henderson
Colorist: Lee Loughridge
Letterer: Joe Sabino
Cover: Shalvey and Jordie Bellaire
Damage: $3.99
As far as superfluous team-up minis featuring characters who are already extremely overexposed, Deadpool vs. Old Man Logan has managed to be cute and fun so far. This is the 4th of 5 issues, so here's what you need to know about the story so far.
Logan finds himself reluctantly teaming up with Deadpool to help save a young omega-level mutant named Maddie who is being hunted by a weapons manufacturer that uses mutants for weapons called Genform, even though she doesn't really want their help. Maddie has the ability to teleport objects and essentially throw them at people, and Genform used that power to capture Logan and Deadpool when they tried to rescue her. With all three in custody, Deadpool came up with a last-ditch plan: he got Maddie to teleport Logan's claws inside of him, and now he's about to do what Wolverine does best… which is stab the crap out of people. Which is also what Deadpool does best.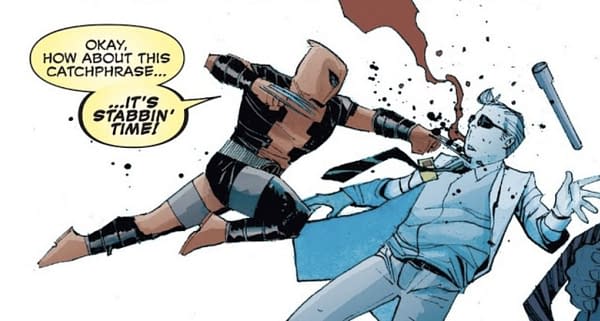 Unfortunately, Deadpool only gets to wreak havoc with Wolvie's claws for a short time before Logan convinces Maddie to teleport them back. Now it's Logan's turn to yell and stab things, and he does just that as Deadpool tries to escape with Maddie. As Maddie reveals she stole an iPad with a map of the facility, Logan chops off heads, cuts off limbs, and cleaves bodies in half. Before he kills the leader, Agent Hart, however, Hart whispers a secret to Logan about Maddie. Uh oh.
Meanwhile, Deadpool and Maddie are making their escape and murdering Genform agents on the way. They reach the exit, but Logan tells them to stop. He says Maddie is too dangerous to leave the facility. Apparently, she can't control her powers and is a danger to herself, and they can help her at Genform. Uh… are we forgetting that they were obviously using her as a weapon? Deadpool does, and he's not buying into Logan's change of heart. They fight.
Maddie has had enough and tells them she can take care of herself. She activates her powers to teleport the entire facility away, leaving the three of them free to escape… but that will have to happen next issue, because this one ends here.
Maybe we're going soft, or maybe taking a four year break from Deadpool books has done us some good, but this was actually an enjoyable comic, far more so than a Wolverine and Deadpool team-up rightfully deserves to be. It's exactly what you'd expect: Logan being grumpy, Deadpool being annoying, lots of blood and gore, and a last-minute twist, but it's elevated by the craft of the creative team. Too bad there's only one issue left!
Next week, X-Men: Bland Design will return with four X-books: Legion #1, Phoenix Resurrection #4, X-Men Blue #20, and X-Men Blue Annual #1.