X-Men Blue #34 Review: The Master of Magnetism Reigns
[rwp-review-recap id="0"]
Magneto is confronted by the future incarnations of his X-Men Blue team. They blame him for the death and destruction that surrounds them. However, the other surviving mutants laud Erik as a savior. The question is the same as it always has been: is Magneto a devil or a savior? Magneto intends to make it back to his time, but the X-Men want to stop him from perpetrating this destruction. Magneto must once again fight the X-Men.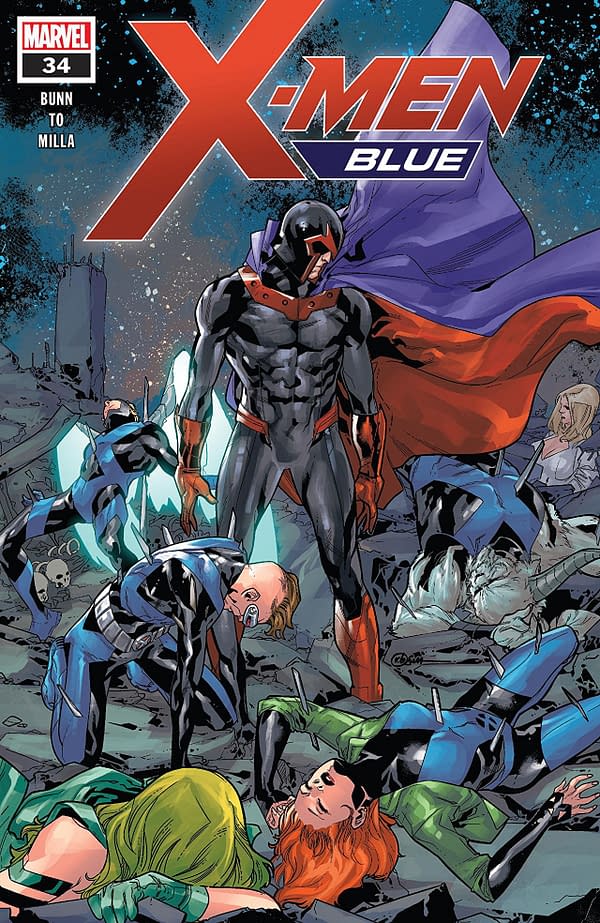 X-Men Blue #34 completes the transformation of Erik Lensherr (I prefer to call him his adopted name over his birthname of Max Eisenhardt). Whether he becomes that devil or savior, I won't say. I will say that I'm very pleased with the character arc Cullen Bunn has granted Erik over his Magneto, Uncanny X-Men, and now X-Men Blue series.
Seeing Erik battle the X-Men once again is awesome, and the focus upon Magneto's mental state is as welcome as ever.
The final few pages are what really bring this story home, but I won't spoil them for you. Needless to say, I look forward to Magneto's future in X-Men titles.
The future version of the X-Men doesn't imply much about the team beyond the possibility of them sticking around outside of their own time.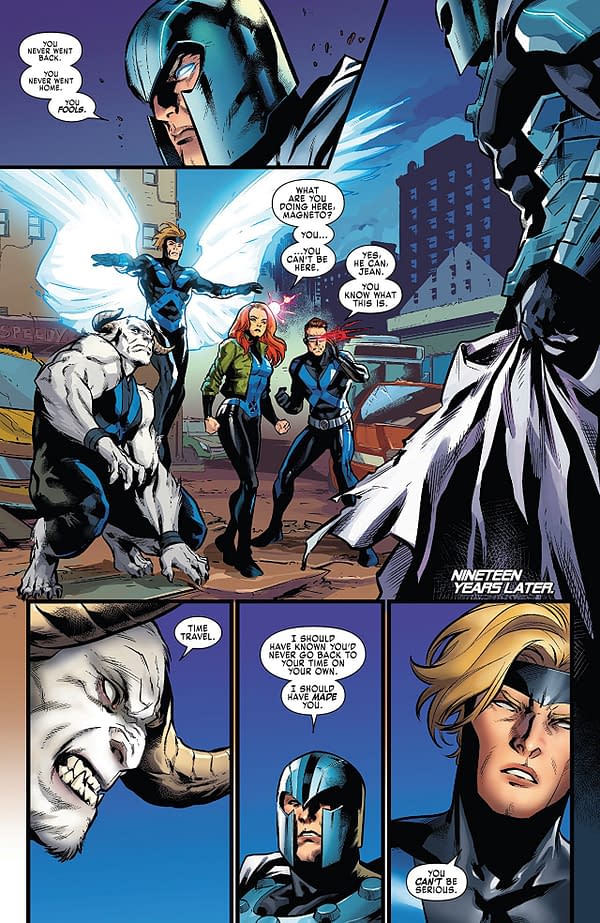 Marcus To once again provides great artwork to this book. Magneto's future costume still looks awesome, and the battle between he and the X-Men is realized spectacularly. Both sides get to show off the extent of their powers, but subtle emotion and mood are also given their due representation. Matt Milla wraps it all in some high-contrast color work that makes the pages pop even more.
X-Men Blue #34 brings the book near its conclusion with a thoughtful issue that will shape the future of the team as well as its once-greatest enemy. Erik Lensherr is put on a spiritual journey well realized by the team of Bunn, To, and Milla. This one earns a strong recommendation. Give it a read.
[rwp-review-ratings id="0"]
[rwp-review-form id="0"]