X-O Manowar #14 Review: Aric Comes Home
X-O Manowar, now having left Gorin, receives a distress call that brings him back to Earth. Aric is reluctant, but he and his suit agree to come back to our world. He is contacted by Livewire and warned of a coming conflict; Aric will be called into the war. She wants him to be on her side. However, other matters occupy Manowar's mine currently.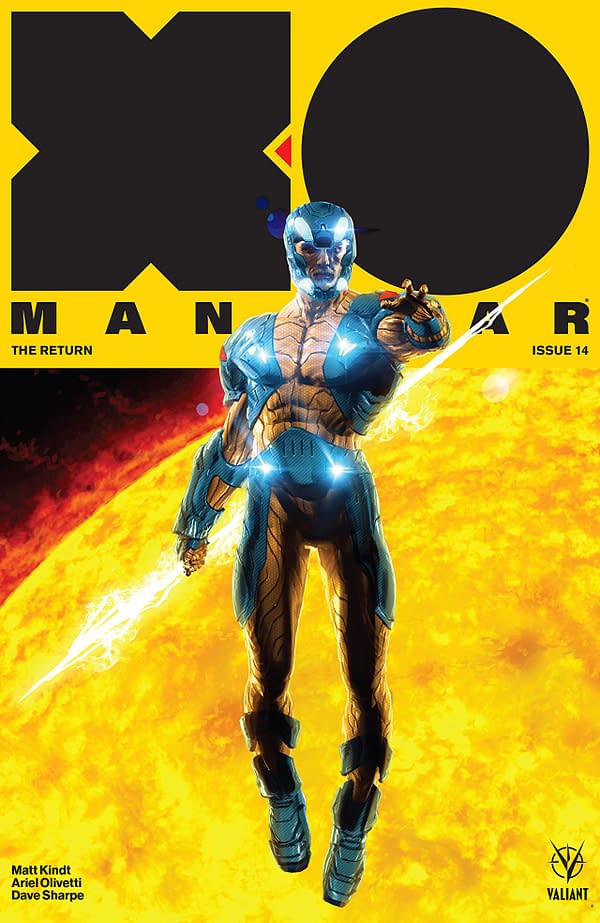 The beginning of this comic is a little incongruous with the ending of #13, as Aric appears far more aimless and, well, hopeless than the previous issue implied.
That aside, X-O Manowar #14 is a very pensive and self-reflective issue for Aric. He comes back to Earth to face some old business which he left behind; the Harbinger Wars 2 conflict of which Livewire speaks is far in the background of Aric's concerns.
I'm generally down for a ponderous issue like this where the protagonist comes to terms with everything they've faced in their time. For the most part, X-O Manowar #14 is a good example of this kind of comic. There are times where it slips into melodrama and the visuals get a bit silly regarding the symbolism. However, the narrative works more often than it doesn't.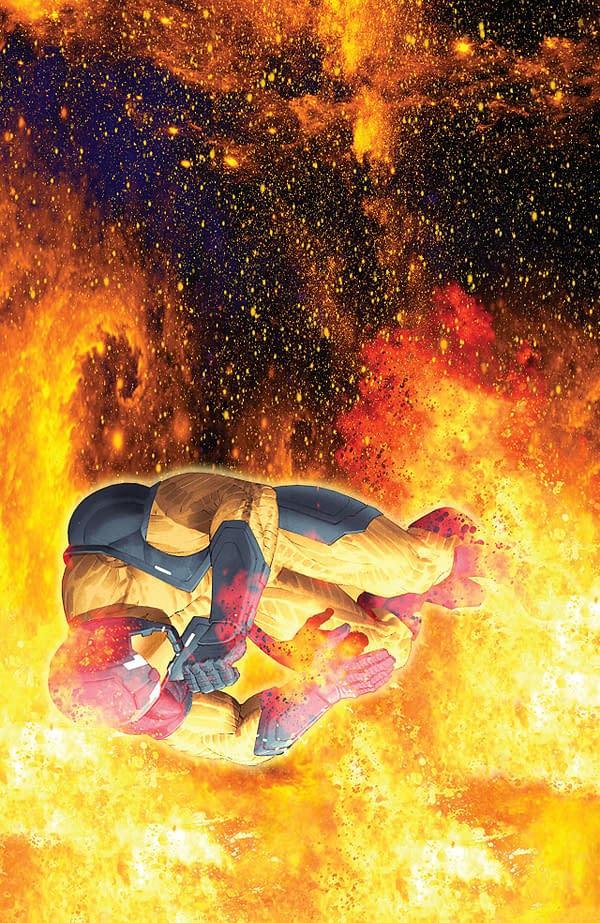 Ariel Olivetti takes over the art this issue with his distinct mixture of photorealism and bulging detail. It fits this comic quite well, and Aric's armor looks especially good in this style. The colors are generally bright and popping too, and they are contrasted with more subtle shades to create a visual balance which also looks very good.
X-O Manowar #14 is a solid next step in the story of Aric. While it does have some problems and is likely a little slower than many people would like, its focus on the emotions and headspace of Aric makes it a very engaging read. Plus, Olivetti's artwork makes it all look gorgeous. This one gets a recommendation. Give it a read.