Xerxes: The Fall of the House of Darius and the Rise of Alexander #1 Review – That's a Really Long Name
The Ionian Greeks have rebelled against the rule of the Persians. They join up with the Athenians in a hope to escape Persian wrath. Darius sends his armies after the Greeks. The scouting party is repelled, but a battalion is on the way. The Athenian and Ionians are outnumbered, but their commander has a plan for victory: break the phalanx.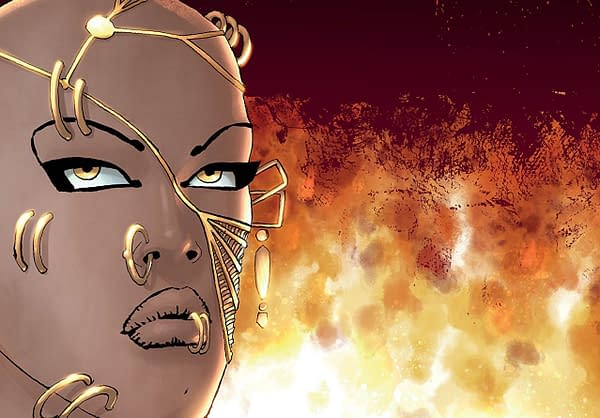 With a title like Xerxes, I have expected this to focus on the titular god-king or at least the House of Darius. Maybe it would focus on the Persians. Instead, we get more of the Greeks, this time Athenians.
I like a good action comic as much as the next guy. The thing about a good action comic is that it will give you characters to care about and stakes to draw you in to the battle. Xerxes #1 opts not to do that, instead just hoping that historical context, a bored narrator, and the bloodshed will be enough.
It's not that Xerxes #1 isn't entertaining. Frank Miller finds new ways to split Persians apart. The art has a grungy simplicity to it that at least makes the visuals interesting. Some of the cleaving and bifurcation is absurd to the point of being laughable, but Miller knows how to portray wanton violence. Alex Sinclair's color art is similarly simplistic and gritty; the two artists work together well.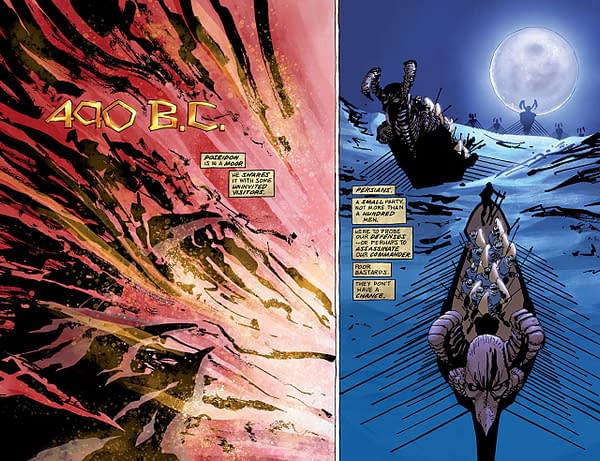 It's just that, after 20 years, one would think that there would be something more to Xerxes than Greeks and Persians killing one another. The comic makes some vague motions in the "war is hell" and "democracy is great" directions, but they're noncommittal and token.
Xerxes: The Fall of the House of Darius and the Rise of Alexander #1 makes gory action—honestly—quite dull. I don't really care about this conflict or these characters. Maybe later issues will inject the slightest bit of nuance into the bloodshed, but this comic doesn't seem to promise it. If you love 300, here's more of it. Have at it. Otherwise, I'd save your money and give Xerxes a pass.