Xtreme Championship Tournament The Superbowl Of The Future…
Shaun Paulet writes for Bleeding Cool: There is nothing quite like the wild roar of a rowdy heaving crowd, or so Shaun Paulet of COMICS2MOVIES thought when he created his latest comic the Xtreme Champion Tournament (XCT).
Based in the future, heroes, villains and beasts or creatures of the past have been cloned and ordered to fight until death in a brutal arena as pitiless spectators revel in the madness. XCT reintroduces readers to historical characters that they have probably already met before like Spartacus, Lozen, Achilles, Baykok, Leonidas and a series of creatures, long thought to be mythical. Be warned, XCT is not a history lesson; the storyline weaves some historical fact into an action-packed and ferocious account of how cage fighting could evolve in the future.
Shaun is an avid comic book fan and has a long history of trolling the crowd funding websites, looking for new comic books to support. 'Some amazing comic books have come from the crowd funding sites, I feel like I am getting an exclusive by being a backer' says Shaun.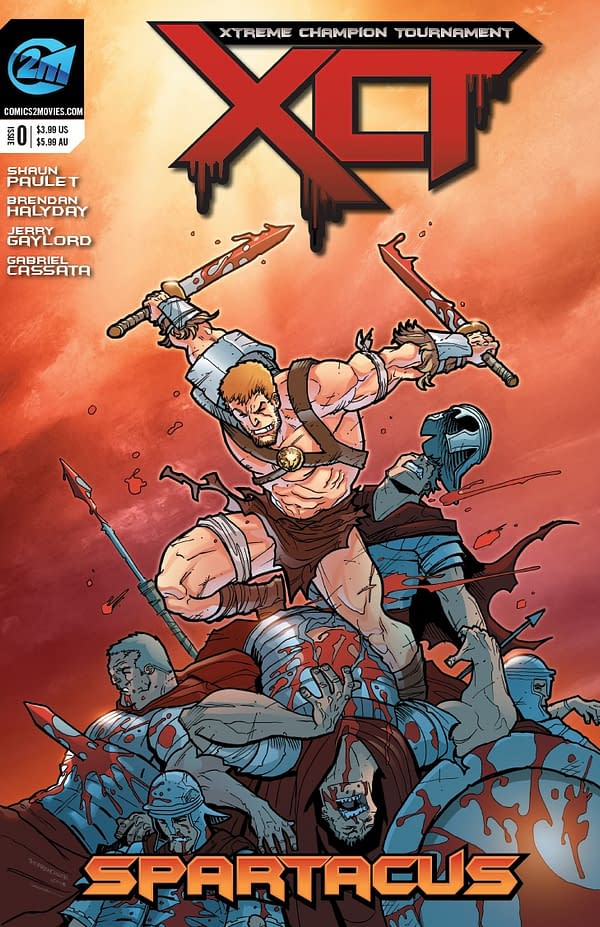 Shaun's background exposure to other successful crowd funding projects compelled him to utilise Kickstarter when trying to get XTC off the ground – 'I did extensive research when developing this concept. I knew that keeping the story completely historically accurate may be boring for readers, but I also knew that these were characters that readers already knew and had a connection with, and I wanted to respect that'.
Aware that seeking backing for a project is never easy, Shaun sought the help from Spartacus (Actor Liam McIntyre) himself. Shaun had a 'fanboy' moment with Liam at an Australian convention called Supanova and managed to control himself long enough to pitch the idea of XCT. 'Liam was amazing and signed a range of promotional material to help with the Kickstarter, then went as far as promoting it on his Twitter account' says Shaun.
'I want readers to hear the clash of the metal swords, to smell the blood and to feel the echoing thud of the characters bodies as they engage in brutal combat' Shaun reveals. 'I've already had some amazing support and developmental feedback from the comic book community in Australia, and look forward to that same support and feedback from the rest of the comic book community'.
Shaun believes that with the powerful duo of Harvey Award nominee Jerry Gaylord and colourist Gabriel Cassata from BOOM Studios famous series Fanboys Vs Zombies he has a winning artwork team. 'Jerry's pencils are super tight, they provide the great action scenes required for this type of story and Gabriel's colours make those scenes jump right off the page and smack you in the face'. There are 30 days for this Kickstarter to be successful so as an exclusive for Bleeding Cool readers Shaun has created a Bleeding Cool reward providing an exclusive print by none other than UDON's own GENZOMAN. Famous for his outstanding artwork on Street Fighter, World of Warcraft , Marvel War of Heroes and the prequel comic to Clash of the Titans. The Baykok exclusive print showcases one of the main villains in the series and will be seen in later issues of XCT.
With Bleeding Cools help you can make Shaun's dream of creating his own comic book series reality… and become part of history.
Kickstarter Link: https://www.kickstarter.com/projects/2067957354/xtreme-champion-tournament
XCT Website Link: www.xct.com.au