You Can Own This Justice League Crypto Art for Just $1 Million
Looking to get into the NFT game, but don't know where to start? We've got good news for you, even if it's bad news for the planet and human civilization. Yes, of course we are talking about NFT, the new incredibly stupid thing that the entire comic book industry has suddenly become totally obsessed with. Anyone you ask seems to utterly despise the entire concept of NFTs and Crypto Art, but for some reason, everybody is getting into it. Well, "for some reason" might be a little misleading. We all know the reason: pure, unadulterated greed. For example, how long do you think it took to create the following digital drawing?
An hour? Two hours? Surely no longer than a day, right? Well, according to a press release we received this morning, it's being sold for the price of roughly one million dollars. Yes, you heard that correctly.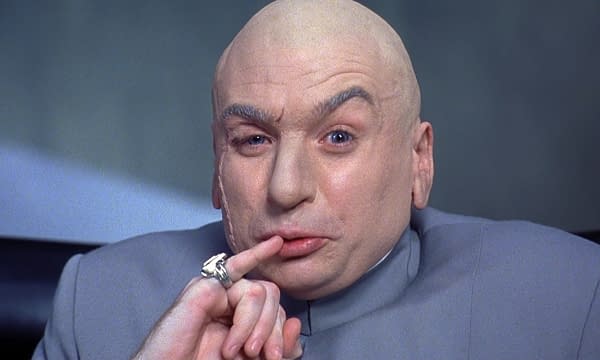 See for yourself:
SECRET IDENTITY Mints First Superhero NFT for $999,999.99

LOS ANGELES, CA — March 19, 2021 — The founder of SECRET IDENTITY, Anonymous Hero, has launched the first SECRET IDENTITY NFT titled "SAVE THE NFTS". SECRET IDENTITY established itself as a marketplace for physical superhero collectibles at www.Secretidentity.com and has big plans to disrupt the digital collectible space.

The first NFT that SECRET IDENTITY minted is an animated GIF art piece featuring prominent superheroes in front of a bold "SAVE THE NFTS" statement and lightning flashing in the dark and clouded skyline. "The NFT market is relatively new" explained Anonymous Hero, "SECRET IDENTITY is working on a digital collectibles platform that will lift NFTs out of the dark and clouded crypto space and create an ecosystem that is equally beneficial for independent artists AND the major studios in the superhero genre."

The NFT is available on the Rarible marketplace and can be accessed on the SECRET IDENTITY profile (https://rarible.com/secretidentity) or directly at http://bit.ly/savethenfts.

At the moment of minting, with the ETH value at $1,811, the price for the SAVE THE NFTS art piece was set at 552.18 ETH or $999,999.99. The revenue generated from the sale will help fund the company's digital superhero collectibles platform that is still in secretive stages.

"At the end of the day, SECRET IDENTITY exists to connect the superhero fan base through collectibles and our move into digital collectibles is the natural evolution of our business" explains Anonymous Hero who started SECRET IDENTITY in 2018 along with professionals entrenched in the superhero and crypto industries.

"The beautiful thing about collectibles is that it is the connective tissue of our superhero culture" expresses Anonymous Hero who currently lives in Los Angeles. "We live in a world where we deeply desire connection with the pandemic keeping us at a distance. If digital superhero collectibles can connect people from afar and bring a little fandom back into the world, then we have accomplished our goal."
Is anyone dumb enough to pay a million dollars for "crypto art" that essentially amounts to an animated gif of cutesy DC superheroes? You might doubt it, but think about it. Out of an entire world's worth of rich idiots, you only need one of them to bite here. Yes, it might seem insane to a rational person to pay a million dollars for an animated gif just because blockchain can prove it's the original one… but what about to an arrogant jackass with too much money and too little common sense like, for example, Elon Musk? You could see Elon Musk buying that Justice League drawing on a whim or to make some kind of point about something or other. You know that you could. It's exactly the sort of thing he would probably do.
So, good luck to you, Anonymous Hero. You may not be the Anonymous Hero we need right now… but you are most certainly the one we deserve.