When Marvel Comics published Fearless #1, Bleeding Cool reported that it was 'an Actual Feminist Polemic' but that Marvel Fanboys would want it anyway, for the appearance of certain fan favourite characters, new to the Marvel Universe.
We noted that there had been much outrage from certain corners of fandom at what they considered to be feminist polemics in Marvel Comics titles, especially that week with the reaction to the Thor's Love And Thunder movie news. And that some people on social media are happy to mistake telling an interesting story for, and I quoted, 'an intersectional feminazi propaganda tract'. Which said more about their own identity politics than anyone elses.
But when it came to Fearless, that Marvel Comics seems to have decided that if people are going to say that stuff anyway, no matter what they do, they might as well actually do it. Fearless #1 was a declaredly feminist comic book, with plenty of women creators, female characters in the focus, and inspirational empowering on-the-nose messages throughout. And people could buy it, or not, as they chose.
Well, Marvel has added a few more writers for the final two issues to the solicited Seanan McGuire who has written the main, connecting story starring Captain Marvel, the Invisible Woman, and Storm with art by Claire Roe and Rachelle Rosenberg.
Fearless #3 now has game developer and comics writer Zoe Quinn, writing a Hellcat story. And Fearless #4 now has comics historian Trina Robbins writing a story about female comic creators of the Golden Age. While Tini Howard writing a classic-era Namora story in the final issue as well.
Quinn says, about Patsy Walker, "what I love about Hellcat is how she's been through hell, literally, and instead of being bitter or mean, she's still sweet and cares more about helping people than she does punishing them. It's been really fun to write for her because in addition to her own awesomeness she's got this really excellent supporting cast of other really relatable street-level supers, gig economy workers, and actual dang demons."
And Robbins says "During World War II, most of the men who drew comics either enlisted or were drafted to fight overseas. But comics still needed artists, so for the first time since the birth of the industry, comic book publishers hired women to draw their books. For the previously male-oriented industry, this was a revolution, and Marvel, then publishing under the name Timely, was at the forefront of the revolution, hiring talented women artists like Ruth Atkinson, Fran Hopper, Valerie Barclay, and Pauline Loth. The new women artists drew what they knew best: cute and peppy teenaged heroines, and in an industry that had specialized in male Super Heroes fighting each other, the new teen comics were a revolution, too. Heroines like Patsy Walker, drawn for the first year of her comic by Ruth Atkinson and Fran Hopper, and even teen Super Hero Miss America, drawn by Pauline Loth, used their brains rather than their fists to solve problems."
FEARLESS #3 (OF 4)
(W) Seanan McGuire, More (A) Claire Roe, More (CA) Yasmin Putri
YOUR FAVORITE HEROINES UNITE FOR ACTION-PACKED ADVENTURE!
NOW A FOUR ISSUE SERIES!
Alien invasion at a summer camp for young girls? You know who to call. Captain Marvel is on her way – and she won't be alone. Some of Marvel's biggest heroes unite for the battle of the season! Then, a new mystery puts Patsy Walker – a.k.a. Hellcat – on the prowl! And don't miss your dose of Herstory with profiles on classic and contemporary creators!
Rated T+In Shops: Sep 25, 2019
Final Orders Due: Sep 02, 2019
SRP: $4.99

FEARLESS #4 (OF 4)
(W) Seanan McGuire, More (A) Claire Roe, More (CA) Yasmin Putri
MS. MARVEL'S HERE TO SAVE THE DAY!
She may be one of the youngest Avengers ever, but don't underestimate the protector of Jersey City. Kamala Khan teams up with Captain Marvel, Storm and Invisible Woman for the summer camp save of the century! Then, classic character Namora takes center stage in the ultimate beach read! And don't miss your dose of Herstory with profiles on classic and contemporary creators!
Rated T+In Shops: Oct 23, 2019
SRP: $4.99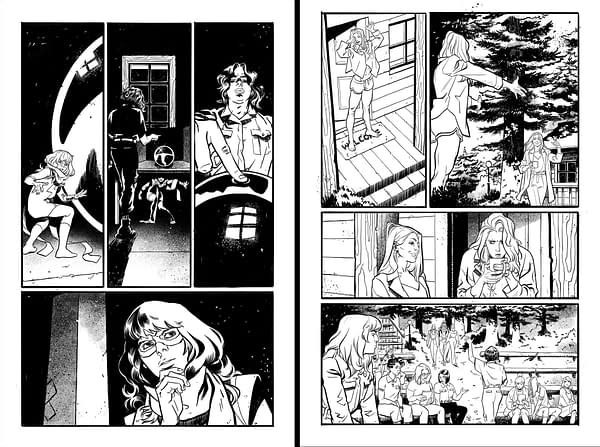 Enjoyed this article? Share it!