2D Mode is the Best Part of "Dragon Quest XI S: Echoes of an Elusive Age- Definitive Edition"
The version of Dragon Quest XI being brought to the Nintendo Switch, Dragon Quest XI S: Echoes of an Elusive Age – Definitive Edition includes a few extras like character episodes, the ability to travel to previous Dragon Quest worlds, change between HD or 16-bit graphics, synthesized or symphonic music, and English or Japanese voice tracks. The Definitive Edition also offers a "Draconian Quest" difficulty for a greater challenge to returning players, and a photo mode. Because if Kingdom Hearts III taught us anything, it's that every game should have a photo mode.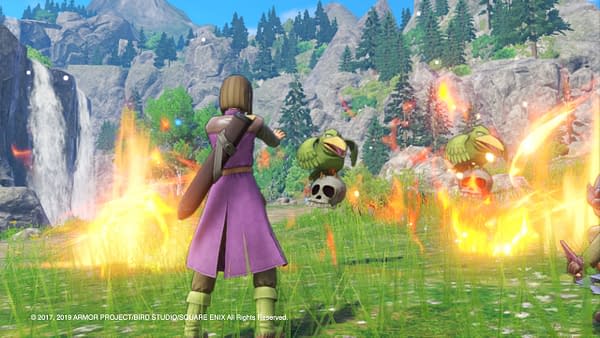 I was able to demo the game at PAX West, and spent most of my time with the 16-bit version of the game because, well, it was new. Having played Dragon Quest XI at previous events prior to its initial release, just checking out how it plays on a new console seemed a bit pointless. Especially because most Switch ports are essentially the same. They've got slightly diminished visuals and slightly swapped controls due to the Nintendo button layout. At least, for Western gamers anyway.
So the 16bit mode was what called to me. And I'll be honest, the 2D mode charmed me almost instantly. The character sprites and town layouts are familiar from the HD version of the game, but they're also incredibly reminiscent of the original Dragon Quest games. It even has random encounters, just like any proper turn-based JRPG. Because you can't avoid mobs (in fact, you can't see them) the 16-bit version of the game will likely take a bit more time to complete. But that's never a bad thing when it comes to games, is it?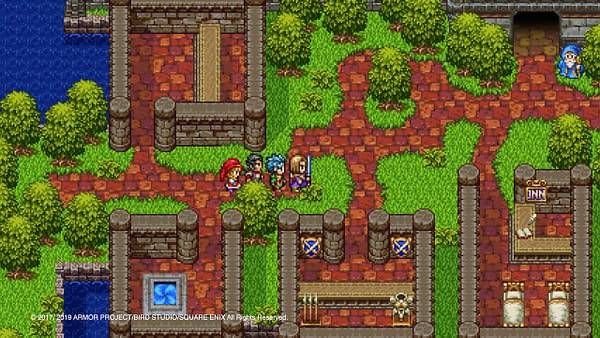 If you missed out on the original release of Dragon Quest XI, you can check out the official description for more information:
With a ragtag band of adventurers, you'll engage in well-balanced, turn-based battles and embark on quests across the kingdom of Erdrea. Forge gear, develop party members' skills, and alter their outfits without changing gear in this edition of the game! This version also lets you ride and attack with monsters on the field to earn experience points, as well as change between HD or 16-bit visuals, symphonic or synth music, and English or Japanese audio. Complete the tale with new character-focused stories, and travel to past DRAGON QUEST worlds!

Across the land, you'll meet the mysterious Tockles—creatures that allow you to visit 2D, 16-bit versions of areas from popular entries in the series like DRAGON QUEST IV and DRAGON QUEST VIII! It's fun to see these classic worlds reimagined in retro style, meshing perfectly with the main game's 2D mode. Like all past DRAGON QUEST games, this one's character designs are based on the signature style of famed artist Akira Toriyama. Paired with the voiced dialogue, the rich personalities of your most loyal companions and fiercest enemies are brought to life, so you can fully immerse yourself in this quest to discover the Luminary's true heritage and awaken your power. For a greater challenge, start the game with the Draconian Quest setting, and capture your favorite moments with Photo Mode!
Dragon Quest XI S: Echoes of an Elusive Age – Definitive Edition launches on the Nintendo Switch on September 27, 2019.