An Original Boxed Copy Of Super Mario Bros. Is Up For Auction

One of the first games released by Nintendo for the NES is the classic Super Mario Bros. in 1985 which became the standard for platforming. While the franchise has gone through a lot of different changes over the years, the original title remains a classic from the characters to the levels to the music, even people still quoting that "Your princess is in another castle." While many still own a copy of the cartridge they first got when they bought the NES, most never bought the game solo by itself. Mainly because there was no need to when it comes with every NES like a sample of soap in the mail. But if you're a rarity collector, you may be interested to know that Heritage Auctions currently has an original boxed copy of the game on sale for $42k and the auction ends on July 10th. We have the details below about this particular one, as the standard game is rarely seen these days with the box.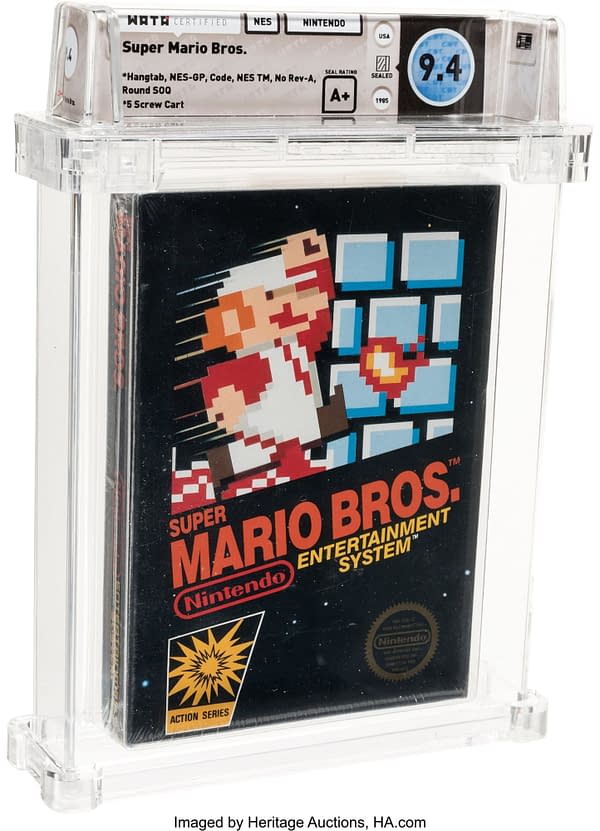 What's the deal with cardboard hangtabs? one may, understandably, wonder. Cardboard hangtabs were originally used on the US test market copies of black box games, back before plastic was used to seal each game. As Nintendo began to further establish their company in the US, their packaging was updated almost continuously. Strangely, the addition of the plastic wrap came before the box cutting die was altered to remove the cardboard hangtab. This rendered the functionality of the cardboard hangtab completely useless, since it was under the plastic seal. There are four sub-variants of the plastic sealed cardboard hangtab box (this particular copy of Super Mario Bros. being the "3 Code" variant) that were produced within the span of one year. Each sub-variant of the cardboard hangtab black box, produced within that timeframe, had a production period of just a few months; a drop in the bucket compared to the title's overall production run.

In short, a cardboard hangtab copy of any early Nintendo Entertainment System game brings a certain air of "vintage" unrivaled by its successors. Super Mario Bros. was one of the launch titles for the NES console in the US, and is the highest selling game on the console of all time. It marks the first game in the Super Mario Bros. video game series, as well as the first appearance of Mario's archnemesis, Bowser. This copy will surely serve as a centerpiece for the discerning collector, and is not one to miss out on.