Animal Crossing: New Horizons Is Getting A Major Update Next Week
Nintendo revealed this morning that a new major update would be coming to Animal Crossing: New Horizons next week. On July 3rd, the company will add some new sea-related options that will give you a chance to go beyond the island a little. The first big addition being swimming and diving as you can now play in the water and explore the floor for some new creatures and items. Pascal will also have some stuff for you involving scallops, and it appears Gulliver has become… a pirate? They'll also be bringing in some fresh faces to the island, new items to find and craft, and some lovely mermaid furniture if you so desire. We got all the details below along with a trailer to show off what you can do in this new update.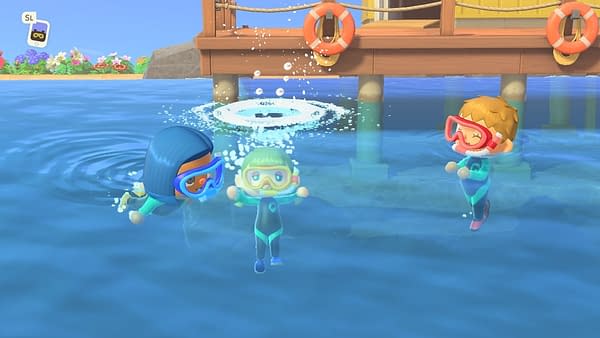 Swimming and Diving – Grab a wet suit and get aquatically acquainted with your island marine life when swimming and diving arrive to Animal Crossing: New Horizons. Swim in the inviting waters off the coast of your island and dive to discover and scoop up sea creatures that inhabit your island's ecosystem. Keep your eyes peeled for any prospective additions to the museum, and make sure to listen for fun facts from Blathers when you donate your new discoveries.
Pascal Brings Rewarding Recipes – While swimming, you might meet someone new! The friendly visitor Pascal seems to love scallops, and if you discover one while diving, he may ask you if he can have it. As a thank you, he'll share some of his mermaid-themed DIY recipes.
Gulliver? – After downloading the free update, a familiar face will occasionally wash up on shore, but sporting slightly different, pirate-like clothing. Offer him a helping hand and he'll send a special reward to show his gratitude.