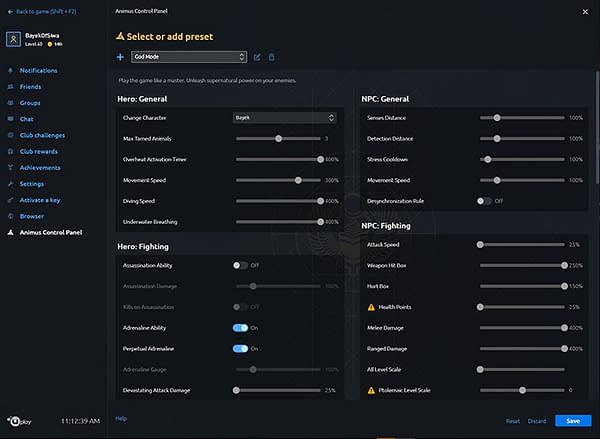 Ubisoft is adding a lot of detailed customization options to the April PC update for Assassin's Creed: Origins which will allow players to tame multiple animals, tweak their character's skills, or even alter the amount of time they can hold their breath.
The new controls are coming as part of the Animus Control Panel, which players will be able to find nested in the Uplay Library page, and allows players to adjust the sliders you can see above. The Control Panel will have three preset options, as well as the ability for players to make their own choices and even share them on a dedicated forum. So its essentially a soft player mod tool.
Some of the options are designed for small quality of life tweaking, but others are a little bit more insane. You can turn on perpetual adrenaline, dramatically increase your movement speed, and even change the distance enemies can sense you from. Additionally, you'll be able to swap which character you play as, meaning you don't have to stick out the majority of the game as Bayek, if you'd rather take someone else for a spin.
The Animus Control Panel will have 75 changeable parameters within 11 categories upon release, with the possibility of more being added. Ubisoft will release more information on the mod tool and its dedicated forum closer to release date. While they haven't picked a release date just yet, we do know its coming this month, so expect to have more details soon.
Enjoyed this article? Share it!