Avalon Hill Announces "Scooby-Doo: Betrayal At Mystery Mansion"
Some fun news today for Scooby-Doo fans as Avalon Hill has announced a new board game with Scooby-Doo: Betrayal At Mystery Mansion. A special version based on the game Betrayal at House on the Hill, you'll play as all of your favorite Mystery Incorporated characters: Shaggy Rogers, Fred Jones, Velma Dinkley, Daphne Blake, and their aforementioned great dane with a love of Scooby Snacks. You'll explore the haunted grounds, gather clues, be chased by monsters and ultimately solve the mystery. The game will be released on May 15th through Walmart and local games stores for $35, to coincide with the release of the new SCOOB! film. Here's some added info on the game and a quote from the company on the announcement.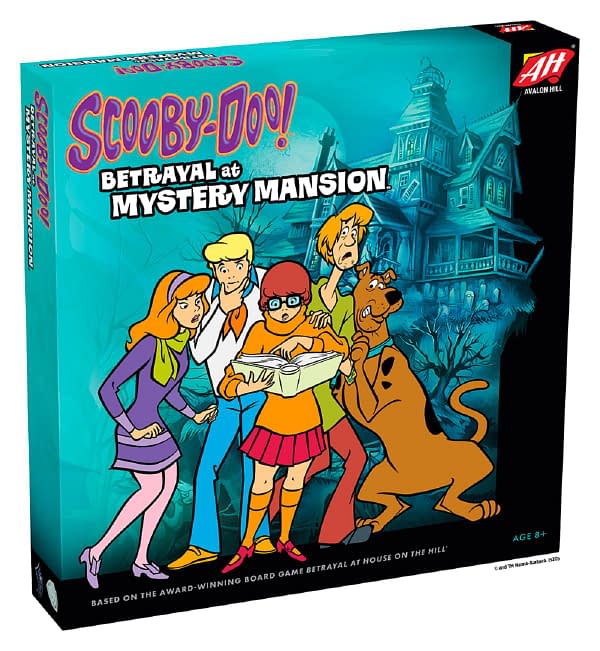 Betrayal at Mystery Mansion is jam-packed with more goodies than a Super Shaggy Sandwich, including all new tiles, tokens, cards, and 25 haunts based on popular Scooby-Doo episodes and movies. Once players find enough clues to learn what's really going on, the haunt begins and one player switches sides to play the role of the Monster. Those meddling kids then try to stop them before they carry out their sinister plan, hopefully pulling off the mask to reveal it was Mr. Wickles all along!

"Betrayal at House on the Hill is a perennial favorite in the board game world and Scooby-Doo is such a natural fit," said Rob Daviau who acted as a consultant on this project. "We managed to keep the mystery, spookiness, and high replayability of the original game, while providing simple-to-learn rules for younger audiences and people new to Betrayal."