AYGames revealed a brand new story-driven deck-building RPG game today as they will be bringing Deck Of Ashes to Steam in April. The game will technically enter into Early Access when it launches in a couple months, as players will explore and track down powerful cards in a very messed-up world in order to create their own Bettle Deck. You'll use your deck to make your way through the game and try to remove the Ash Curse, but there is no reward without risk as you will lose all your cards if you lose the game. We have some added details and a trailer below as we'll be looking out for the game.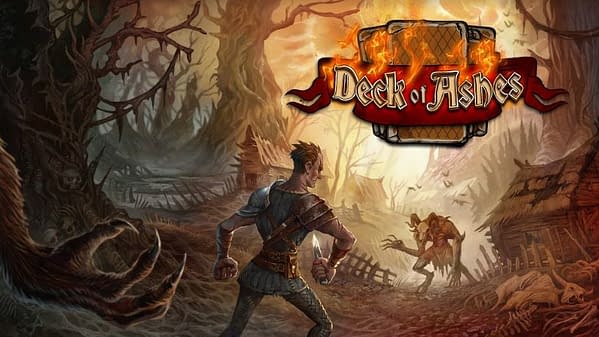 In Deck of Ashes, players will find themselves scouring a grim fantasy world in search of combat cards, supplies, and other resources – all while battling against some of the vilest beasts the cursed land has to offer. While collecting cards to outfit their deck with a band of ruthless antiheroes, players will choose their champion — each of whom has a unique card deck — and take on the world, one intense encounter after another.

– Build Power-Fueled Decks: Test your wit and your strategic mettle with powerful Battle Decks, each crafted with unique combat cards that deal staggering combos and unforgiving effects

– Eerily Wonderful Environments: Explore and navigate a completely hand-drawn cursed landscape with dangers lurking in every shadow

– A Biome (and Monster) for Every Occasion: Discover unique biomes, each harboring different monster types

– Stayin' Alive, Stayin' Alive: Enjoy an ever-changing, new experience each game with procedurally generated realms waiting to devour the next unwary traveler

– No Mercy for the Weary: Mistakes are unacceptable, death is forever — without the use of dark magic, once you die, you're gone for good
Enjoyed this article? Share it!