DICE has finally drawn the curtain back on Battlefield V's Battle Royale mode just a little, revealing the name Firestorm.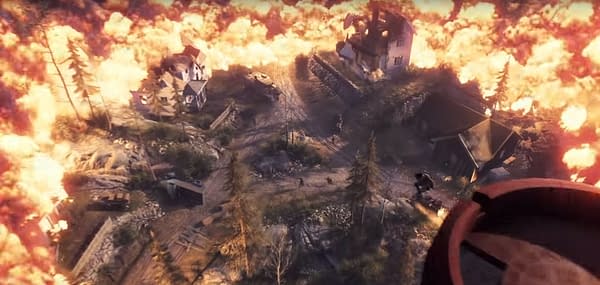 Questions about Battlefield V's Battle Royale offering for the year have dogged the game since its announcement. Last year and early this year, it was impossible to get away from the genre with many titles clamouring to get on the Fortnite and PUBG wagon. Call of Duty: Black Ops 3 is offering a mode in the genre too this year, so it was no surprise when murmurs started surrounding Battlefield V.
And now we finally have the official reveal, although it is brief. EA put out this video covering the content in Battlefield V from the story to the multiplayer modes where we can catch a glimpse. It's a good video if you are curious to see just what will come with the game when it launches at the end of November.
However, the big reveal comes in the middle when it's revealed that it will come with a Battle Royale mode called Firestorm. Not too much is revealed about it, other than… oh yeah, the circle is a big encroaching wall of flame. We also learn that it will pit 16 teams of four against each other in the mode. So that is 64 player matches on what DICE say is their biggest map ever. You can check out the trailer here:
While the space for new Battle Royale modes is clearly shrinking, I think there is room for at least one major AAA FPS addition to the genre. Battlefield has always been about large-scale combat so certainly has a good shot of transferring into this play. Here's hoping it's just a great time when it hits.
Enjoyed this article? Share it!