Complete Set Review: Pokémon TCG: Sword & Shield – Silver Tempest
Our long-running spotlight on the artwork of Pokémon TCG: Sword & Shield – Silver Tempest continues with a complete set review.
---
In November 2022, Pokémon TCG released the final main series set of the Sword & Shield era. The expansion, Sword & Shield – Silver Tempest, came out on September 9th, 2022. It is the twelfth set under the Sword & Shield banner and it adapts the Japanese sets Incandescent Arcana and Paradigm Trigger, with its Trainer Gallery subset adapting cards from VMAX Climax. The Lugia-themed Sword & Shield – Silver Tempest also continues both Radiant Pokémon as well as the Trainer Gallery, a special subset of Character Rares, Character Super Rares, Full Art Trainers, and Black & Gold VMAXes that began in the first set of the year, Sword & Shield – Brilliant Stars. Follow me on a journey through this latest set as we appreciate the artwork, discuss the card's place in the set, and theorize as to what certain elements of the expansion may imply for the future of the Pokémon TCG. Today, we conclude our spotlight with a complete expansion review of Pokémon TCG: Sword & Shield – Silver Tempest.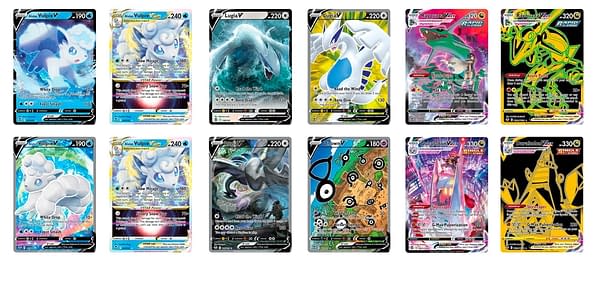 The final set of Sword & Shield
Sword & Shield – Silver Tempest continues the Galar-themed era, at least when it comes to main sets. For the past year, we have seen the Pokémon TCG feature Trainer Gallery subsets that dramatically enrich pack openings. In this set, like in the past few, we can find Trainer Gallery cards as well as Radiant Pokémon in the Reverse Holo slot.
Alolan Vulpix & Lugia lead the main set, Rayquaza leads the Trainer Gallery
This set is quite interesting in that one of the main mascots is the first stage Pokémon, Alolan Vulpix, rather than its evolution. I love when sets break from the norm and do things like that, especially with cute Pokémon. This move made Vivid Voltage stand out and now, indeed, makes Silver Tempest stand out. Now, the one major flaw of Silver Tempest is that it doesn't go far enough with the Alolan Vulpix love. We should have had a Character Rare and Character Super Rare with Lillie and Alolan Vulpix, and that's obvious. Major missed opportunity. Also, most of all, putting Serperior in a Gold VSTAR slot rather than Alolan Vulpix is egregious. That slot was Vulpix's!
Lugia and Unown also have a major role in this set, bringing Neo themes. Lugia got an incredible beautiful V from Mitsuhiro Arita as well as a solid Alternate Art, the latter of which ended up being the set's chase card. Unown's Alternate Art saw the return of artist Toshinao Aoki after a long absence, which enriches the TCG in a major way.
Rayquaza defined Silver Tempest's Trainer Galler in a positive way with a beautiful Character Super Rare VMAX with Zinnia, which ended up ever cooler than its Evolving Skies Alt Art.
Final Rating
9/10: While Sword & Shield – Silver Tempest doesn't have the history-making excellent of Sword & Shield – Evolving Skies or the left-field excellence of Sword & Shield – Lost Origin, it's certainly a strong set that continues to let artists do their thing with the Alternate Arts in the main set and Trainer Gallery subset. A worthy ending to the main sets of tis era.