Bethesda Softworks Details the Patch 9 Additions for Fallout 76
Before Bethesda Softworks drops Patch 9 into the mix for Fallout 76, the developers gave some updates as to what it will contain this week. The biggest addition which will turn a few heads are the Vending Machines, which can now be placed in the C.A.M.P. as part of the market. You can throw items in here and charge people to access them with a specific Cap price, Aside from a 10% tax, you take what's left from the transaction. You can read more about them here along with a scoreboard adjustment coming, and we've got some of the Weapons changes for you below when this all goes into effect in Fallout 76 on May 7th.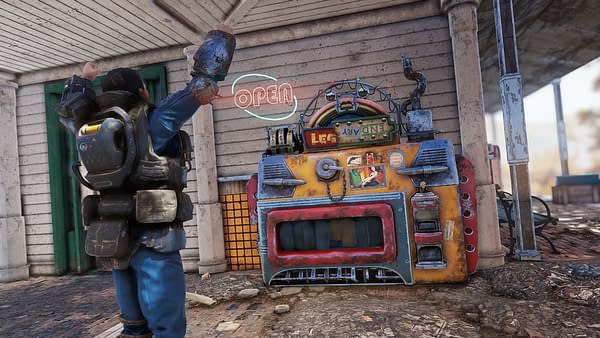 WEAPON ADJUSTMENTS

In addition to everything mentioned so far, we're planning to make a few adjustments to weapons in our next update. Read on for a preview of the weapon changes you can expect to see on patch day.

PLASMA WEAPON BUFFS

Plasma Guns aren't currently as strong as we'd like them to be, and we wanted to give them a bit of a damage boost to bring them more in line with the other weapons at your disposal. The following buffs should help your Plasma Guns pack a little more punch across the board:

Base Plasma Gun damage increased by 30%.
Base Enclave Plasma Gun damage increased by 10% to 30%.

EXPLOSIVE SHOTGUN BUG FIXES

We're also implementing fixes for a pair of bugs affecting shotguns that have the explosive legendary effect. The first was causing them to deal double damage, rather than the 20% increase the explosive effect is intended to provide. The second issue was causing the Pip-Boy to display lower damage numbers than explosive shotguns were actually dealing to your targets. While these aren't true balance changes, it's important that we address these issues to bring more consistency to both the displayed and actual damage output of explosive shotguns.

FLAMER AND CRYOLATOR AMMO CRAFTING

Finally, we've heard your feedback that Flamer Fuel and Cryo Cells can be hard to come by. We'd like to give you more opportunities to stock up on ammo for these weapons when you visit workbenches, and we are planning to make the following changes:

Flamer Fuel created via crafting increased from 5 to 20.
Cryo Cells created via crafting increased from 15 to 25.

DISPLAY CASES ARE COMING

As some of you may already be aware, we're planning to add display cases so that you can show off some of the items you've collected, such as weapons, bobbleheads, and magazines, in your C.A.M.P.s. We're excited to bring this feature to the game, but it's going to take a little more time and testing to make sure we get it right. As a result, display cases are going to arrive a few weeks after we release Patch 9. We know many of you are waiting to be able to flaunt your collections, and we appreciate your patience.