Black Desert Mobile Adds The Massive Valencia Region
Time to get a new set of boots as Pearl Abyss has added the massive Valencia Region into the world of Black Desert Mobile. Technically the area you're getting is being called West Valencia, but it doesn't detract from the fact it's still a massive piece of land filled with new shops, NPC's, quests, enemies, weapons, treasures, and a lot more that you'll just have to hike around to find. It comes as part of an update which also includes a Hidden Gold Vault, a Level Cap Increase, and more. You can read about some of the additions below.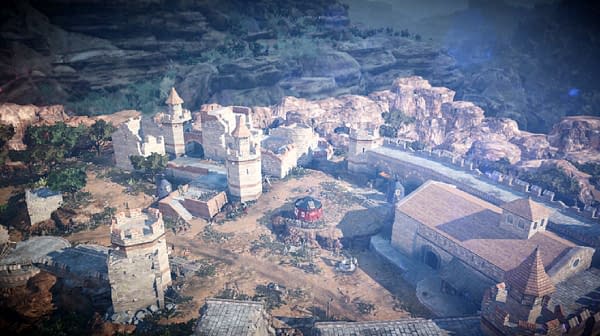 Black Desert Mobile New Region: West Valencia

– West Valencia has been added.
ㆍYou can accept new quests and missions in Valencia.
ㆍThe majority of Valencia is covered in desert. It also an important historical location, as it was where the war between the Calpheon alliance and Valencia took place.
ㆍYou will learn about the ancient civilization, the rise and stagnation of Valencia, and the story behind 'Black Desert' as you travel through West Valencia.
ㆍWest Valencia is home to Sandceratops, Stone Waragons, Centauri, and many other diverse monsters.

Hidden Golden Vault

– Added the [Hidden Golden Vault].
ㆍYou can use [Golden Vault Entry Pass] to enter the [Hidden Golden Vault].
ㆍYou can choose to use all entry passes at once by configuring the multiplier. Potential rewards you can receive include [Golden Crown], [Golden Sculpture], [Golden Seal], [Golden Goblet], [Golden Ring], and [Golden Plate] upon completing the stage.
ㆍThere is a chance of getting a [Golden Crown] when you complete the stage. It can be traded at a high price when you sell it to merchants.
– We'll be sending a [Golden Vault Entry Pass] to your mail as a reward during maintenance to celebrate the Hidden Golden Vault update.
ㆍPlease make sure claim your reward before the expiration period.