Bluefin Presents "Super Mario Maker 2" Collector Bundles
There are some special Super Mario Maker 2 collectibles out on the market this week before the game comes out from Bluefin and Tamashii Nations. To coincide with Nintendo's upcoming release this Friday, the company have released a set of figures from the Mario universe, in a couple of different bundles for you to choose from. They have bundles for the characters, the classic level, a villain pack, fire upgrades, a deluxe diorama set and more. These actually look pretty cool, with prices for each bundle ranging between $20-65. You can see some of them here, or you can click the link above to check out the complete set.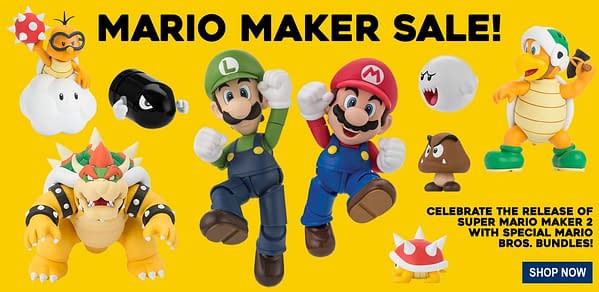 Mario fans of the world, unite! Now you can play, create, and share* the side-scrolling Super Mario courses of your dreams in the Super Mario Maker™ 2 game, available exclusively on the Nintendo Switch system! Dive into the single-player Story Mode and play built-in courses to rebuild Princess Peach's castle. Make your own courses, alone or together. And with a Nintendo Switch Online membership, share your courses, access a near-endless supply made by others, enjoy online multiplayer, and more! Super Mario Maker 2 debuts on June 28th.