Bungie Teases a New Era For Destiny 2 Down The Road
It sounds like Bungie has something big in the works for Destiny 2 down the road as the devs are teasing a "new era" will be coming soon. Last week the company posted This Week post like they do every week, giving updates as to what's on the way for the game and improvements being made. The majority of which focused on Season of Opulence which will kick off in less than two weeks on June 4th. But at the very end, they had this little message from Community Manager David "DeeJ" Dague that caught a lot of attention.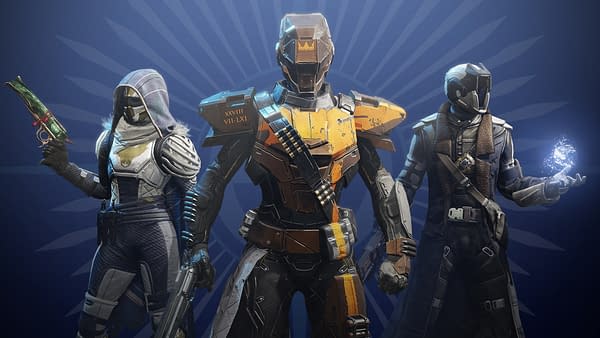 These are some of the game changers you'll discover when Season of Opulence begins, but we have even more to show next week. We're already working on a preview of new Pinnacle Weapons. We've also seen a preview of the new Raid jacket that is totally awesome. With the finer points for the systemic changes on the table, we can next turn our attention to revealing the places you'll go and the reasons you'll fight.

Right now, our focus is on Opulence. But after the Season has launched and Raid belts have been awarded, we'll be looking deeper into the future, and sharing with you more about a new era for Bungie and Destiny 2.

Buckle up and stay tuned.

DeeJ, out.
Whatever it is they got planned, I think to call it a "new era" is a little boastful for a game that isn't even two years old. It's pretty clear that they're making a reference of sorts to the split from Activision, and to say it isn't is going to bring doubt to that statement anyway. We'll see what they have planned int he months to come, but unless they're going to break the game and start from scratch with a totally new approach, it can't be that big of a change.