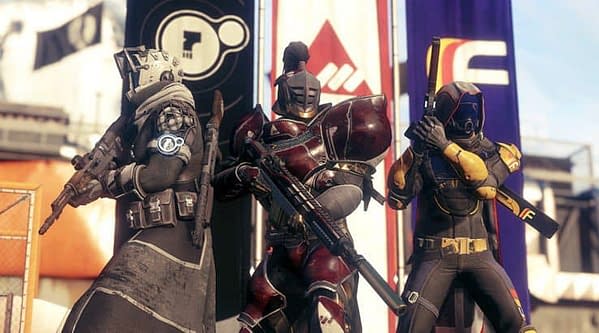 Destiny 2 developer Bungie is in trouble with players yet again over a lack of transparency. This time the trouble came when it was revealed that Rally Tokens have been capped in a recent update.
Faction Rally Tokens are the currency players need to use to increase their standing in their chosen faction. Mostly, players are upset that they were not informed of the cap, and were frustrated when their farming methods no longer worked. And to make matters worse, Bungie also confirmed that the reason Faction Rally weapons weren't included in loot boxes wasn't a bug. Bungie intends to release these weapons "over the course of the season."
In a forum post, Bungie explains that the throttle on Rally Tokens was implemented as part of the game's December 12th update; the original intent was to address an exploit where players were able to earn up to 500 tokens an hour by looting chests in quick succession. As it stands now, any player who opens more than two chests in a ten-minute period will not receive any additional rewards for the next ten minutes. It's fair of Bungie to break the exploit, but making a sweeping change that affects all players without a notice is pretty shady, especially with Bungie's current Destiny 2 track record. Because, well, opening three loot boxes within a ten-minute period is something people do a lot. You buy a couple loot boxes, you expect to be able to open them whenever you want and usually that means "all at once."
So, naturally, players were incredibly unhappy with Bungie.
Game director Christopher Barrett has responded to fans' complaints on Twitter, agreeing that the current fix is "way too penalizing". He says that the team are working on adjusting it in the next patch but that it will most likely need further adjustment.
https://twitter.com/cgbarrett/status/953539019052171264?ref_src=twsrc%5Etfw&ref_url=http%3A%2F%2Fwww.ign.com%2Farticles%2F2018%2F01%2F18%2Fdestiny-2-bungie-has-been-throttling-faction-rally-tokens-adjustments-incoming
In addition to the controversy over Rally Tokens, there's also been some concern among players over the lack of new Faction weapons that were supposedly added as part of the Curse of Osiris update. Players noticed the absence when they realized that no new items were dropping from Faction engrams. Players took their concerns over to Bungie's forums thinking it was a bug. Shortly after the complaints rolled in, the official Bungie Twitter account responded with an answer: the weapons aren't currently available from the engrams, and will become available "over the course of the season", with a forum post elaborating:
This week's Faction Rally sees a new Auto Rifle as the Winner's Offering, with no new weapons available through engrams. For the second Faction Rally of the season, that Auto Rifle and an additional weapon will be added to the engram rewards, with another new weapon available through the Winner's Offering. For the final Faction Rally, that Winner's Offering plus a further new weapon will be added to the engrams, and a final new weapon will be introduced as part of the Winner's Offering – by this point, all five of the new Faction weapons will be available in one way or another.
The key issue here for Destiny 2 players is that they feel that Bungie did not communicate this well in the lead-up to the Faction Rally event, and therefore feel, well, pretty much robbed.
Barrett returned to Twitter to offer an admission that the details of rewards "should have been broadcast", saying that it would have avoided "a lot of confusion". He also promised that in the future, the team will be clearer about "any changes to rewards or experience before they go live".
https://twitter.com/cgbarrett/status/953863030621655040?ref_src=twsrc%5Etfw&ref_url=http%3A%2F%2Fwww.ign.com%2Farticles%2F2018%2F01%2F18%2Fdestiny-2-bungie-has-been-throttling-faction-rally-tokens-adjustments-incoming
This isn't Destiny 2's first brush with controversy; last year Bungie was forced to apologise when players without the Curse of Osiris expansion found themselves locked out of some endgame activities, while behind-the-scenes changes to XP rates led to similar accusations of poor communication. Bungie responded at the time, agreeing that it "needed to be more open." Seems like they're still having issues with that promise.
Enjoyed this article? Share it!