Activision has added a ton of new content to Call Of Duty: Modern Warfare today, including new game modes that will get the blood pumping again. This includes a few new games modes such as Gun Game, the return of the classic mode Door Kick, two new operations, and a new Realism mode with objectives. We have some details below, but you can read up on everything here before downloading the Call Of Duty: Modern Warfare update.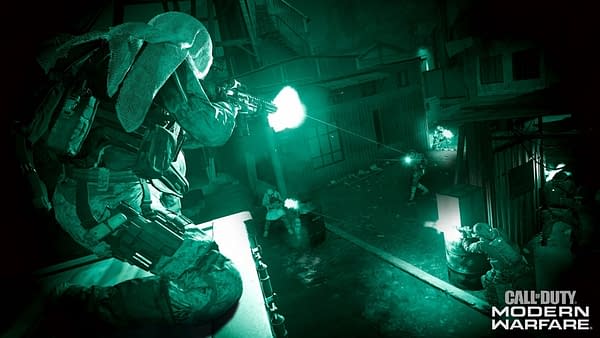 Gun Game

"Be the first player to score a kill with each one of the provided weapons."

On November 21, Infinity Ward debuts the fan-favorite Free-For-All mode, Gun Game. It requires skill and the use of all types of firearms: Each player starts a match with the same handgun. Every time a player defeats an enemy with the weapon, they receive a new weapon. As combat continues, and you showcase your skill by defeating more foes, expect the weaponry to become more challenging to utilize! If you're taken out by a melee attack at any time during the match, you are "demoted" to the previous weapon and lose a point. If you suicide, you're also demoted to your previous weapon. The final weapon you're given is a Combat Knife (primary) and Throwing Knife (lethal), and the match ends when you take down a foe with the Throwing Knife, or execute a Finishing Move.

New Special Ops Content

Expect three new Special Ops outings dropping today (November 21), all involving a challenging scenario to complete. Prepare for Operation Harbinger, Operation Brimstone, and Classic Special Ops: Door Kick!

Operation Harbinger

"Gather intel on the whereabouts of local informant MAGE and verify his reports of a 'major shipment' leaving Verdansk."

Downtown Verdansk is the setting for this lengthy sortie involving your Armistice Taskforce, who are dropping into the mean streets of this ruined cityscape and given a variety of increasingly-difficult tasks to perform. With Al-Qatala present in great numbers throughout the engagement, after infil you're to collect a number of clues from various Smuggler Caches, allowing you to triangulate the location of a local informant, and verify his intel. After rescuing the informant, you are to exfil with all haste; which is easier said than done!

Operation Brimstone

El Traficante's train has left the quarry carrying explosives. In this new operation on what should be familiar soil for Ground War players, you must fight your way to the railyard, recall the train, and rig it for detonation.
Enjoyed this article? Share it!