Capcom has released some new details and a fresh new trailer for Monster Hunter World's next expansion called Iceborne, set to be released in September. The expansion will hit PS4 and Xbox One first on September 6th with a PC release later in the winter. Here you're going to get introduced to new monsters like Tigrex and Legiana, get some new gear that will keep your character warm during the frigid environment, explore the new land of Hoarfrost Reach, and be able to mess with several new weapons. If you happen to be attending E3, you'll be able to check out three different quests, all 14 weapon types, new gameplay options, and new weapon combos like the Clutch Claw function for the Slinger. According to Capcom, "the quest choices include the Great Jagras quest from Monster Hunter: World for newcomers, the brand new horned brute wyvern Banbaro for an intermediate challenge or the returning series favorite Tigrex for the fiercest of hunters." Here's some added details and the trailer for you to enjoy!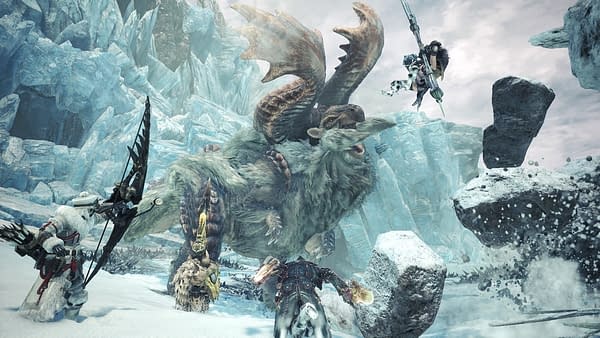 Picking up from the end of the storyline in Monster Hunter World, Iceborne has players joining forces with the Research Commission once again to explore the undiscovered new land of Hoarfrost Reach, which will be the largest map in the game. Following an unusual sighting of Legiana from the Ancient Forest, the team journeys across the waters to a new locale with a frigid climate covered in snow and ice. As pioneers, the group soon sets up a new base camp in Hoarfrost Reach called Seliana, which serves as a warm haven with resources to prepare them for the challenging quests that await.
Enjoyed this article? Share it!