Star Trek Online is about to get a new adventure that will take fans back to the mirror universe as Captain Killy returns with "Mirror of Discovery". The events as told from the intro and trailer below will span across two episodes of Star Trek Online, with "Para Pacem" and "The Illusion of Communication." The missions allow the captains from all factions to explore the mysterious woods of Pahvo, with the primary mission of trying to stop Captain Killy from destroying the planet. The new addition comes to the game on January 23rd, but until then, enjoy the trailer!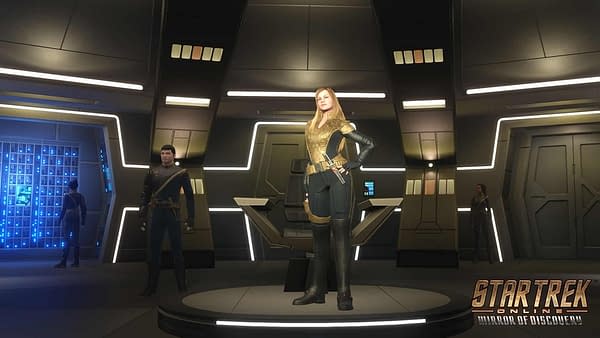 Fans of Star Trek: Discovery may remember the episode "Despite Yourself," when the U.S.S. Discovery and its crew were inexplicably warped into the Mirror Universe in the year 2256, while its counterpart, the I.S.S. Discovery,was believed to be destroyed by the Klingons at the same time. Mirror of Discovery opens in the year 2410, when Captains travel to the forest planet of Pahvo amidst an ion storm that transports a group of time travelling survivors from the I.S.S Discovery. This includes the one and only Captain Sylvia "Killy" Tilly (voiced by Mary Wiseman), the Terran ship's ruthless leader who slaughtered her way to the top. This is an exciting moment forStar Trek: Discovery fans, as the real Killy was never seen on the show, except when she was imitated by her Prime self, Ensign Sylvia Tilly. Captains will now have the opportunity to meet the Slayer of Sorna Prime herself, while uncovering what really happened to the legendary Terran Crossfield-class starship that fateful day in 2256.
Enjoyed this article? Share it!