Core Keeper Receives Quality Of Love Update For Valentine's Day
Get into the Valentine's Day spirit as Core Keeper has a new update available right now with new content and upgrades.
---
Indie developer Pugstorm and publisher Fireshine Games have added a new update to Core Keeper, just in time to celebrate Valentine's Day. The update is called "Quality of Love," and it comes with quality of life updates for the game all around. They've added some new features that will be permanently a part of the game, some new visual upgrades, and some seasonal content for all you lovebird players. We got the notes and a trailer for you below as the update is available right now.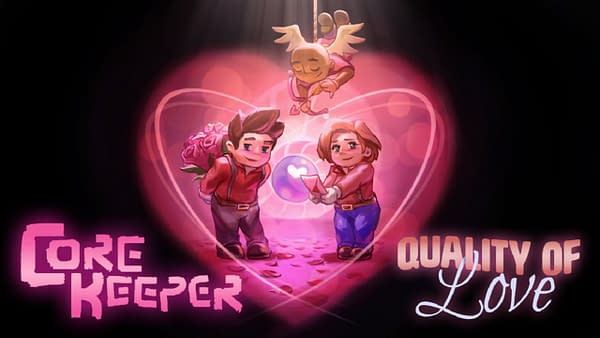 NEW SEASONAL CONTENT: From today until February 28, collect love letters and pick up a Valentine's Crafting Table from the Seasonal Merchant to unlock a range of new Valentine's items. Equip yourself with the Cupid Bow and charm your enemies to stop them from attacking or don a Cupid Tunic to buff your health and ranged attack speed. Give a Valentine Ring to that special explorer in your life, open Valentine's presents to receive special surprises, and settle down for a romantic evening in with Valentine's Candles, a Heart-Shaped Rug, and the Distilled Love health potion.
NEW PERMANENT CONTENT: Introduced permanently with today's update, explorers can now express themselves with music by crafting and playing musical instruments. Choose from an ocarina, harp, flute and cello to compose your own music, or get together with friends online to form the world's most underground orchestra. Players can also find and collect sheet music they can input into music stands, which will allow them to automatically play looping melodies – including fan-favourite tracks from indie hits Owlboy and Cook, Serve, Delicious! 3?!. Other permanent new features include the Magic Mirror, which lets players customise their character at any time; a Loom Workbench that players can use to craft brand-new wearables like an Explorer's Hat and Wedding Dress; additional character customisation options, including never-seen-before hairstyles and clothing colours; plus the ability to equip your character with multiple equipment presets.
NEW VISUAL IMPROVEMENTS: Today's update also brings improvements to the game's lighting and shadows thanks to the introduction of a brand new rendering pipeline. Raymarched shadows significantly overhaul the look of Core Keeper's underground environments with far more realistic lighting effects, including improved shadow diffusion and shadows that react to simulated light paths to accurately represent objects in the game world. A rework of the game's indirect lighting system also allows for emissive surfaces to generate light and increase light spread to deliver improved visual quality. Additional graphical options introduced in today's update, including bloom and screen-space ambient occlusion, can also be toggled on and off in the game's settings.