A lot of people who don't paint miniatures are going to be scratching their heads over this one, but for those of us that paint? This is welcome news. Corvus Belli, the company behind the incredibly detailed Infinity range of science fiction skirmish miniatures, and Vallejo Hobby Colors just signed a new collaboration agreement.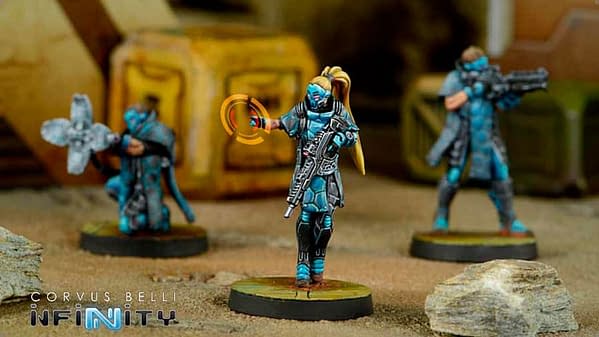 I've sold a lot of people on Infinity as a game, and one of the questions I get asked the most is what colors work best for each faction. Now, those of us that like the standard faction color schemes for the Infinity armies will have some of the guess work taken care of for them!
⦁ Corvus Belli and Vallejo Hobby Color will release new color sets series for painting Infinity factions
⦁ The sets will be available starting in June 2019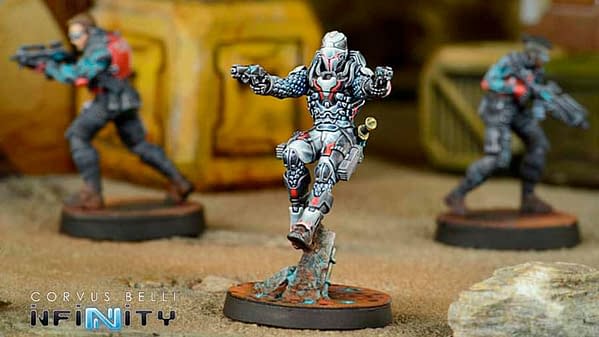 Here's the official press release:
April 8th 2019 – Corvus Belli and Vallejo Hobby Colors are pleased to announce their collaboration agreement. The purpose of this new partnership is to produce and distribute specific sets for painting all the Infinity factions so fans and players can speed up an improve the painting process of Infinity miniatures.
The 8 color sets include an exclusive miniature as well as a step by step guide realized by Angel Giraldez showing the painting process of each one of the factions.
The first paint packs for Panoceania and Nomads factions will be available in June. Throughout 2019 four more paint sets will be released. All sets will be available through distributors, specialized retail stores and the Corvus Belli online store.
For Corvus Belli, this agreement is excellent news. Belén Moreno, head of marketing and communication, commented: "this new partnership allows us to get even closer to something really important to us: the hobby of painting our miniatures. We aim to offer our players a complete gaming experience".
About Corvus Belli
Corvus Belli has more than 15 years of experience with the design and creation of games and the manufacturing of highly-detailed miniatures. Their main product, Infinity, is a miniature wargame about futuristic combat in a sci-fi setting. At this moment, Corvus Belli has an active community of more than 20,000 players from all over the world, who receive continuous support through the different communication channels offered by the company.
About Vallejo
Vallejo Hobby Colors, a family owned company, was established in 1965 in N.J. USA. In 1969 the company moved to Barcelona Spain. Since 1970, Vallejo has specialized in the manufacture of acrylic colors for fine arts and hobby and in the nineties the company released the first hobby ranges; Vallejo was the first to promote the use of water-based acrylics for painting miniatures.
Acrylicos Vallejo currently produces several lines of specific colors for model painters in all categories, such as Model Color, ideal for brush-on techniques, Model Air for airbrushing, Game Color for table top figures, and several exclusive color ranges for historical and fantasy figures, as well as colors for AFV, Aircraft, Diorama Effects, etc. Vallejo's most valued asset is the experience and accumulated know-how of 50 years in the industry, and the commitment to continue offering products of exceptional quality.
……
Angel Giraldez is one of the best miniature painters in the world, so it will be interesting to see what this new partnership brings about as far as paint combinations! I'm really looking forward to the painting guides. We'll have more news on this as we get closer to June!
Enjoyed this article? Share it!