"D&D Presents" Full Details Revealed At PAX Unplugged
Today during the first day of PAX Unplugged, Wizards of the Coast revealed more details of their upcoming show D&D Presents. First and foremost, the image you see below is the new logo for the show. The show will focus on new content coming out from D&D and how to use it in your game, while simultaneously telling a story set around those products and content. Chris Perkins will DM and will essentially show examples of how DMs can use the materials provided or what they're using, but it's not necessarily a "you must do it this way" kind of show. All four involved with the show (Anna Prosser, Nathan Sharp, Mica Burton, ShadyPenguinn) will be playing all-new characters, so no familiar faces from previous or currently-running shows.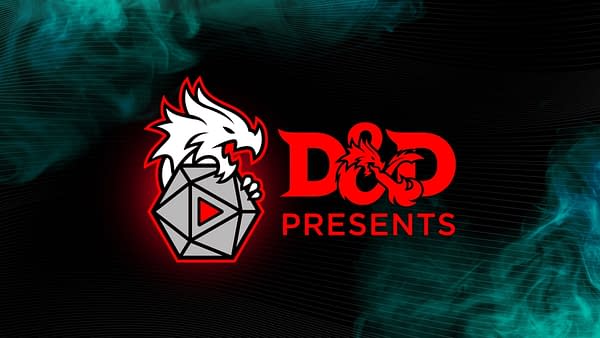 D&D Presents will start sometime in Q1 2020, they will tease what's coming in the weeks and months to come. including pre-launch content. The show will be in Perkins' version of the Forgotten Realms, close to the books but with a bit of his twist. They will start in the areas where the Essentials Kit starts. They will start a small set of episodes, and then branch out into long-form storytelling with a new product coming in Summer 2020, which is currently TBA. During the Q&A, they mentioned the show is also open to crossover events with other D&D shows, and it sounds like they want to do a show with Acq. Inc. If you're curious about broadcasting, the day of the week has not been set yet, but it will be first broadcast live on Twitch, reruns later over the next few days, loaded to YouTube within a week, plus a podcast version.
You can check out a replay of the livestream on PAX's second Twitch channel, in which they get more in-depth about their characters as well as doing live rolls for certain aspects, and a short Q&A.