Dead Cells Is Getting More Content For Prisoner's Edition
Motion Twin and Signature Edition Games have revealed the full details to the Prisoner's Edition coming out for Dead Cells. The company has revealed more details about both the PS4 and Nintendo Switch versions, which you can currently pre-order. Now each version of the game will not come with a code for the Bad Seed DLC, but instead, but it and the Rise Of The Giant DLC will be included as part of the game, giving you as complete of a version as you can get on the disc or cartridge when you buy it. Plus, the company showed off more of the figure that will come with the edition of the game, which you can see a video of below. This version of the game will ship sometime in late August 2020.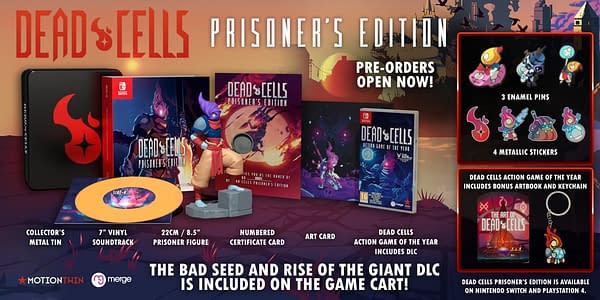 Full to bursting with exclusive, collectable content, Dead Cells – Prisoner's Edition is the ultimate physical version of the game for fans and collectors alike. Presented in an embossed tin, emblazoned with the Dead Cells iconic flame logo, the centrepiece of Dead Cells – Prisoner's Edition is a detailed, 22cm-tall figurine of the Prisoner brandishing one of the game's stranger weapons, the Vorpan! The Dead Cells – Prisoner's Edition also contains three collector pin badges (featuring all-new designs), four metallic stickers together with an exclusive print art card and a numbered collector's certificate. Music fans will be excited to know a two-track, 7" orange vinyl record is also included. Finally, the tin contains either a special PlayStation 4 or a Switch version of the Action Game of the Year (containing the game, a bonus artbook and keyring) that features the original game, Rise of the Giant DLC and The Bad Seed DLC on the game disc or cart.