Deep Silver Reveals All Of The Car Classes In Dirt 5
Deep Silver revealed some new info for Dirt 5 today as they unveiled all of the different classes of cars you'll be able to play in the game. This collection is basically a player's touches of cars that can go the distance in the grime and the mud, as you'll have your choice from Cross Raid and Rally Cross all the way to Modern Rally and Unlimited. We got the complete list for you below, as Dirt 5 will be released on PC, PS4, and Xbox One on October 9th, 2020, with a PS5 and Xbox Series X version set to come out in early 2021.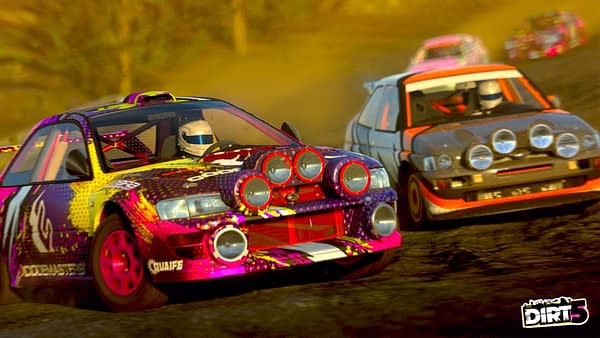 Cross Raid: Packing strength to conquer tough terrain, this class includes the Volkswagen Race Touareg 3 and the Laffite G-Tec X-Road's video game debut.
Rock Bouncer: Huge wheels, mad suspension, a big roll cage. Use this behemoth's traction, acceleration, and stubbornness to beat all obstacles in extreme events.
Rally Cross: These rallycross titans include the likes of the Peugeot 208 WRX and Citroen C3 R5. This class can turn on a dime and go from 0-60 almost as quickly.
Formula Off Road: Ideal for Stampede events, this group houses our monstrous WS Auto Racing Mudclaw – a true off-roader with huge ridged tires and incredible power.
Classic Rally: Roll back the years with rides like the Fiat 131 Abarth Rally and Porsche 924 GTS Rallye that popularized going flat-out fast on any possible terrain.
80s Rally: We're combining favorites like the Ford RS200 with incredible newcomers like the Porsche 959 Prodrive Rally Raid for a nod to off-road's golden age.
90s Rally: Relive a time when off-road truly went mainstream and recreate rivalries with the Subaru Impreza S4 and Mitsubishi Lancer Evo VI.
Rally GT: These desirable cars are kitted with off-road specs, including the Aston Martin V8 Vantage GT-4 and Porsche 911 R-GT.
Sprint: These rides perfectly rip up dirt oval tracks sideways while sporting wheels of all different sizes, huge wings and 900bhp. A unique class for unique racing.
Pre Runners: The best road-going SUVs and all-purpose vehicles draped with an off-road kit and souped-up for extreme racing. That's the Pre-Runners class, featuring incredible race-ready versions of the Aston Martin DBX and more.
Super Lites: Have fun taming the eye-watering speed of the Ariel Nomad Tactical, Exomotive Exocet Off-Road, and more in these champions of all-terrain challenges.
Unlimited: Jump in the Jimco Unlimited Truck, Brenthel Industries Unlimited Truck and more to take on the most demanding off-road events in the world.