Dixit Disney Announced For Release In Fall 2023
A brand new card game is on the way from the Dixit universe as Dixit Disney will bring Disney and Pixar characters into a new standalone game.
---
Asmodee and Libellud have teamed up with Disney to create a new kind of card game within the Dixit universe as they will be launching Dixit Disney. This will be a new standalone game based on the beloved themes and characters throughout both Disney and Pixar movies, utilizing the same rules and playstyles, and featuring unique and original art featuring familiar characters and settings. The game is still in the process of being made and completed, as you can see from the trailer down at the bottom featuring an artist hard at work on the design of a card. But we know the game will launch sometime this Fall as a Barnes and Noble exclusive as part of their "First to Market" program for $40. You can read up more on the game below from today's reveal.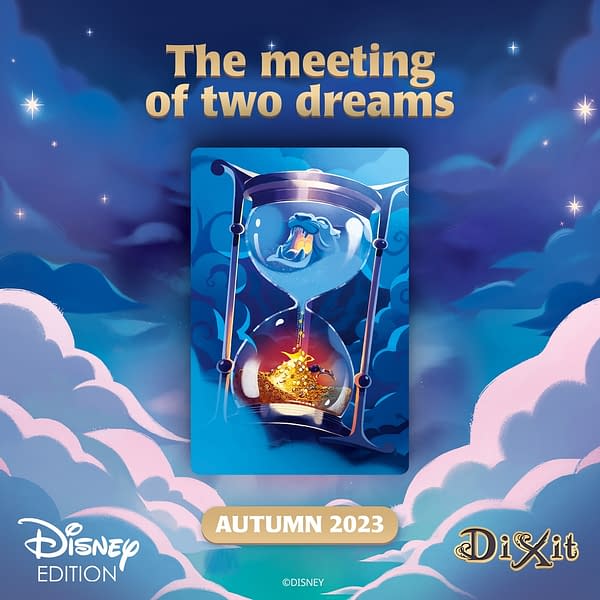 "Dixit Disney is a simple and lighthearted game of storytelling, interpretation, and guesswork. Players will be challenged and delighted as they reveal a series of cards featuring gorgeous Disney-themed images. Their connection: an enigmatic statement centered on one of the revealed cards. Find the correct image and score points. With 84 new cards based on iconic Disney & Pixar films, from Steamboat Willie to Turning Red, Dixit Disney will captivate players. The game's enchanting artwork, by Illustrator Natalie Dombois, took two years from conception to completion. Creating the 84 cards (each based on one of 84 Disney and Pixar films) relied on a meticulous process, comprised of multiple stages, and involving contributions from the entire Libellud team – over 500 written proposals! The finished images pay tribute to Disney' iconic themes, while staying true to the layered concepts in the Dixit universe."
"We're really excited about this collaboration," says Libellud Head of Studio, Mathieu Aubert. "Dixit Disney brings together two beloved brands, who share values of creativity, inspiration and a commitment to quality. This partnership and the opportunity to create artwork from the Disney universe are a dream come true and we cannot wait to bring the game to fans across the globe."