EA Sports To Host Madden NFL Virtual Pro Bowl With Madden Cruiser
EA Sports is bringing back in iconic Madden Cruiser as they will be hosting a Madden NFL virtual Pro Bowl at the Pro Bowl.
---
EA Sports will be coming to the NFL Pro Bowl with some virtual excitement as they will hold their own Madden NFL Pro Bowl at the game. For the third year in a row, the NFL and the NFL Players Association are teaming up with EA to host the NFL Pro Bowl: Madden NFL 23 Edition, which will be filmed live at the NFL Las Vegas Store and broadcast on Saturday, February 4th at 4 pm PT on the official NFL YouTube, Twitter, and Facebook. What's more, to mark the occasion, they're bringing back the classic Madden Cruiser, which is basically a giant bus John Madden used to ride around in, but this time customized for 2023. We have more info on the event below.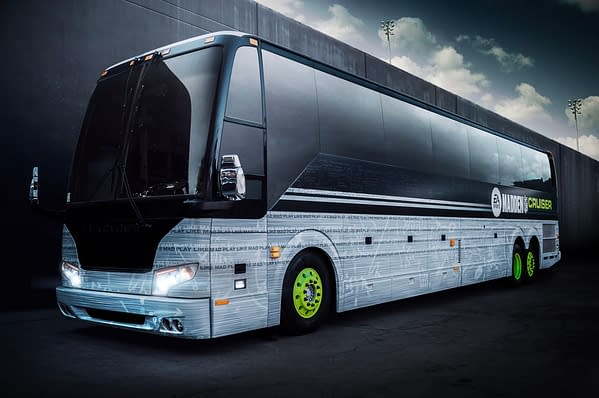 "Cowboys Micah Parsons and Vikings Justin Jefferson, champions of the NFL Pro Bowl: Madden NFL 22 Edition, return to represent the NFC and defend their title against Dolphins Tyreek Hill and Jets Rookie Sauce Gardner from the AFC in a matchup played in Madden NFL 23 using the official 2023 NFL Pro Bowl rosters. Charissa Thompson returns for the third year to host the event and will be joined by Marshawn Lynch as co-host in his third consecutive appearance at the virtual Pro Bowl after winning the 2021 event."
"EA Sports is also continuing to celebrate transcendent sport and cultural icon John Madden by bringing a reimagined version of the Madden Cruiser to the next generation of football fans. Throughout his broadcasting career, Coach Madden traveled tens of thousands of miles across the U.S. in a full-sized bus that became widely known as "The Madden Cruiser." Today, EA Sports is bringing its version of the Cruiser, redesigned by the creative geniuses at West Coast Customs and EA Sports designers and engineers. Part tribute that celebrates Coach Madden's life as a legendary football coach, renowned broadcaster, and pioneering gaming icon, the reimagined version of the Madden Cruiser is outfitted with state-of-the-art content creation, streaming, gaming and broadcasting capabilities to connect fans closer to the sport Coach loved and his legacy. The new Madden Cruiser will debut for fans this Sunday at Allegiant Stadium at the 2023 Pro Bowl Games and then hit the road to Super Bowl LVII in Arizona with more stops to come."