D3 Publisher Inc. has released a brand new trailer and info today for Earth Defense Force: Iron Rain, as we now know when it's coming to PS4. The official release date will be April 19th, 2019. This game will have you working in areas you haven't messed with before in an EDF title, like character customization. The story will be a few years after the last game, introducing a new set of characters that will focus on one of the strongest military units in the organization. Which will come with advanced gear, tech, and weaponry to fend off a new threat. Enjoy the new intense trailer for Earth Defense Force: Iron Rain below!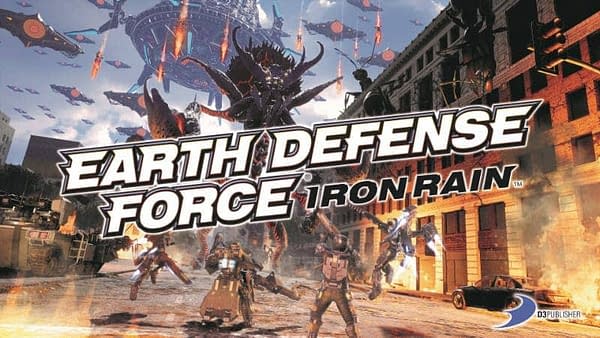 Twelve years have been passed since mankind's first encounter with the alien "Aggressor" invasion that devastated planet Earth. In this time of great despair, the battle to free mankind from the Aggressor's extended assault continues in Earth Defense Force: Iron Rain.

Master Four Soldier Classes: Thanks to advances in "PA-Gear" technology, the EDF are on more equal footing with the "Aggressors". These powered exoskeleton suits can be customized with hundreds of weapon, armament, and item loadout combinations with four unique soldier classes, each with their own critical Over Drive ability to change the tide of battle, including the Trooper, Jet Lifter, Heavy Striker, and most notably, the brand-new Prowl Rider.
Multiplayer: Staying true to the series' roots in arcade action, both online and local multiplayer split-screen modes are available. Online supports up to six player co-op – and the new Mercenary mode, which finds teams competing for Energy Gems hosts up to 8 players.
Character customization: For the first time in the series, players will step into the boots of Closer, a decorated war hero who awakens from a seven year coma. Players can customize his or her appearances before diving into the game's character driven campaign.
Enjoyed this article? Share it!